There are not many among us who would argue the northwest corner of 46th and Dodge to be the most handsome of our fair city, so I can understand this may reach some of you with a touch of indifference. When the Oh-K Fast Print Shop is torn down, we will lose yet another building from the early 1900s along Dodge Street. The little cutie to the west of it, most recently a tailor shop, was a simple Mid-Century classic who happened to get in the way. At some point an Innocent Someone will wonder, "What used to be here and why is there just an ATM on this whole corner lot now?" In time, even Longtime Midtown residents might not recognize this stretch of Dodge and come to determine they may have unknowingly wandered out to 114th and Dodge. Let us agree that one of the distinguishing characteristics of our Midtown is the mix of high and low– beauty right alongside unruffled quirk with some self-assured ugliness sprinkled in. A medley of decades and styles of architecture. I love it all and I will miss it all. Thank you for listening and yes, you may go back to your Americano if you don't want to hear about another lost friend.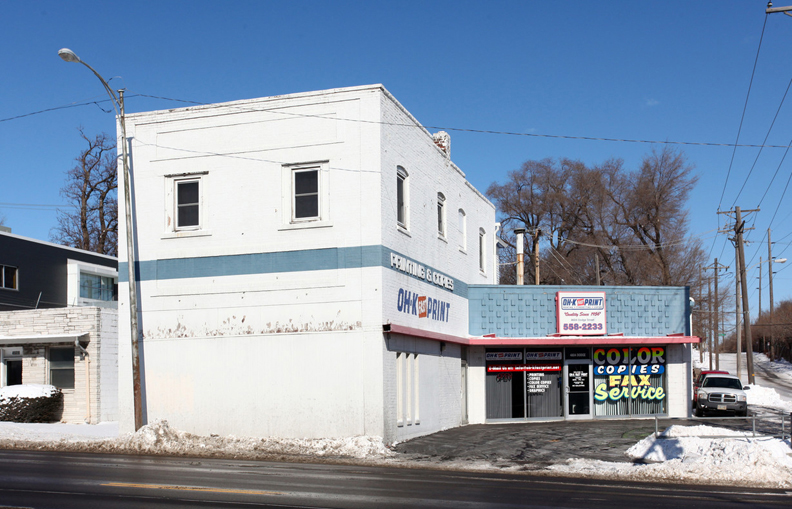 Shirley Skradski, owner of Oh-K Fast Printers sold the northwest corner of 46th and Dodge (4604 Dodge) back in the summer of 2016 to Pinnacle Bank. For the record, the bank also purchased 4608 Dodge (one parcel to the west) and 4601 Capitol Ave (to the north). Pinnacle Bank had plans for an interactive teller machine—an ITM, at that corner by the end of this November. These new ITMs offer the usual ATM features plus added bonuses of microphone, speaker and video screen connection to a live bank teller at an actual Pinnacle site. Remember when we used to imagine the little man inside the ATM ironing our bills so crisp? There will certainly be more little men flooding to this area now that UNMC is expanding.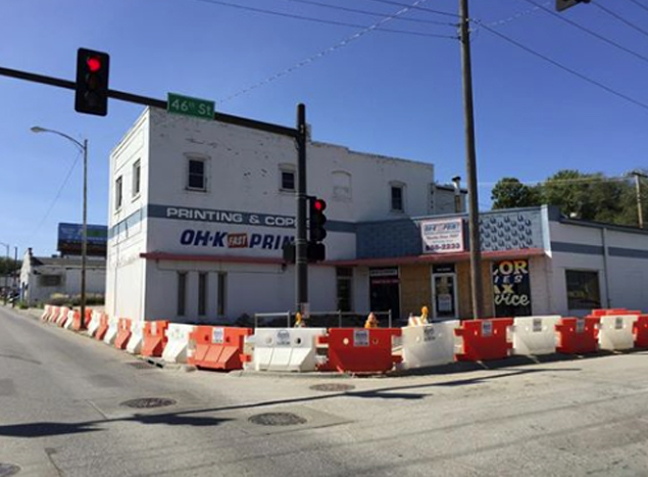 Photo borrowed from AO aka the Architectural Offices at 4610 Dodge. The whole corner is now being prepped for demo, which has alerted many of us to its demise. So it's been long over for this spot but because I cannot resist a challenge and I do truly care, I will share these historic tidbits.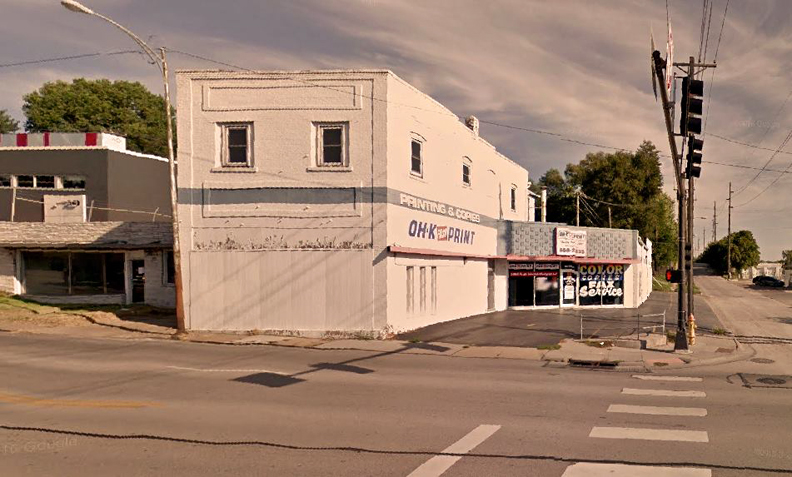 Photographer, Google Maps, is positioned on the south side of Dodge street, facing north (front elevation) of 4604 Dodge. Structure is a long, narrow, brick building typical of the turn of the century. It runs north and south, parallel to 46th Street, seen on the far right side of photo. The building has an addition to the northeastern portion, that looks to be Mid-century.
The main portion of the 4604 Dodge Street building was supposedly built in 1905. I guessed by the upstairs windows facing east that it never had a two-story building next to it. It looked to be a traditional Mom and Pop Whatever–I dream a grocery story, with the Mom and Pop apartment above.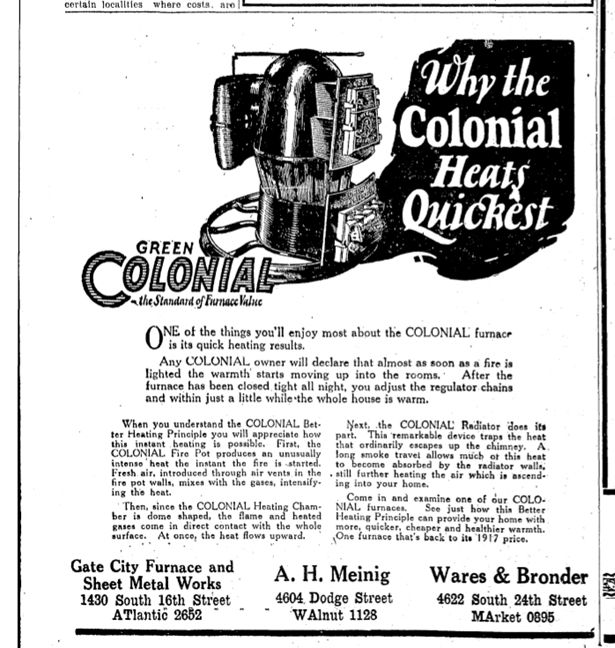 OWH advertisement. 1924.  The Arthur H. Meinig business was the first I could find at the address in 1922–a furnace dealer and installer. Arthur and Emma Meinig fashioned their living quarters above the business– in 1923 bringing home a baby boy. I found evidence of Meinig selling to a John W. Welch in the fall of 1928–the building would fetch $12,000. Meinig's enterprise was still located out of this location until the mid 30s, when the location was rented out as a polling place.
The U. S. Awning Company would own or rent the 46th and Dodge location from the mid 1930s, steadily through the next decades. By the 1950s, U. S. Awning began incorporating sewn bags–the U.S. Bag Company.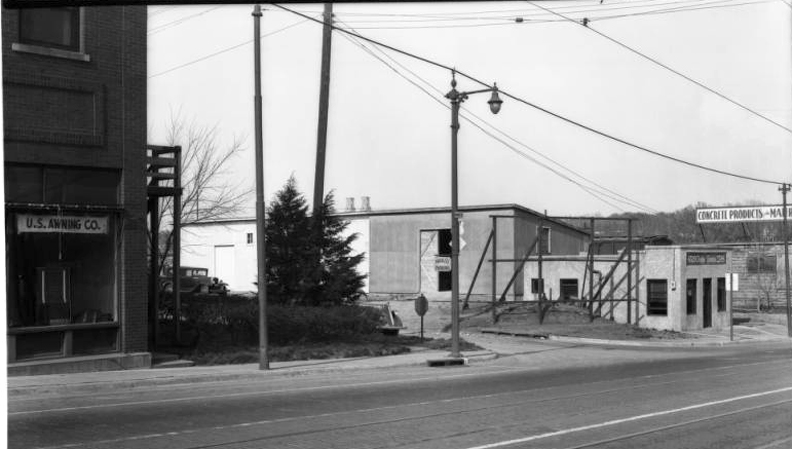 I was so very excited to catch my first peek of the early 4604 Dodge building seen on the left side of this photo. One can see its unpainted glorious brick and its large, opened shop windows. Also note the side, wood stairwell on the east. Concrete Products Company on the northeast corner of 46th and Dodge Street, across from 4604 Dodge. Creator: Bostwick, Louis (1868-1943) and Frohardt, Homer (1885-1972). The Durham Museum. 1936.

Just an amazing image!  Here we are able to see the attractive U. S Awning business, adorned with their own wares, no doubt. Crisp, striped awnings–a fitting advertisement. Look at the little home on the far left side of the photo, all fenced in with a large, braced billboard in their yard. MA-IE Day Parade on Dodge Street looking west from the 46th Street overpass. Creator: Savage, John (1903-1989). Publisher: The Durham Museum. 1941.

OWH. 1950 advertisement. Recline in rattan style under your own canvas awning with a beautiful wife who serves lemonade.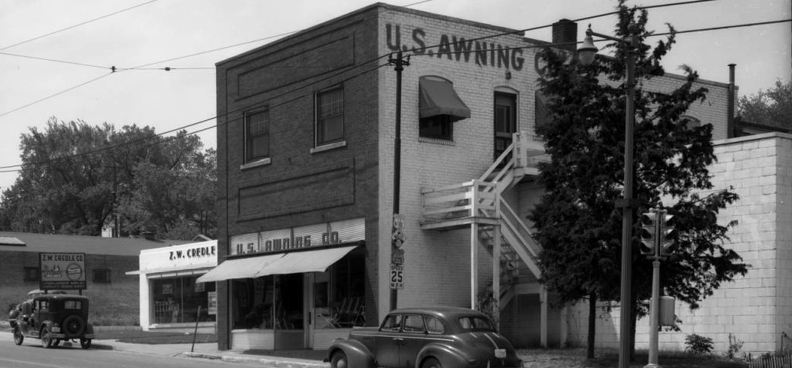 4604 Dodge, seen at a northeastern angle. It looks as though the east elevation has been painted and an addition, I hadn't previously noticed. I love the mix of cars on the road from this time period. Also note the small, white building to the west, set back from the road. Creator: Bostwick, Louis (1868-1943) and Frohardt, Homer (1885-1972). Publisher: The Durham Museum. 1950.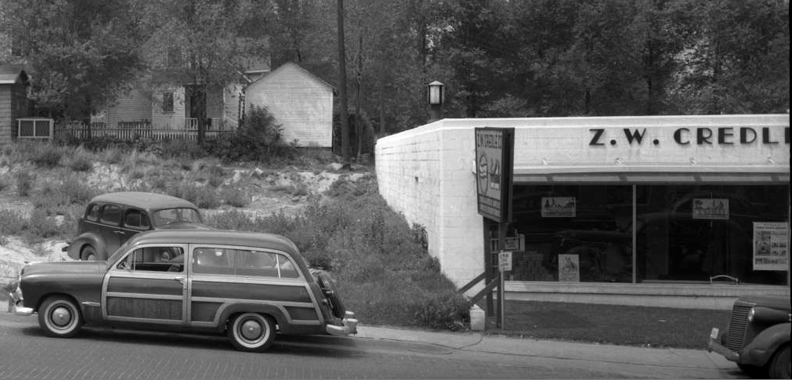 The little MCM one-story to the west, at 4608 Dodge Street, was built in 1946. This is now the tailor shop. It appears to have straightaway become the Z. W. Credle Company, essentially a glorified hardware store. They were there deep into the 1950s, and I admittedly lost interest after reading of too many chainsaws, seed and turf bags and snow shovels. Look at that empty lot to the west. Like the Wild Wild West! Creator: Bostwick, Louis (1868-1943) and Frohardt, Homer (1885-1972). Publisher: The Durham Museum. 1950.
In 1960 AARO Rents, a rental company, took ownership of the 46th and Dodge Street corner. They rented party and medical equipment—a strange combination to my ears. Alas, they must have been renting wheelchairs and such to regular folks. Henry Slattery and his wife, Belle, lived above the shop, (although I am not entirely sure they ran AARO), until Mr. Slattery died in 1962.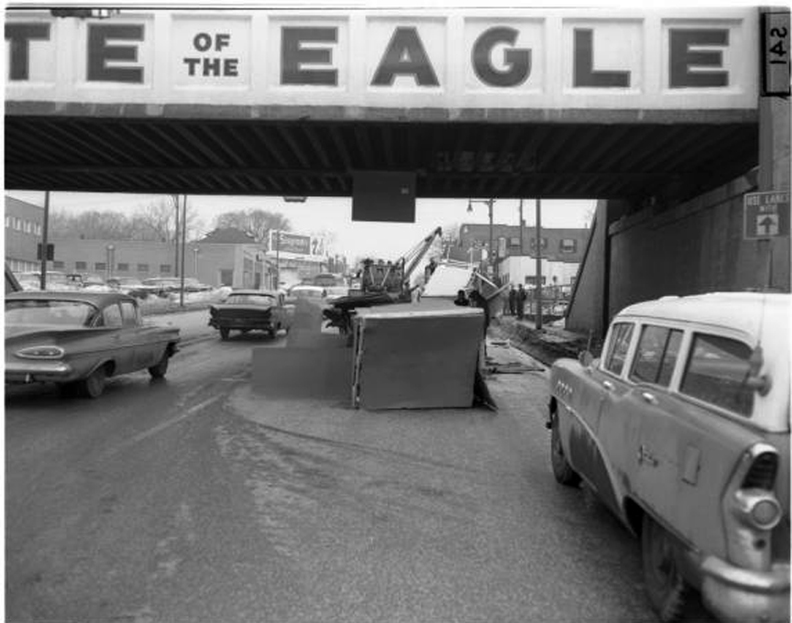 Remember the old railroad overpass on Dodge? "Route of the Eagle." I about fell out of my chair to see this one. I think it was still intact, by the Burger King, to the north, when I was a kid. Workers recovering a sign that has fallen off the railroad overpass at Dodge Street and 46th Street. Photographer is facing west. And just look under that bridge. There's our building. Creator: Savage, John (1903-1989). Publisher: The Durham Museum. 1962.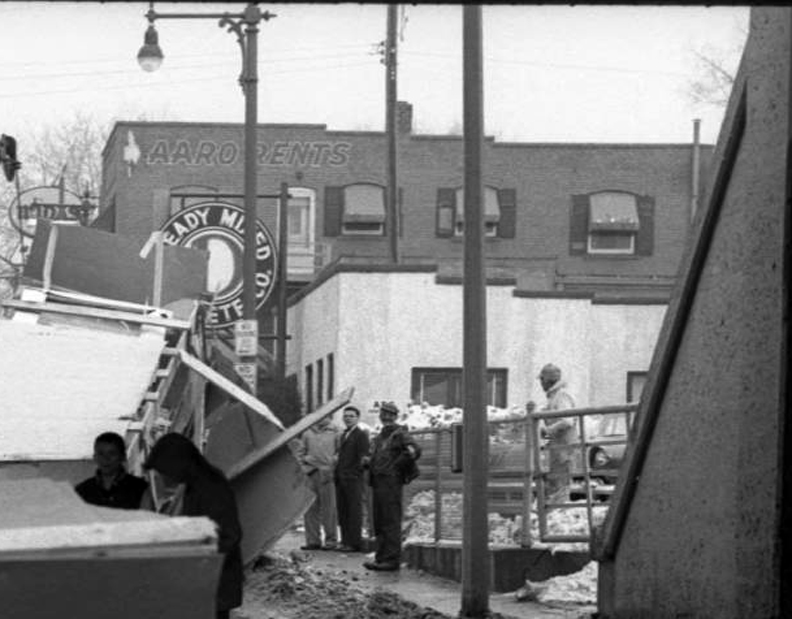 Detail of the above photo, zooming in for a closer look at the handpainted AARO Rents sign. So gratifying to find photographic proof. Note the shutters and solid awnings combo.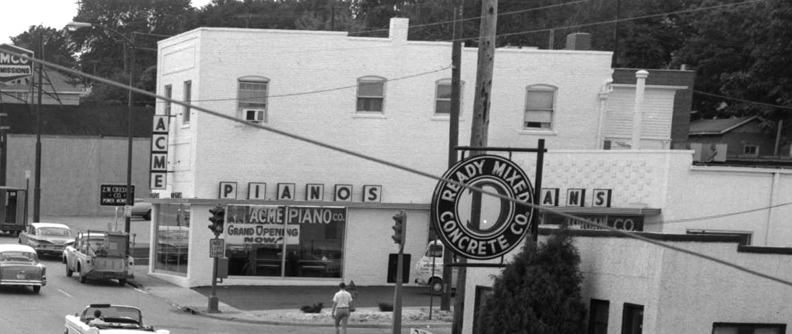 AARO Rents continued on until 1967, when Acme Piano and Organ Co. took over the keys to the property. Here they are celebrating their grand opening. Don't you love the name? Notice the white paint and new signage. Z. W. Credle, next door has also gotten a new sign. The above apartment, said to be six rooms, was rented out through the decades. According to local guru-historian, Nils Erickson, the Oh-K building still has its original fire place and a good deal of the original tin ceiling. Creator: Savage, John (1903-1989). Publisher: The Durham Museum. 1967.

A parade traveling East at Dodge Street on 46th Street. Photo probably taken from the train bridge. Creator: Savage, John (1903-1989). Publisher: The Durham Museum. 1967. Dodge Street looking west with Ready Mixed Concrete Co. office and Acme Piano in the foreground. West of Acme Piano are Aamco Transmissions, a Derby Gas Station (32 cents per gallon) and a Dandy's 19-cent Hamburgers. And a great Falstaff billboard, identified by supersleuth and beer fan, Jim Hofmann.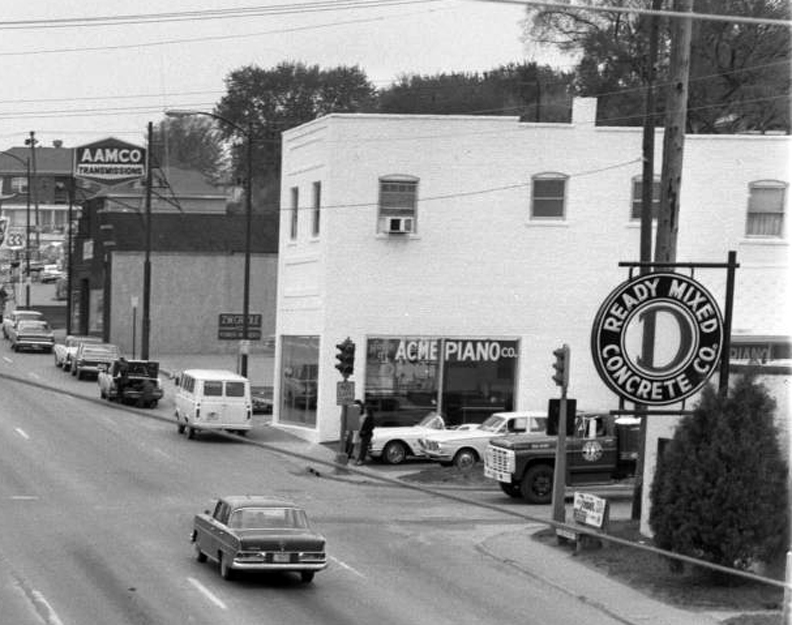 Great detail. Love to see this building in tiptop condition, even though it was over sixty years old at the time…and those cars.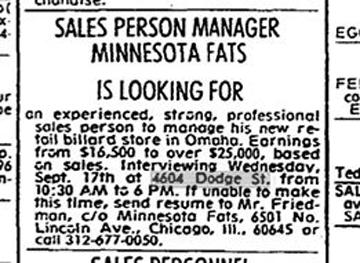 The most oddball thing I could find was Minnesota Fats interviewing for a manager, using the shop address to conduct local meetings, back in 1975.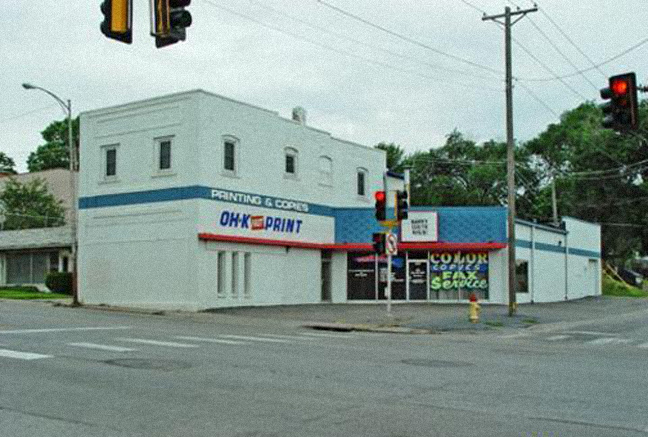 Since the fall of 1979, Oh-K Fast Printers have operated their successful mom and pop on this corner, until moving downtown to 1207 South 13th Street. I give them absolute respect and credit for moving their print shop downtown, when almost every business seems to move out west.
I have just one aside: Why not follow in the Dundee Bank footsteps, twice over, may I add? Their bank locations, rooted in preservation of great local architecture, have added value to both downtown Dundee (5015 Underwood Avenue–the old Buffet Grocery Store) and their Blackstone location (302 South 38th Street–the old Rose Gas Station, most recently McFoster's). Why not repurpose this old gal into a proper Pinnacle bank? Something cool that befits historic Dundee and honors our Dodge corridor, need I remind you, the main thoroughfare of our city? Anyone who believes an ITM, with a little man in it ironing bills or computing from a remote location, is more respectable than a rehabbed hundred year old building has more issues than can be addressed in this website. This plan is cheap and degrades our historic neighborhood. This is lazy and emphasizes the Phone It In quality of our society that I reject. If the problem with this parcel happened to be parking, that could have been addressed by removing the eastern, "newer" wing of the building or using the empty lot to the north that the bank purchased anyway. No, don't answer….just let me sit here in silence.

I welcome your feedback and comments on the Ok-K Fast Printer's corner. Do you know about the Midtown-Dundee neighborhood? Let us hear from you. Please share your additional clues to the story in the "Comments," as we know more together. You can keep up with my latest investigations by joining my email group. Click on "Contact" then look for "Sign me up for the Newsletter!" Enter your email address. Make sure to check your email to confirm. You will get sent email updates every time I have written a new article. Also feel free to join My Omaha Obsession on Facebook. Thank you, Omaha friends. Miss Cassette
© Miss Cassette and myomahaobsession, 2017. Unauthorized use and/or duplication of this material without express and written permission from this site's author and/or owner is strictly prohibited. Excerpts and links may be used, provided that full and clear credit is given to Miss Cassette and myomahaobsession with appropriate and specific direction to the original content.