Starting in 1889 horse-drawn streetcar service routes, courtesy of the Omaha Street Railway, had been carved out along Farnam, Leavenworth and St. Mary's Avenue making these very popular, well-traveled paths in and out of Downtown Omaha. By 1926 the electric lines of the streetcar system had arrived in full, after a consolidation by a number of smaller motor railways into the large Omaha & Council Bluffs Company. Leavenworth Street had long been considered a main thoroughfare on this route to Downtown Omaha. Sometimes I daydream if it was always the curious mix of shops, houses and wanderers that it is today. (UNMC and affiliated medical buildings have staked their claim on the three corners of 42nd and Leavenworth, steadily moving east.) The growth of the streetcar system was significant in that it allowed Workers to move Way Out West, say to 30th Street, rather than live downtown as they always had. Of course the wealthy class had relocated west long ago, and continues in this manner with our definition of West Omaha ever expanding, but it was this public transport that allowed the working stiffs to have more flexibility in housing. In time Leavenworth would soon have successful businesses lining the street, often added as storefronts to an enterprising family's home, nestled in the rear.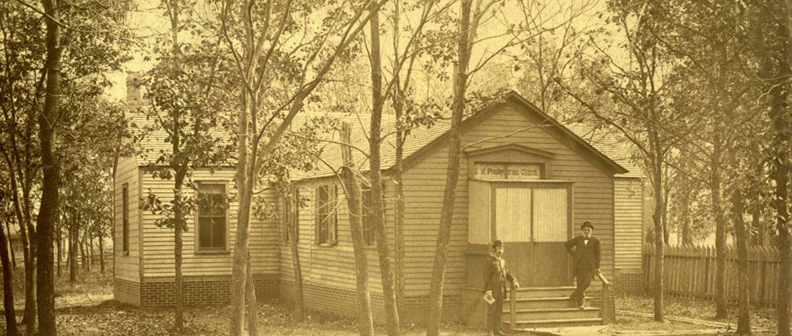 Early photo of 31st and Leavenworth. The South West Presbyterian Church. Just look at those trees.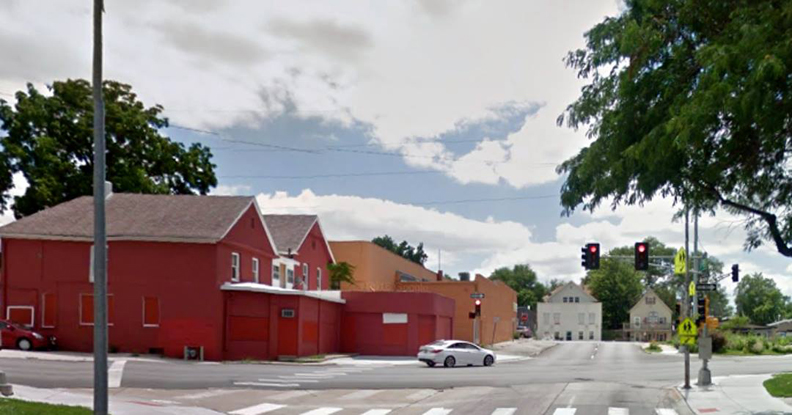 View of 3023 and 3029 Leavenworth as seen north from Jackson Elementary School at 620 South 31st Street. Remember the odd-fabulous mixing of buildings where the Triangle Apartments now stand?
I was never sure what was going on with this wild medley of buildings, which I called the Condiment Buildings. Who knows? but they were a part of what makes/made Omaha Weird and Wonderful. The Condiment collective of buildings were encapsulated in a fabulous triangle—an angled St. Mary's Avenue on the north, Leavenworth on the south and 30th Street on the east end.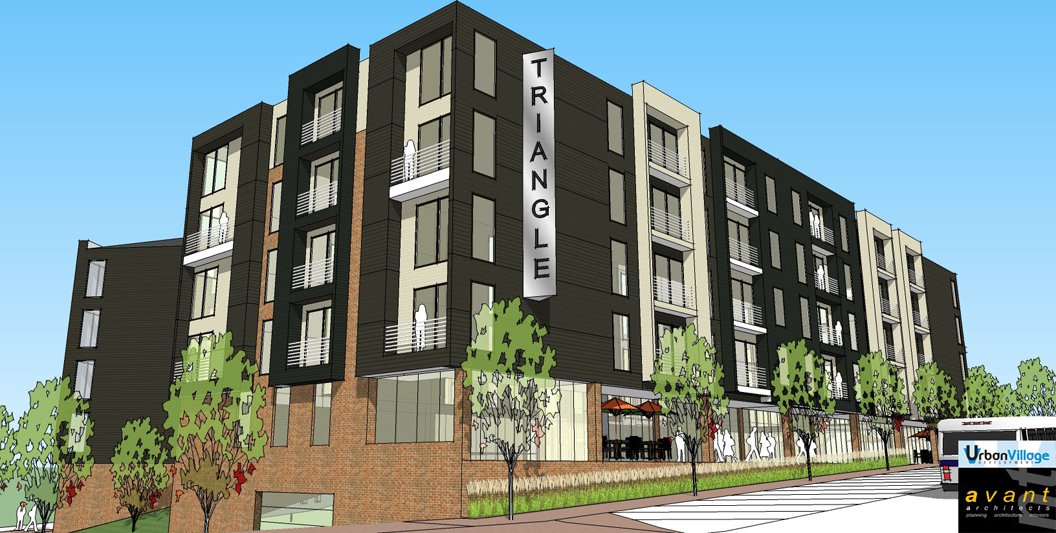 The mustard and ketchup Condiment Buildings are gone. Now we've got the Triangle Apartments, 3 stories with 142 units, located at 720 South 30th Street. I am sure these rentals are more than great if you enjoy the 2000s Mixed-Use Box Aesthetic.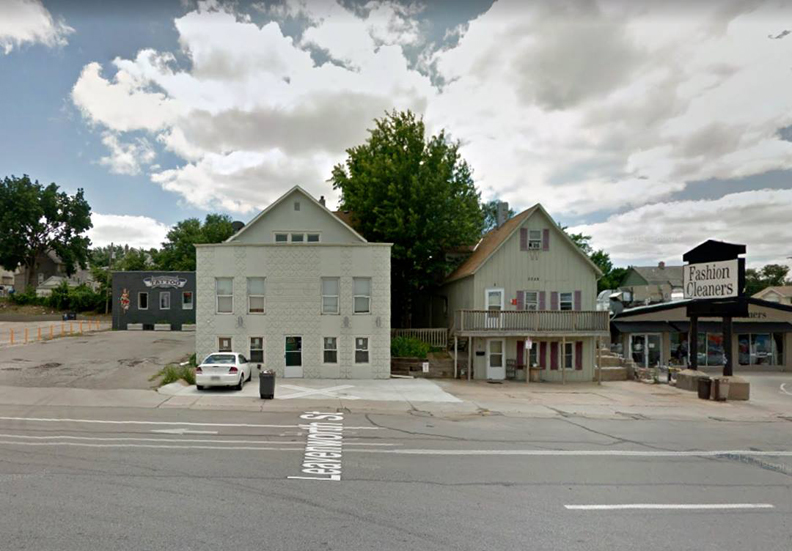 2016. Grinn & Barrett Tattoo Shop, set far back from the road, at 3021 Leavenworth Street, to the east of 3023 and 3029 Leavenworth Street.
3029 and 3023 Leavenworth Street were such Mom and Pop storefront homes, built for the Regular Joes, located in the Bartlett's Addition. Myself, I never gave them much mind. Too many colorful birds capering the walks and curious storefronts to ogle on Leavenworth, I thought. Twisted by time, splattered with a heavy coating of the Leavenworth dinge and long ago converted into apartments by owners looking to make a little more buck, the two neighboring houses did their job honorably without much fanfare. 3029 Leavenworth was purportedly built in 1885 and if that date is to be believed, I reckon it was one of the very last of the older houses on Leavenworth, or really of anywhere around these parts. 3023 Leavenworth was rumored to have been built in 1910 but I found evidence of it having been constructed in 1909. Both are gone now; the buildings leveled a few weeks back. Word on the street is that the empty lots might become parking for the soon to appear businesses on the ground floor of the brand new Triangle Apartments, to the north, at 3020 Leavenworth.
If you were like me, in my hurry to get Downtown or on to the next Big Thing, you might have missed the opportunity for a proper introduction. I often looked at the two buildings as I pulled into Fashion Cleaners to pick up my weekly dry cleaning, assuming as with many older Leavenworth buildings lining the strip, that I'd be looking at them until the end of time. And I guess that is where I keep going wrong. Leavenworth will soon no longer be a place for the Regular Folks with all of this increased investment. The community who has been thriving on this end of Leavenworth is being Shown the Door, ironically in the name of "revitalizing the fabric of this vibrant community" by a developer/s. This is the way, I realize and this whole post is more of an obsession, I suppose, to enter 3023 and 3029 into the formal record for myself. I thought you might want to know about these simple buildings, their humans and their brief history, as fantastic and varied as any home in town. I guess I believe in doing things too late rather than not at all. There are final introductions to be made.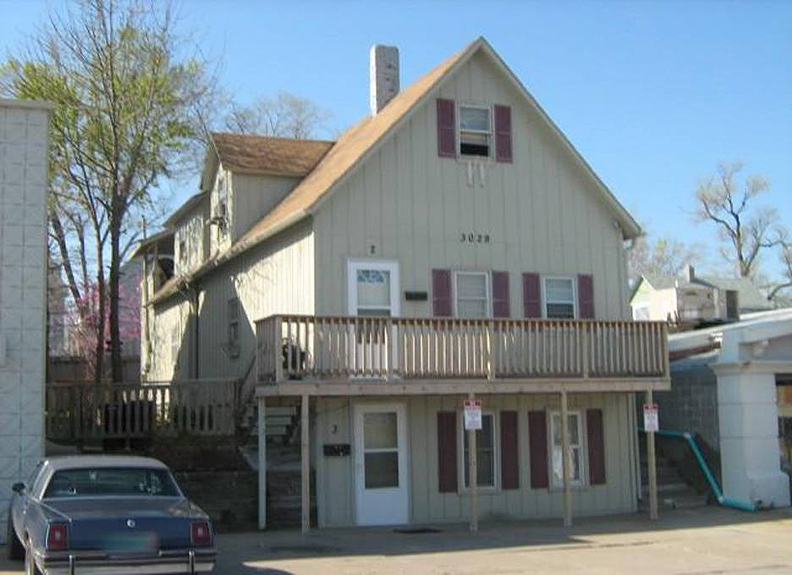 3029 Leavenworth from 2011.
3029 Leavenworth, said to have been built in 1885, began its long life as a single-family dwelling. Going way back, the earliest advertisements for the home, the family inhabiting 3029 ran a few years worth of pleas looking for domestic servants to aid with cleaning and childcare. In 1907 the James Hogarth family ran ads off and on for a year looking for domestic help, leading me to believe that the early owners must have had some money. But even a shop owner could have used some additional in-home help with his brood in those days. By 1909 a portion of the home was for rent "3 rooms furnished, gas range." From there on it became rental property, with quite a colorful history. Later still it would broken up into separate apartments.
In February of 1920, Mrs. Mary Neu, at 75 years of age, died at the home of her granddaughter, Mrs. Otto Star at 3029 Leavenworth, as result of a fall when she tripped on a carpet the previous day, striking her head on the doorsill. In July of 1935 Fred Wilheim Albert Daleska, 75, died at his home at 3029 Leavenworth Street. He was born in Germany, would immigrate to Omaha and live alone in Omaha with no known survivors. He was a janitor of Kountze Memorial Lutheran Church. 1946 showed the home being sold, marketed as a 4-unit moneymaker, "An ideal location for beauty operator, dentist or other small business with a little expense." In 1961 Nick Licata, just 52 years old died in his home at 3029 Leavenworth. He was survived by his wife, Josephine and son Joseph and in 1965, an "invalid" woman, 66 year old Frances Jones was found in the home semiconscious in a bedroom. She had apparently broken her hip several weeks previous and was unable to call for help. Her husband, Avery Jones, 70, was found in a bed in the dining room where he had apparently died of a heart attack. Mrs. Jones died by the end of the month.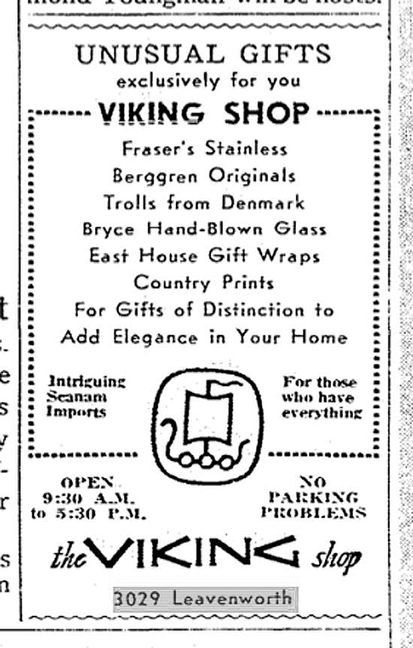 The Viking Shop advertisement from 1965.
The 1960s were the first time I saw the house promoted as a home and business venture. The Viking Shop moved into the little storefront in 1965 and was known for its motto "Gifts of Distinction." Wait, did the Viking Shop end up relocating out to the Westroads Shopping Center? How do I know that name? They were infamous for selling monk-wear, to include cloaks and lace up sandals and held "walking-on-water-contests." (Sounds like it might have been Miss Cassette's kind of shop.)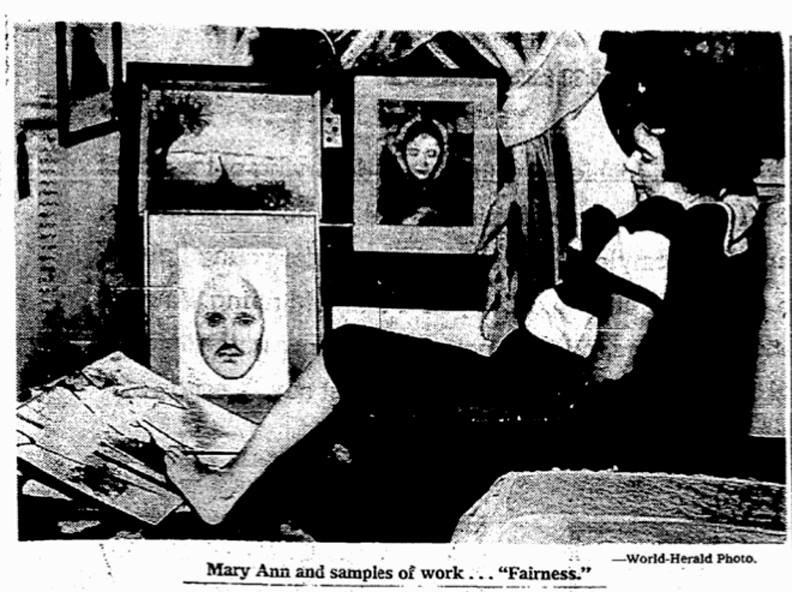 Miss Mary Ann Bay from 1966.
Another portion of 3029 Leavenworth was reinvented into an art gallery named Gloria's Inc. in 1966. That May, Mary Ann Bay gained attention when her art show was featured at Gloria's Inc. Miss Bay, a self-taught artist, was diagnosed with cerebral palsy. As was the mode of the day, Miss Bay was referred to as a "victim" over and over in the articles. She did not have use of her hands or arms but had learned to embroider, crochet, type and paint with oils and drew with her left foot. Her popular show as held over for an additional week. "I don't want anyone to buy pictures they don't like out of sympathy." Her creed was to insist that art competition judges knew nothing about her physical condition. Gloria's Inc. had a good run but appeared to have left by the end of 1971 and Intrigue Imports was ushered in. Intrigue Imports offered home décor for "Spanish and Mediterranean style homes," such as hand-blown lamps and chandeliers, carved onyx, patio pottery and fireplace accessories.
There was a small corporation and a used car lot venture to come but by about 1988 the 3029 address appeared to switch to strictly apartment rentals. A cascade of tenants with drunk driving charges, bankruptcies and possession charges led to some great reading. Like I said, normal folks with normal problems.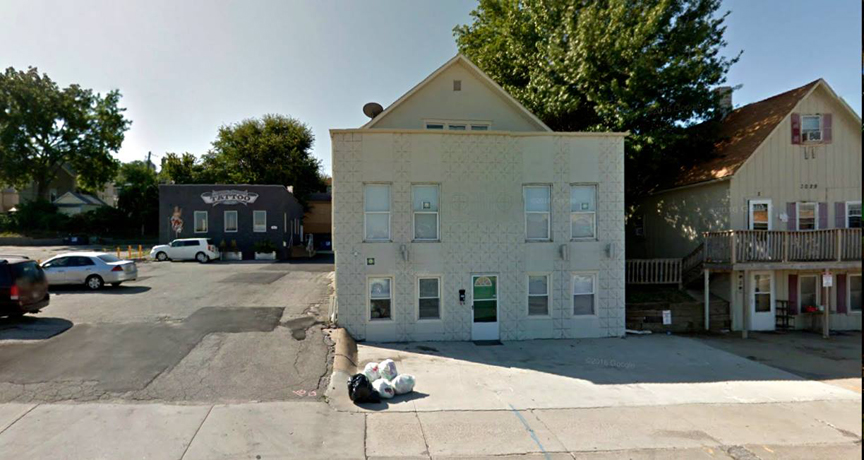 2014. 3023 and 3029 Leavenworth bookended by Grinn & Barrett Tattoo Shop and Fashion Cleaners.
3023 Leavenworth Street, directly to the east was built in 1910, also in the Bartlett's Addition. Loopnet recently had both 3029 and 3023 listed "Two 3-level apartment buildings (one level of commercial in one building) with 80 feet of combined frontage along Leavenworth Street. One block away from Park Avenue redevelopment. The neighboring property to the east of 3023 is also available for sale."
From what I could find 3023 Leavenworth was actually built in 1909. In September of that year I found an advertisement "House for Rent. 6 rooms, bath and reception hall. All New and First Class. Ad run by an A. E. Olson." The Olson family must have owned this house throughout the decades, unless by strange coincidence different Olson families took ownership. Stranger things have occurred around here. By 1911 there was a single room for rent available in the home. In the 1930s this room was offered in addition to "Home Privileges," for one or two people, board optional. It must have been a kind of boarding house. Pressley David Douglas, a 70 year old, made the news when he died in the boarding house. There would be dog bitings, drunk drivers, people who fell down, many newborn babies were welcomed home for the local hospitals, birthdays celebrated, house fires, people filed police reports all under this one, simple roof.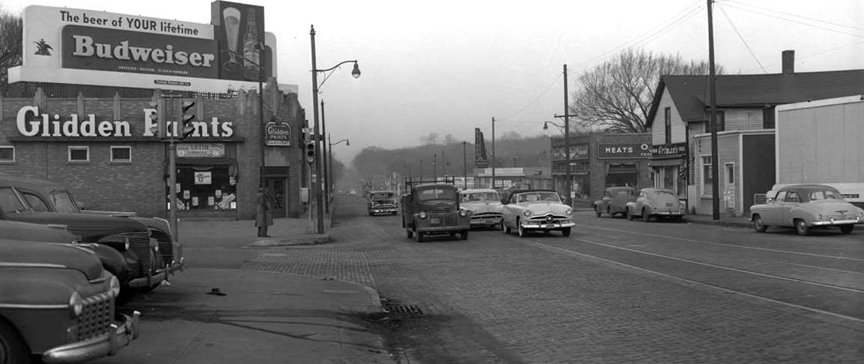 1952. Looking west at about 31st and Leavenworth. Glidden Paints and Ortman's Bakery. This great photo reveals that Leavenworth has long been a great mix of high and low.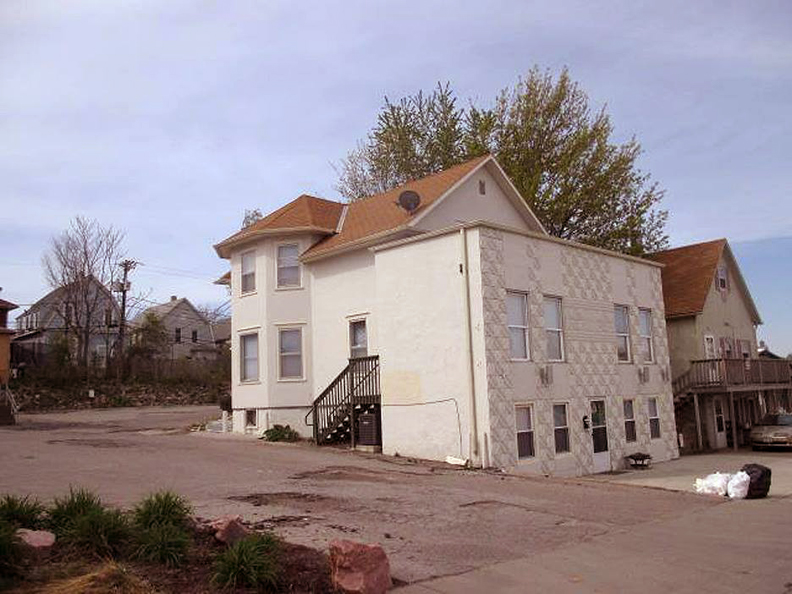 3023 Leavenworth Street. A good angle revealing the original house behind the storefront. I also love the rows of family houses shown behind Leavenworth Street.
1964 Olson's Ltd. displayed their showroom at 3023 Leavenworth offering kitchen, bathroom and Formica counter tops and linoleum floors. R. G. Olson Company and Olson Builders also used the 3023 address for their businesses. Hmmm was this the same Olson family who had run the 1909 advertisement? There was a Bookkeepers Business Service listed in 1966. Suddenly the advertisements' phrasing changed and 3023 Leavenworth became a 15-room "executive style office" with carpet, paneled walls, air conditioning and room for 9 car off-street parking. According to the Omaha Planning Department, there were 13 building permits filed at this property over the past 19 years. I've got a notion it also lived out its last years as multi-family apartment rentals.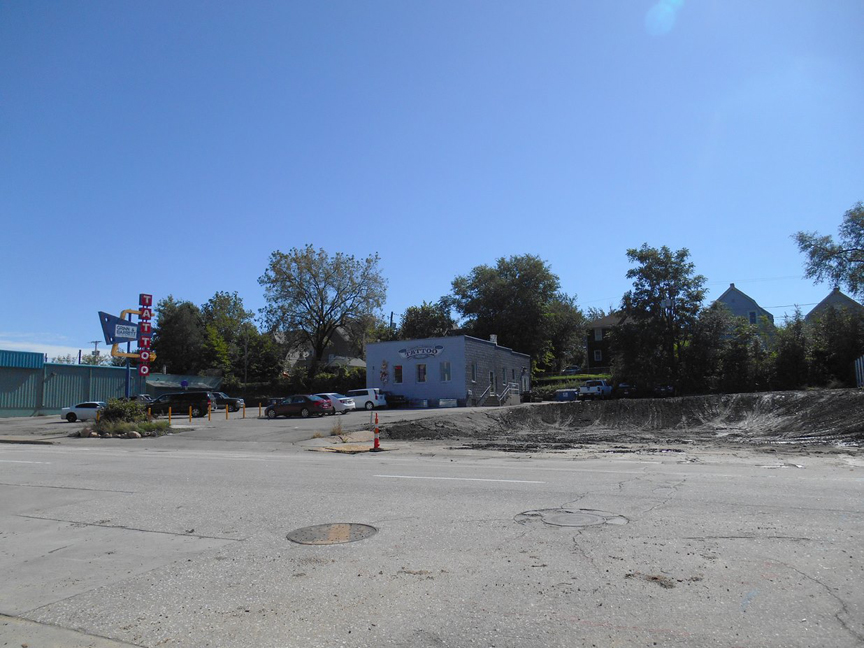 October 6, 2017, excavated.
Leavenworth Street has always held a strange magic, quite its own. It isn't like my little plot or your little plot. The electricity of human activity, local commerce and a bumping, one-way ride on the eastern end. True characters, some in costume. A heartfelt life. A reflection of our shared, colorful life. Look for the Leavenworth houses behind the storefronts. Each bar, restaurant and shop with its own set of die-hard regulars– its own piece of the curious puzzle. The neon signs — some of the best in Omaha. The murals. Even the potholes reveal her history, the miraculous layers to an earlier, bricked Leavenworth below. I understand that life is change and that Omaha will change, but I do have a hope that she never wholly succumbs to the bald, blank, power washed segments I see along the road of late. For that, too, would be a reflection of our current lives.
To the Regulars of Leavenworth.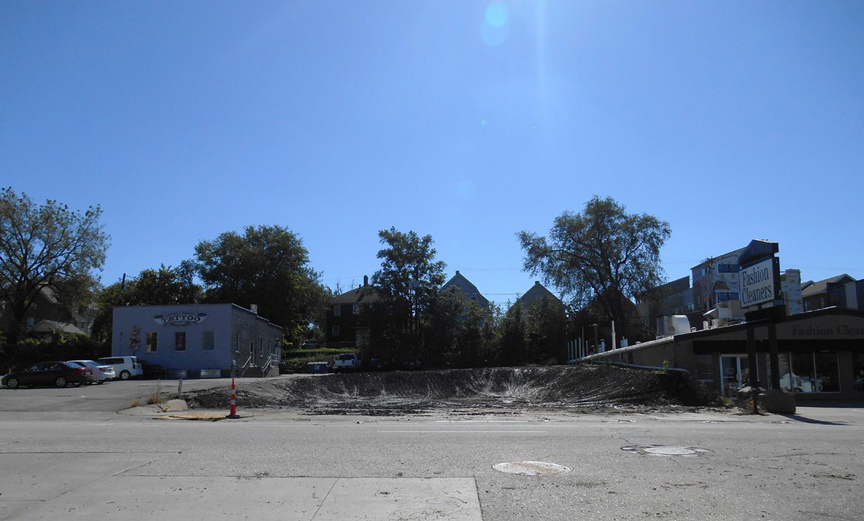 I welcome your feedback and comments on the east Leavenworth Street area. Let us hear from you. Please share your additional clues to the story in the "Comments," as we know more together. Everyone would love to read what you have to say and it makes the sharing of Omaha history more fun, if you share in "Comments". You can use an anonymous smokescreen name if need be. We want to hear from you.
You can keep up with my latest investigations by joining my email group. Click on "Contact" then look for "Sign me up for the Newsletter!" Enter your email address. You will get sent email updates every time I have written a new article. Also feel free to join My Omaha Obsession on Facebook. Thank you, Omaha friends. Miss Cassette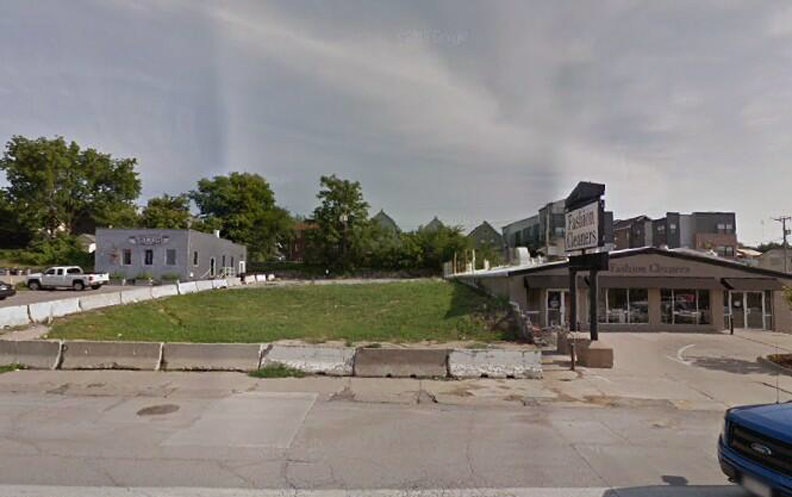 **Photographic Update of 2018**
© Miss Cassette and myomahaobsession, 2017. Unauthorized use and/or duplication of this material without express and written permission from this site's author and/or owner is strictly prohibited. Excerpts and links may be used, provided that full and clear credit is given to Miss Cassette and myomahaobsession with appropriate and specific direction to the original content.