From a series originally posted to Facebook only. Mother of Miss Cassette called these the Little Stories and she quite liked how short and fun they were. I will be working to get these uploaded onto the website, as most people don't follow My Omaha Obsession on FB. This article was originally posted on November 19, 2017.
I've been thinking a lot lately about Barrett's Barleycorn Pub & Grill and how much I adore the steady stream of people I see walking in there when I'm passing. To those of you who already know the Barleycorn, I'm sure you will agree, it is like returning to an old and trusted friend again and again. If it is new to you, there are, I promise, unexpected pleasures to relish behind its familiar door. The neighborhood tavern and castle hall rental next door remain uniquely Midtown, with an authentic community feel and encapsulate all of the positives, odd and alluring, of Leavenworth Street. Is it the live Irish pipes and drums, their version of the Blackstone Reuben, their well-loved pork tenderloin or is it that great brick MCM building itself? Of course, you could have guessed I am partial to the building. Here is what I discovered doing a recent stakeout.
Back in September of 1951, William F. Growney filed a cryptic building permit for 4322 Leavenworth, a "store building," for $8,000 but it wasn't until March of 1952 that Growney gave notice he had filed application for a license to sell beer and liquor at his new spot. Many on the block must have guessed by the way things were shapin' up, that a tavern was underway. Of note the new drinking establishment on Leavenworth boasted use of the "maximum of two tons of steal required by the National Production Authority" for William F. Growney's Classic Bar. Growney's Classic Bar (dontcha love the name?) was described as built of concrete blocks, with a brick-faced front. It had an aluminum-trimmed marquee and an offset entrance with a planting box alongside–one of my favorite things about this building. Double-paned insulating windows were used. Architect Stuart P. Knutson designed the concrete floor with soffit construction, replacing the more customary steel pan method. A. R. Carlson was the contractor.
Growney's Classic Bar was soon filled with locals, those living in the newer Morton Meadows and the nearby Dundee. His 1950s and 60s business relied on his regulars from the area, the average age 35 and older—the kind of place where "they'd walk in and everybody knew everybody else." But by 1971 there was a flood of national stories warning of the death of the neighborhood bar. The number of bars in Chicago had dwindled to 4,000 from a high of 10,000 after World War II. Milwaukee's pub population had declined by 900 during that period. The culprits were thought to be the pulsing beat of the go-go palace, the sophisticated cocktail lounge or the newly available, convenient supermarket package. The local Nebraska Licensed Beverage Association executive secretary steadied the worried Omaha barkeeps and patrons by assuring, "Omaha is well insulated. Omaha has a history of staying well when a lot of other communities are sick." An interesting analogy of the bar scene, I thought. She went on to give the stats: Since 1947 the total number of liquor licenses in Omaha dropped only from 678 to 646 while the licensed tavern count dipped by only one—from 483 in 1947 to 482 in 1971. By 1971 Growney was still making a successful go of it, although his clientele had changed, noting a new wave of median age 25 year olds from Benson, West Omaha, South Omaha. He said the bars depended on the young adults, alluding to needing to "get along with them or you're out of business." By then Growney was learning about the new kids from his son, Larry, a 27 year old, whom he'd handed the night management reigns over to. "The Classic" as it was then called, was packed with a mix of age groups, heavier on the 20 somethings. Bill Growney believed that neighborhood bars created community, bar owners typically lived in their bar's neighborhood, the owners and patrons were in church and backed local projects. I do wish I could spy upon Growney's Classic Bar, if only for a half hour. I hope to hear from you if you were ever there.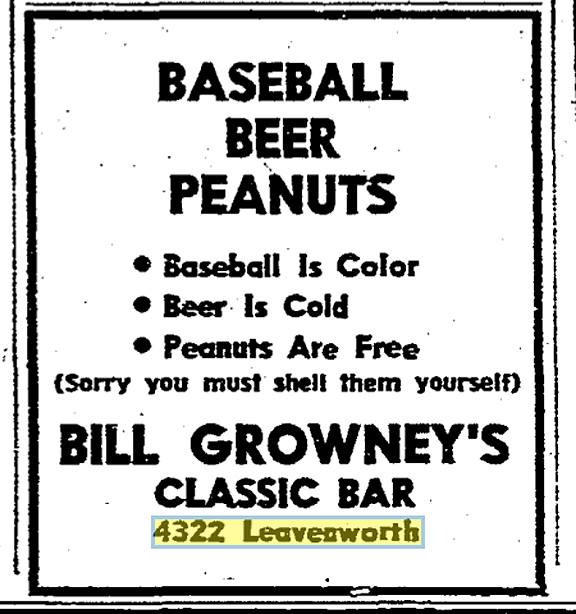 Surprisingly Bob Price took over less than a year later, continuing to operate under the moniker of just The Classic Bar. By the late 70s and 80s there were frequent ads for grill cooks, bartenders and servers where previously I had not found a single request for staff. I am not sure if the bar expanded to a grill at that time or if Growney had maintained a grill as well but didn't experience frequent turnover. Ken Neilsen was operating the bar at 4322 by 1982 and had reconfigured it as the New Classic Bar. Bands such as Risky Shift and Bourbon Street played there.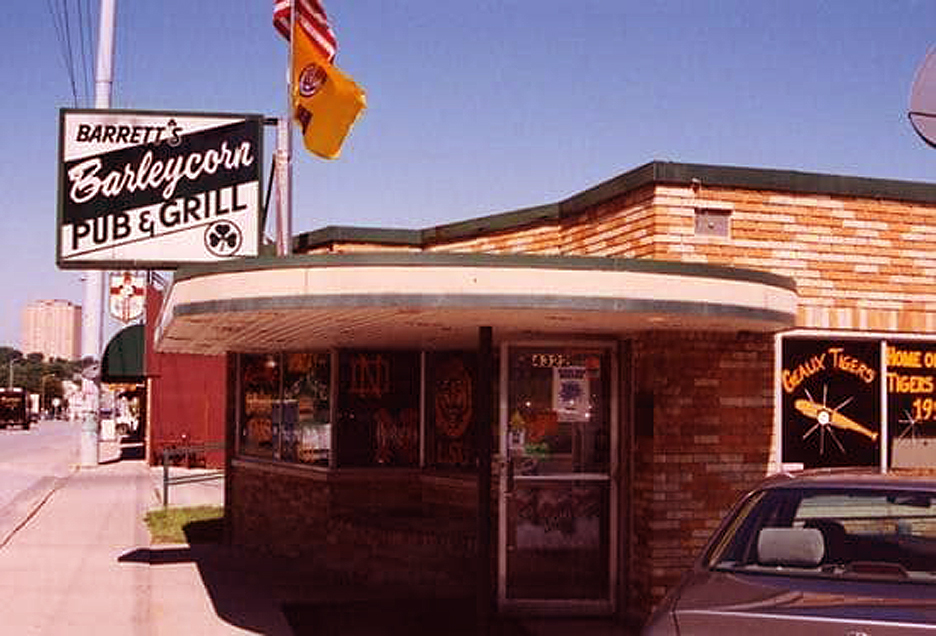 It wasn't until 1987 that the bar once again found its proper footing, the popular neighborhood watering hole it had once been. Mary Barrett and her father, Frank Barrett took hold of the latchkeys at 4322 Leavenworth, renaming the inn Barrett's Barleycorn Pub & Grill. Mother Ruth was the bookkeeper and Sister Karen Barrett-Jeffrey worked in numerous roles until becoming "grill sergeant" in recent years. The Barleycorn focused on the Irish pub staples: good drink, family, fun, classic bar food and in some cases, politics. In fall of 1990 the Barrett family purchased the building to the west, with the intention of tearing it down for parking but the century old Irish reception hall idea materialized and Castle Barrett began renting out for weddings and parties. A sand volleyball court was added at some point. In September of 2000 Barleycorn announced construction of their patio area with planned seating for 40 additional patrons to be opened the next spring. I can't seem to remember it ever not being there now. A step inside the door is brush shoulders with the Midtown classic institutions, to this very day—O.P.P.D. UNMC, Mutual of Omaha employees congregate at lunch time and during happy hour, Creighton students and families fill the bar for dinner and late night fun and don't even get me started with the College World Series folks. Go raibh maith agat, dear Barleycorn and Sláinte Mhaith from Miss Cassette!
I welcome your feedback and comments on this wonderful Midtown Institution. Please share your additional clues to the story in the "Comments," as we know more together. Everyone would love to read what you have to say and it makes the sharing of Omaha history more fun. We want to hear from you.  You can keep up with my latest investigations by joining my email group. Click on"Contact" then look for "Sign me up for the Newsletter!" Enter your email address. You will get sent email updates every time I have written a new article. Also feel free to join My Omaha Obsession on Facebook. Thank you, Omaha friends. Miss Cassette
© MissCassette and myomahaobsession, 2019. Unauthorized use and/or duplication of this material without express and written permission from this site's author and/or owner is strictly prohibited. Excerpts and links may be used, provided that full and clear credit is given to Miss Cassette and myomahaobsession with appropriate and specific direction to the original content.