From a series originally posted to Facebook only. Mother of Miss Cassette called these the Little Stories and she quite liked how short and fun they were. I will be working to get these uploaded onto the website, as many people don't follow My Omaha Obsession on FB.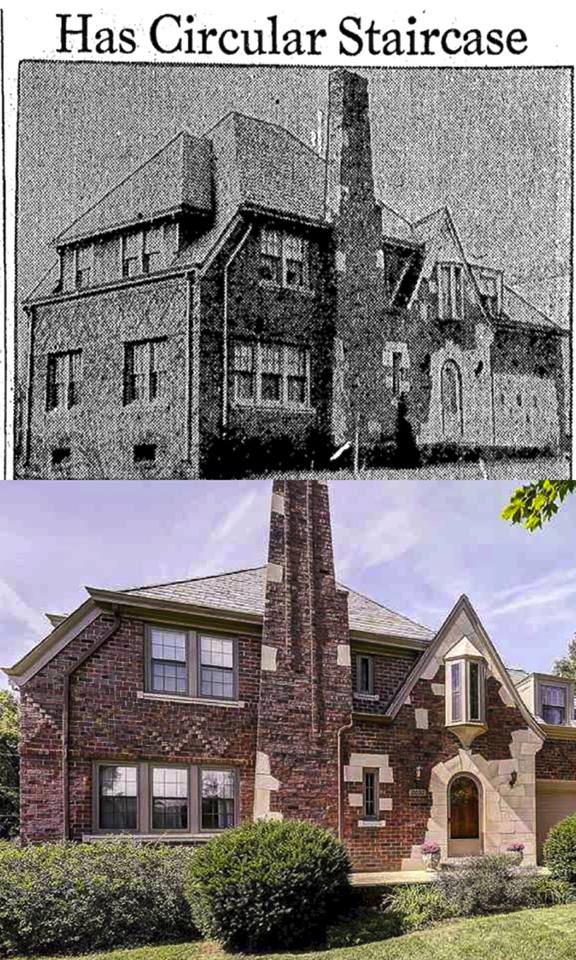 Hold all your calls.
All the time the mind is tormented by these obstacles of architectural beauty and here is yet another divine complication I've just come across. A home worthy of our collective suspiring. We will just have to suffer. 2032 North 55th Street can be found central to the desirous Country Club Neighborhood. A brick Tudor built in 1928, I found this gal logged in the National Register of Historic Places Registration Form when I was researching another story. This is an amazing example of how to honorably maintain a historic home. Its upgrades are subtle and tasteful. There are no overt vulgar attempts at McMansionizing this Midtown home. Not an inhome theatre, Jenga stone wall spa bathroom or expanse of granite bar with endless stools in sight. Be still my heart…and it's for sale. See link to photos below.
I am dying to see the original blue bathroom off of the master bedroom, as I was surprised to find the yellow taxi bathroom tile almost identical to our main floor bath. The 1920s hanging stairwell light and the diamond Elizabethan leaded glass windows atop the stairs had me speechless. Could I possibly squeeze myself into this window seat during a blizzard, with a full size Lab and a cup of hot cocoa? And that little curtain. The mind reels! This wrought iron, circular staircase begs someone slowly descend it in a champagne colored full-length silk gown, a Bakelite cigarette holder and a Transatlantic accent. I'll go first.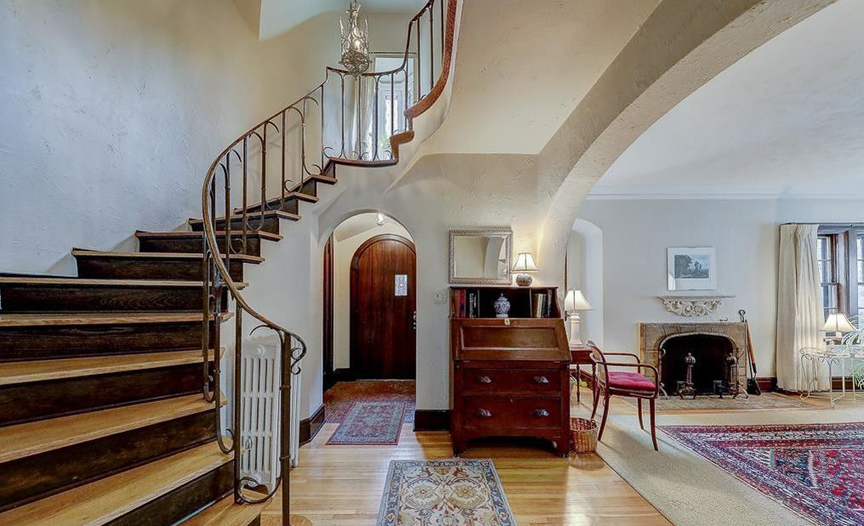 Photo from the Berkshire Hathaway site.
The National Register of Historic Places Registration Form listed the home under the architect Charles Rosenberry. Mr. Rosenberry designed many glorious homes in the Country Club area and around Old Omaha neighborhoods. Curiously February of 1928 announced that it was actually Edythe Rosenberry who was building two-story brick veneer residences at 2314 and 2032 North 55th Street in the Country Club District. Alex Gustafson was listed as contractor, someone who often teamed with Rosenberry. This business of original ownership is always interesting to me, especially when a house is in a woman's name. Within the form, the home at 2032 is coined the historic Grace B. Wallace House. In this case, after moving into the home, Grace's husband, R. H. Wallace, assistant manager of the Columbia Fire Underwriters Agency, fell ill and died unexpectedly of Erysipelas. This forced Grace and her son to move suddenly from the home that had been built in her name just 15 months previous.
Months later the English home was purchased by Elmer L. Corzine of the Corte-Corzine Company. Interestingly the Corte-Corzine Company, a furniture business, proceeded to open 2032 North 55th Street as a "model home" for public viewing and within a month more than five thousand people had visited the home hoping to get a gander at the "modern effect" illustrated in the house. Examples of this 1930 interior modernity were notably that the furniture was "without regard to period." One might assume that signified an eclectic mix of styles. "Rugs downstairs are of oriental type. Drapes establish a color scheme for each room. In bedrooms, the bedspreads match the curtains." This walk-through only served to advertise the current furnishings sold by the Corte-Corzine Company and I couldn't help but wonder if this was some sort of clever tax crafting. But whatever their reason, Elmer and May Corzine were great lovers of the home and had intentions on staying on as stewards. Corzines and their children lived in the home until the 1950s. Elmer Corzine was Navy Lt. Commander, serving overseas on various missions and except for different time periods when the family rented their home to other service members, the Corzines called 2032 North 55th their permanent home. Their older boy became Ensign Richard Corzine of the Merchant Marines, Joan and John would attend Rosehill Grade School and later Benson High. Elmer would eventually retire from service and found the Home Realty Company. In September 1953 Elmer Corzine surprisingly died at the young age of 57 after suffering a heart attack. The current owners of this devastating beauty have upheld proud ownership since 1970, a rarity in this day. And as it simply read back in her early days, "Has Circular Staircase." Indeed.
https://www.zillow.com/homedetails/2032-N-55th-St-Omaha-NE-68104/75859341_zpid/
I welcome your feedback and comments on this treasured Omaha home and the historic Country Club Neighborhood. Please share your additional clues to the story in the "Comments," as we know more together. Everyone would love to read what you have to say and it makes the sharing of Omaha history more fun. I want to hear from you.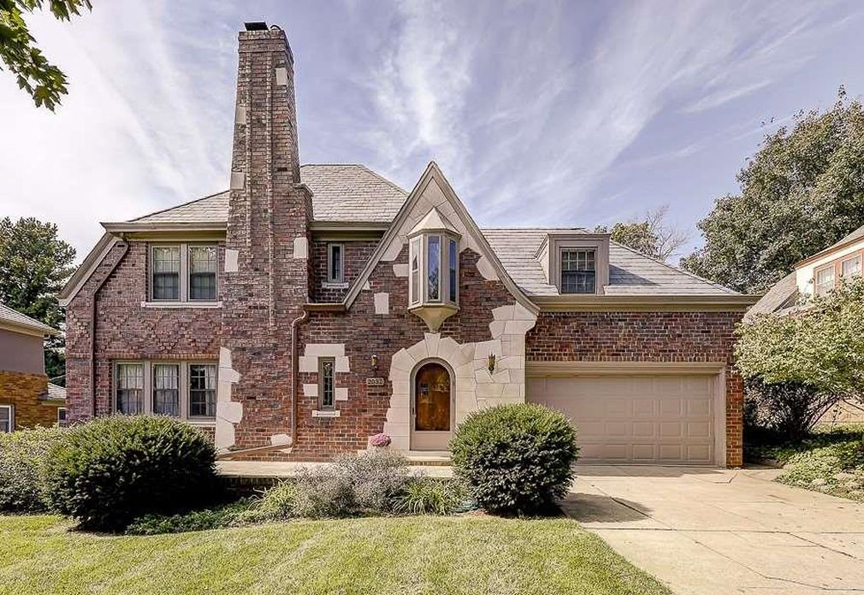 Photo from the Berkshire Hathaway site.
You can keep up with my latest investigations by joining my email group. Click on "Contact" then look for "Sign me up for the Newsletter!" Enter your email address. You will get sent email updates every time I have written a new article. Also feel free to join My Omaha Obsession on Facebook. Thank you, Omaha friends. Miss Cassette
© Miss Cassette and myomahaobsession, 2018. Unauthorized use and/or duplication of this material without express and written permission from this site's author and/or owner is strictly prohibited. Excerpts and links may be used, provided that full and clear credit is given to Miss Cassette and myomahaobsession with appropriate and specific direction to the original content.