From a series originally posted to Facebook only. Mother of Miss Cassette called these the Little Stories and she quite liked how short and fun they were. I will be working to get these uploaded onto the website, as most people don't follow My Omaha Obsession on FB.
From June 21 and 25, 2018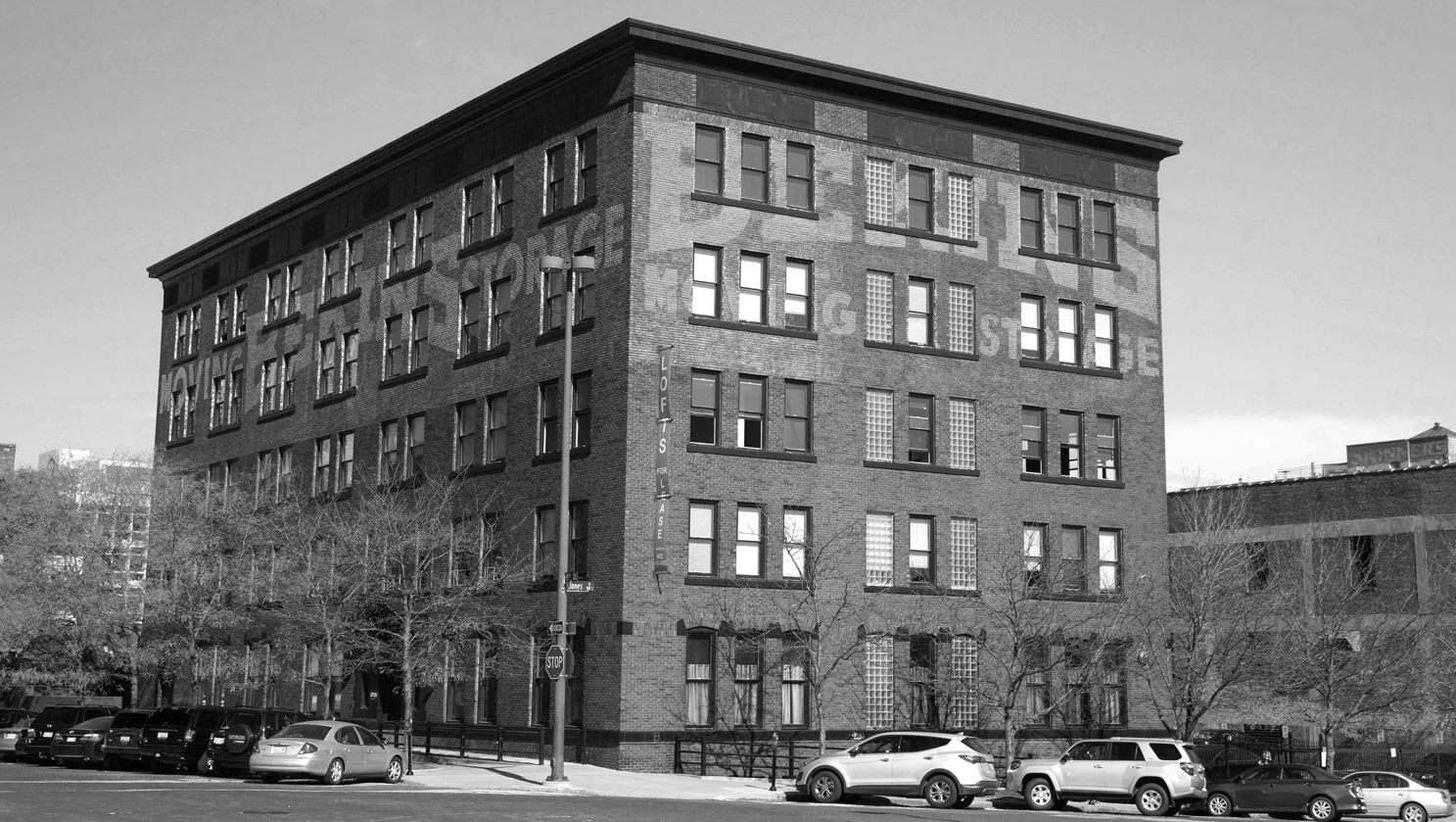 621 South Fifteenth Street with the same Skinners Macaroni building off to the right.
"What brings you down to this part of the world?" I imagined the large, sharp, dark eyed building at 15th and Jones questioning me. Tracing patterns in the sidewalk with my shoe, I would feign confidence and blurt out, "I needed an up close and personal look!" For this curious corner and all corners within walking distance have been a strange attraction for longer than I can remember. Every wanderer knows that these southern blocks are the hidden gems of Downtown Omaha. Go have a look and see for yourself. I hope it never ceases in being perfectly odd. It would appear that before apartments were reconfigured within the ghost-signed Bekins Moving and Storage building, some mighty fine but precarious homes teetered atop a high bank of dirt. The ungraded tufts of the Woolly Midwest, almost as if scooped away by city planning, inch by inch, still sat untamed. Why did the homes' wobbly dark stairs and porches meander and tilt above the street just so? Like a Popeye village movie set. Some of the photos in the series feature a dog or two standing on those porches in a casual manner, as if it all made sense. I busily scanned the windows and paths in the photographs to find a child hiding or an old woman gazing from behind a sad curtain into the lens. No one, except for a man on a roof.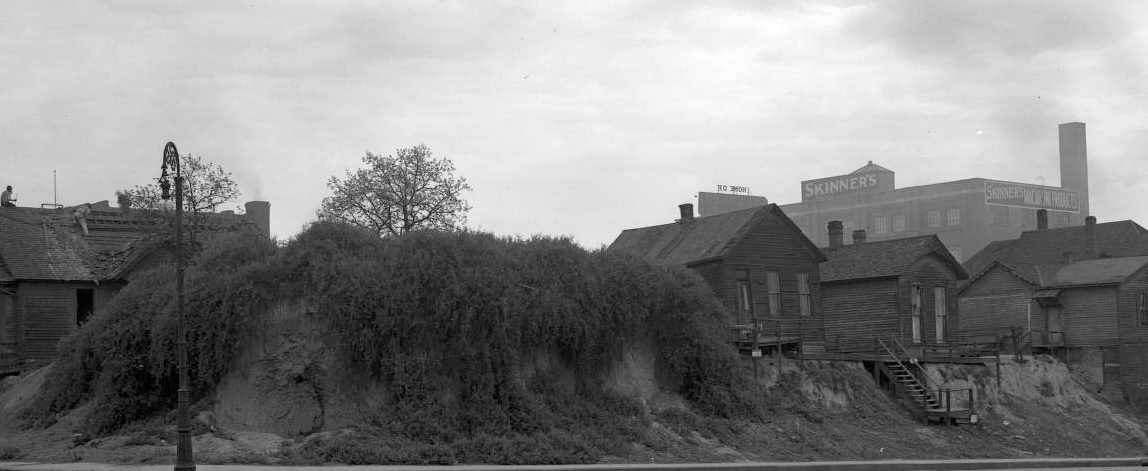 These south-facing homes, on the northeast corner of 15th and Jones, some of the last remnants of the 1800s, would be torn down in 1915, shortly after this photo was taken, to make way for the Western Newspaper Union building. All of the early Omaha writing called this a Dirty Town. I guess I can finally see it for myself. To the right in the background one can spot the Skinner Macaroni building, still located at 1323 Jackson. The Skinner building was supposedly built just one year prior to this photo. George Joslyn was the manager of the Western Newspaper Union in those days and some say the Joslyns would hire John and Alan McDonald to design the 621 South 15th Street building in 1916 but other sources claim it was built by 1915. Bekins Van Line would take over the site, at least by the 1970s and paint those great big yellow letters across the red-bricked Italian Renaissance decorative details, broadcasting a contemporary brazen attitude. By 1999 the building once filled with first-class Linotype machine men and the occasional hard-nosed lady machine operator would soon house upscale downtown lofts.
I previously mentioned the early writings of how dirty Omaha once was. One of my favorite quotes about Omaha from the Federal Writers' Project: "The city fairly pulsates with its trade and its industries. It shoulders its way rudely ahead, it reaches its fingers out along the muddy river and pushes itself back over the prairie farmlands to the west. Of its ugliness and dirt, the smell of its stockyards, the soot from its factory chimneys, Omaha feels no shame. Like the grimy face and hands of an honest-toiling laborer, these qualities but add to its greatness."

1915. 15th Street, facing north. The shantytown homes, balanced ever so precariously atop a mound of dirt. The home addresses painted on little signs are hammered to the railing. The modern city looming to the north.

1915. Jones Street view, facing east. The newly built Skinner Macaroni building behind. A man stares on as two men work on a roof. The house, although small, has some wonderful late 1800 elaborations. Are the men removing the roof for salvage? The couple next door is throwing their furniture out on their lawn. Demolition day is coming.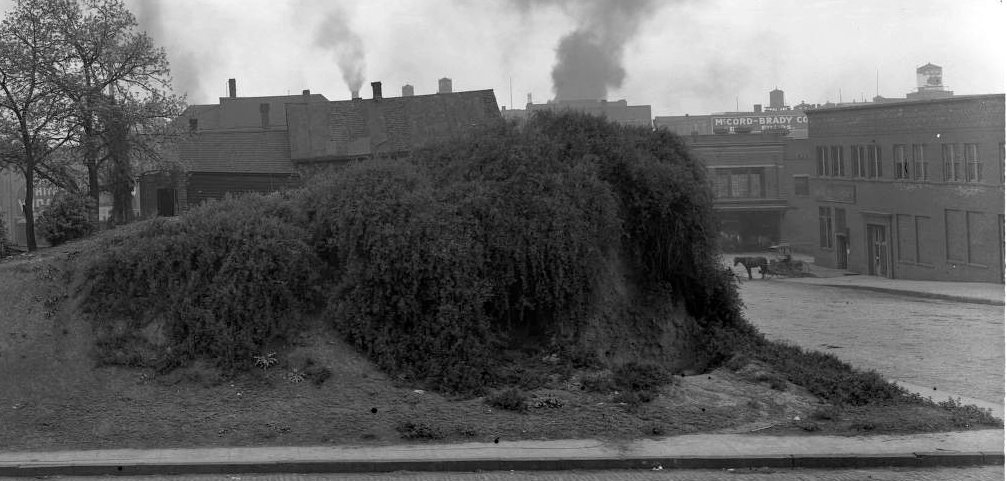 1915. A detail of the ungraded mound on east facing 15 Street. The McCord-Brady building is seen in the distance as is a horse and carriage. All I can think is, if this mound had been in my Benson neighborhood as a child, we would have made great use of it.
I welcome your feedback and comments on this wonderful part of Downtown Omaha. Please share your additional clues to the story in the "Comments," as we know more together. Everyone would love to read what you have to say and it makes the sharing of Omaha history more fun. I want to hear from you.  You can keep up with my latest investigations by joining my email group. Click on "Contact" then look for "Sign me up for the Newsletter!" Enter your email address. You will get sent email updates every time I have written a new article. Also feel free to join My Omaha Obsession on Facebook. Thank you, Omaha friends. Miss Cassette
© Miss Cassette and myomahaobsession, 2018. Unauthorized use and/or duplication of this material without express and written permission from this site's author and/or owner is strictly prohibited. Excerpts and links may be used, provided that full and clear credit is given to Miss Cassette and myomahaobsession with appropriate and specific direction to the original content.