A few weeks back, four buildings extending the north side of Farnam between 29th and Park Avenue were demolished. Three of the buildings were constructed in the early 1900s, the fourth one purportedly built in 1990. There is no need to squabble, as these probably weren't anyone's idea of the prettiest buildings in Omaha—although at least three of the structures were awfully cool, expressing an honest, heartfelt, architectural evolution. I saw beauty there but the writing had been on the wall for years. No matter your thoughts on aesthetics, not one of us could argue against the honorable, good work these unpretentious, undocumented buildings offered up decade after decade. Fellow sleuths, today I am only here to send enormous love, respect and best regards to these old friends, once stationed in one of Omaha's densely, eclectic settings.
The west facing building flanked by Park Avenue on the left side is 225 Park Avenue. A brick apartment building erected in 1900. Middle, large building with a southern facing elevation, frontage on Farnam Street held the address of 2920 Farnam. Built in 1900 as a mix of business on the ground level and expansive flats above. The long, sliver building, one door to the east at 2910 Farnam was built as a business in 1920. The large building furthest to the right with a number of additions was rumored to have been constructed in 1990. It was given the address 222 South 29th Street, presumably because its door angled onto the eastern bookend of 29th.
The Backdrop
Turner Park North LLC, also Community Development Inc., of Caldwell, Idaho strode onto the Omaha stage in about April of 2013 when they purchased Professional Service Industries at 2917 Douglas Street. Four months later in the summer of 2013 they brought down the northern Twin Tower, of the Twin Towers set, a high-rise condominium building at 30th and Douglas Streets. Cindy Gonzalez, journalist of the Omaha World Herald, began reporting on the surprising Changes to Come along Farnam Street in the same year. She discovered Mutual of Omaha had been "quietly buying up a swath of properties on both sides of Farnam Street" in a concerted effort to clear the way for new development east of their Midtown Crossing, in hopes of making the area more desirable for development. Mutual of Omaha had built their $300 million Midtown Crossing at Turner Park–a seven building, 16-acre mixed-use complex, directly east of the famous insurance company's Omaha headquarters. East Campus Realty LLC, a subsidiary of Mutual of Omaha, owns Midtown Crossing.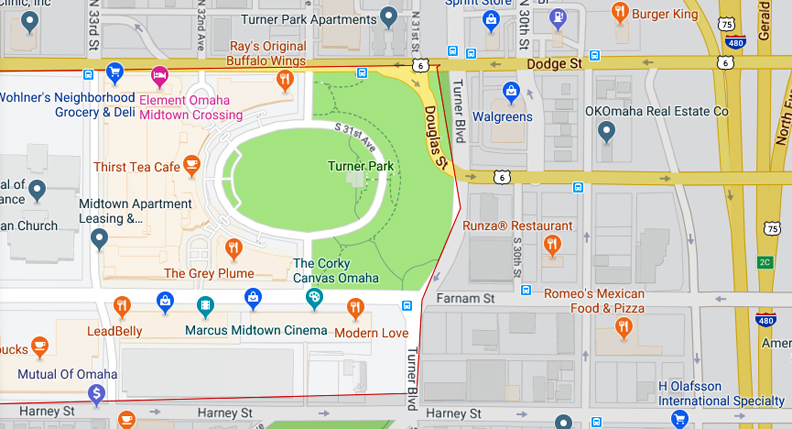 2019 map borrowed from Google.
The insurance company's dream scenario was that another developer/s would invest east of their Midtown complex, pining for a commercial entity whose employees could fill in their Midtown Crossing luxury apartments and condos. Ken Cook, of Mutual's East Campus Realty LLC stated, "The amount of economic redevelopment that we hope to see between here and the Interstate has not materialized." Previous to that fall, Mutual of Omaha had not exposed that they were also operating as the shadowy Turner Park North LLC, an anonymous LLC out of Idaho. Forming a private limited liability company with an attorney and unknown registered agent is one of the most ironclad methods of upholding privacy (from mean and nosey preservationists among others) in the acquisition of property. Cindy Gonzalez would gain access to the Mutual of Omaha interview only after 17 parcels were assembled (at a cost of $6 million) and shifted publicly into the Turner Park North LLC–connected to the Mutual of Omaha address. Currently these parcels, many barren now, are registered under "Turner Park North LLC, C/o Shawn Matthiessen, Mutual of Omaha Plaza."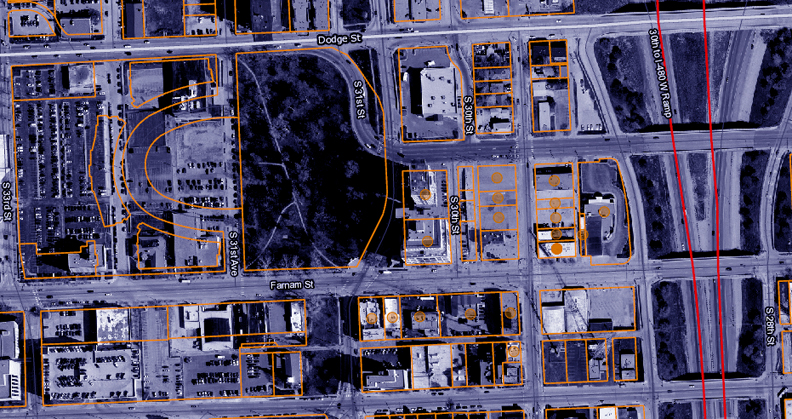 2004 aerial of the area previous to teardowns. The faint yellow dots denote the current Turner Park North LLC acquisitions. Photo borrowed from the Douglas County Assessor's site. This image, compared to the 2019 map displayed above, accentuates the changes to the actual Turner Park and the Mutual of Omaha parking lots.
Somewhat painful to read, back in 2013 Ken Cook would describe the strip of strange and wonderful older buildings along the Farnam Street corridor as an "obvious barrier" to Mutual's Imaginary Friends Development. Cook flatly expressed, "It will be easier for others to see opportunity if the real estate is shovel-ready. We're in discussions about which ones will be taken next. If we can do what we can to wipe the slate clean, we think opportunity is going to be hard to miss." Cindy Gonzalez and Chris Burbach of the World Herald would do a good job of continuing to cover the series of acquisitions and razings in an even-handed manner.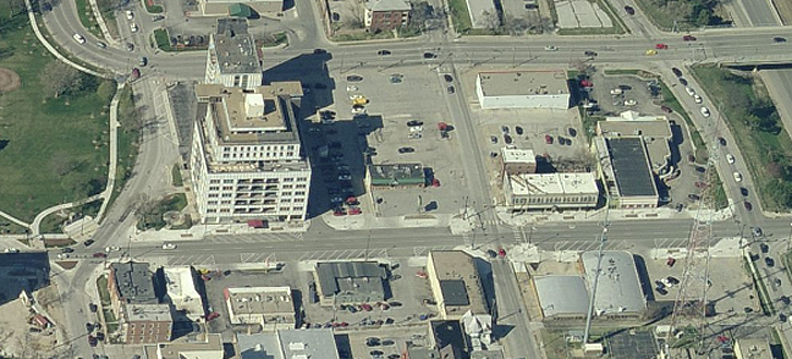 2010 aerial taken from the DOGIS site. Camera is facing north. Farnam Street runs left to right.
The Missing Scenery
Now I could go on and on but this is not intended to be one of Those Articles. Here are some highlights of what was assembled and cleared in Mutual's plan: The Farnam Street corridor extended primarily from 29th Street on the east to Turner Boulevard on the west, as well as a few parcels carrying Douglas Street addresses.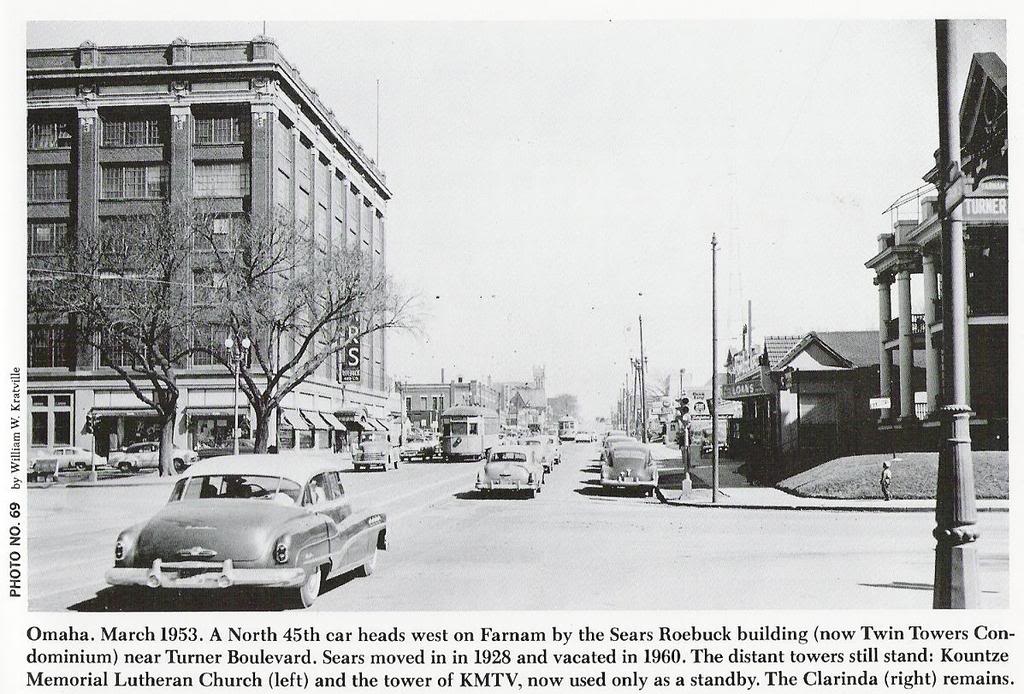 First, a peek of what was once eastward facing Farnam at Turner Boulevard. Here's an oldie but a goodie. This is borrowed from the fantastic O&CB: Streetcars of Omaha and Council Bluffs by Richard Orr. Can you spy 2920 Farnam up in the distance on the left hand side?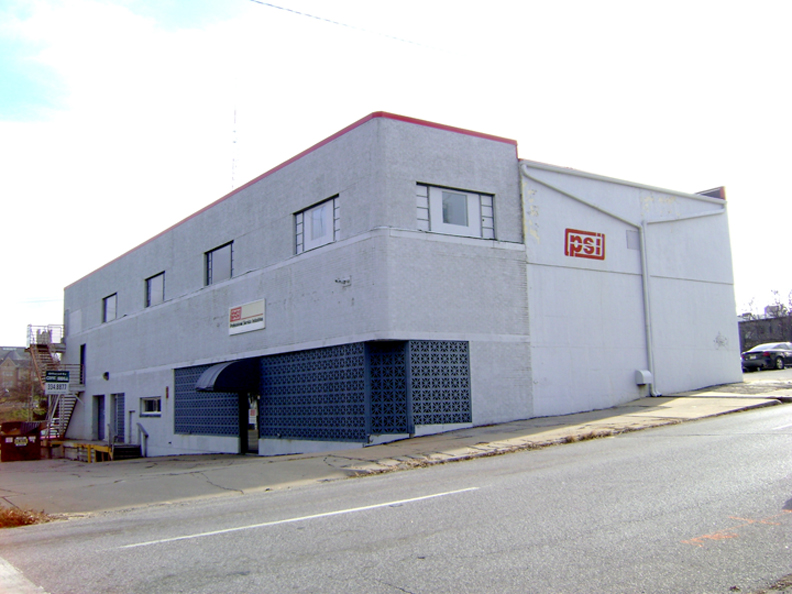 Razed: Professional Service Industries at 2917 Douglas Street.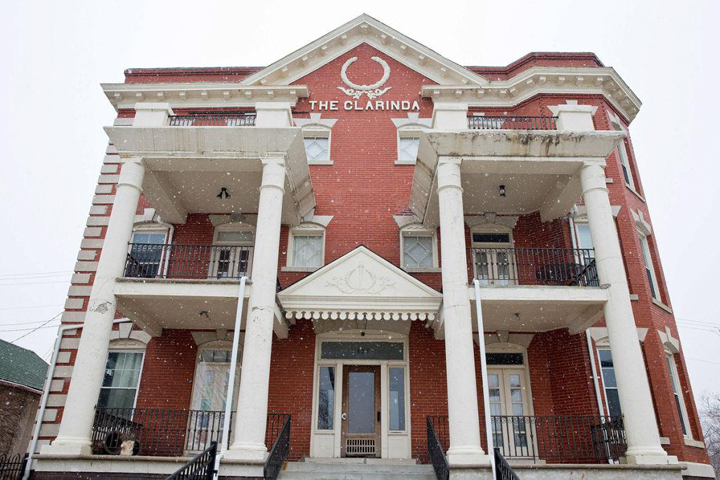 Razed: The Clarinda-Page apartment buildings at 3027 Farnam Street. Photo from the OWH collection.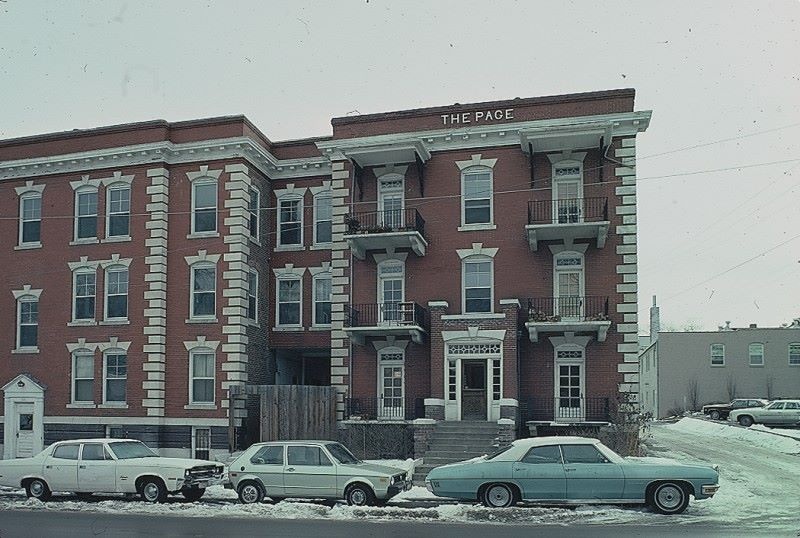 This view is from the west, on the Turner Park Boulevard side. For more on this building, check out my previous article New Omaha: Farnam Field. Turner Park North LLC bought the Clarinda-Page in July of 2014, after Mutual and Clarinda condominium owners won a battle to strip the buildings' historic landmark status. The Mutual of Omaha representative called this a "wreck of building."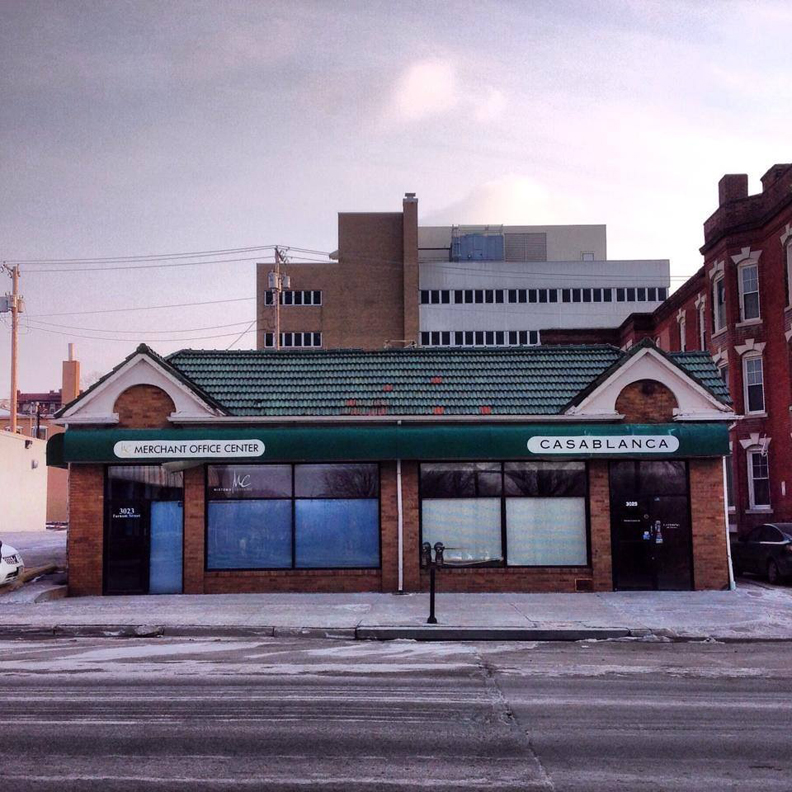 Razed: The ultra-cool, green, tile-roofed building that once housed the Pickles Records and Tapes, an old haunt of mine. Most recently the Casablanca Moroccan Café at 3025 Farnam Street, to the east of the Clarinda. My favorite of all the structures that were taken out.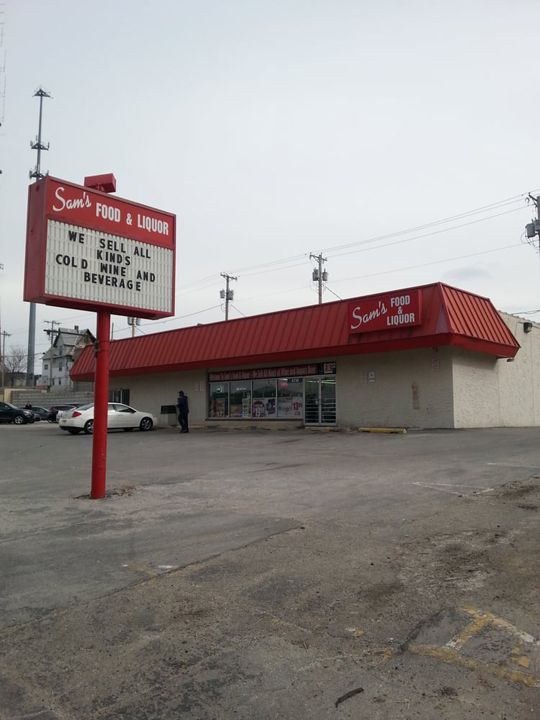 Razed: The weirdly, lovable Sam's Food & Liquor convenient shop at 3019 Farnam St, once a 7-11 or Kwik Shop? This is where we teens used to spy on the parties (activities of the Franklin Credit Union Scandal site) across Farnam at the Twin Towers. This is also where my boyfriend, who we now generally assume was an older man, would buy alcohol for all of us. It was the 80s—so there were a lot of Bartles & Jaymes Premium Wine Coolers and Black Label orders for us kiddies!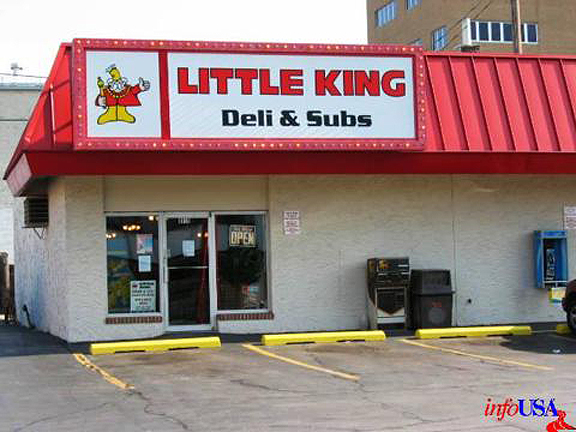 Next door, the extra strange Little King's sandwich shop at 3015 Farnam.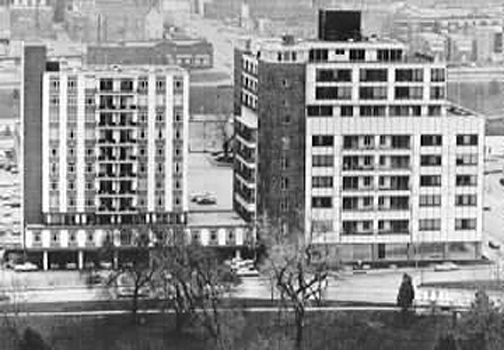 Razed: The most prominent of the group—the 11-story, North Twin Tower condominium building, created as a twin for the newly refashioned Sears Roebuck building in the 1960s; various parking lots, the Alegant Creighton health medical offices, the fantastic Godfather's Pizza building, among others. Not a highly evolved, cohesive design, Mutual rightly estimated these simple originals were not cut of the same cloth as the Midtown Crossing. This varied grouping of structures was unglossy, "old" buildings to many passers by. And do I believe every single one of these should have been saved? No, but there were a number that could have been restored to something quite incredible, that would have enhanced the Mutual campus with architectural integrity. At a foundational level, this Farnam Street swath could have displayed our historical process.
The Stalwarts
The two holdouts back in 2013 were on the eastern most fringe of the planned Mutual venture; coincidently these resistant owners-leasers inhabited the very buildings that came down just weeks ago at 222 South 29th and 2920 Farnam.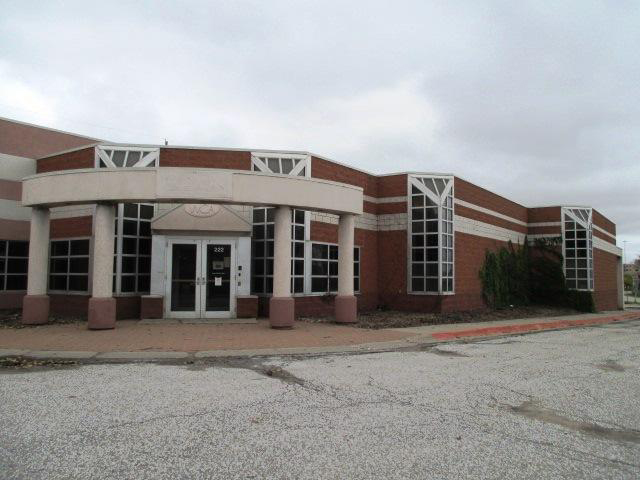 Amy Richardson, director of the WCA, Women's Center for Advancement, at 222 South 29th Street believed her clientele would best be served on the edges of Downtown Omaha, with close proximity to the courthouse and government agencies. The WCA does brilliant work serving domestic violence and sexual assault survivors in our area and had been housed in the 29th and Farnam Street location since 1981. Years later in 2016 the WCA announced their move to the new, spacious Blackstone location. They had outgrown the Farnam Street locale and saw an opportunity to upgrade for both their staff and clients.
The 1990 concrete slab WCA building and property at 222 South 29th Street fetched a cool $1.5 million for the moving women's group, enabling Mutual of Omaha to make way their future development.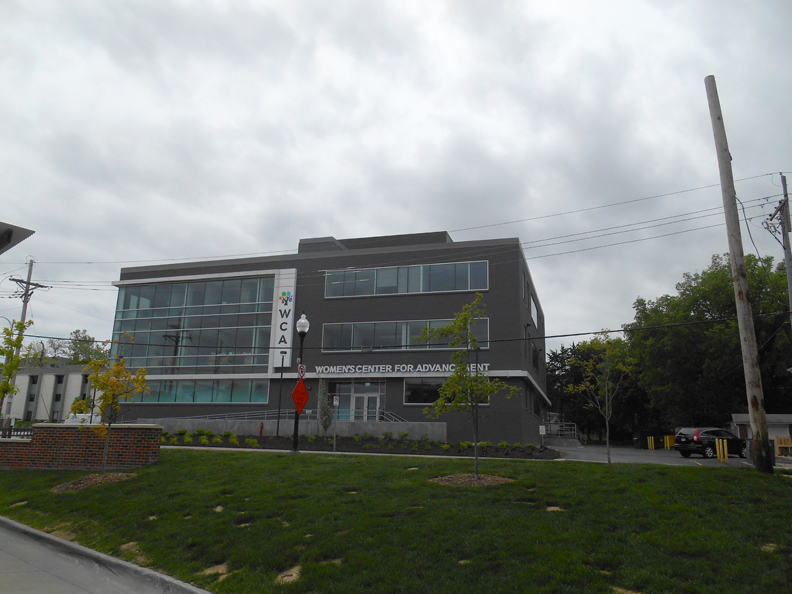 WCA moved into its new building at 3801 Harney Street, after a $7.5 million makeover at the site the old Region 6 Behavioral Healthcare building.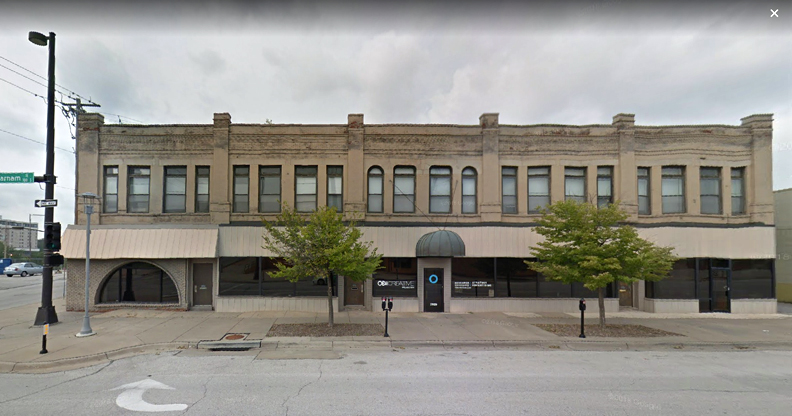 But back to 2013–Mary Ann O'Brien, CEO and founder of OBI Creative, an advertising agency on the main level of 2920 Farnam Street, did not own her building but had reportedly put "$100,000 in remodeling since her agency relocated in 2006 from California." She loved the area and embraced the eclecticism but the Turner Park North LLC had already snatched up 2920 Farnam by 2013. June of 2018 announced the OBI Creative team were moving to a brand new office in the Millard Lumberyard District at 4909 South 135th Street, also viewed as an upward expansion for group.
Still No Takers
In December of 2016 KETV reported Mutual of Omaha had big plans for a residential and commercial campus east of its Midtown Crossing development. It would appear that their complimentary developers still had not come forward. Mutual would be forced to move ahead with their own plan in order to recreate the area that they had been leveling.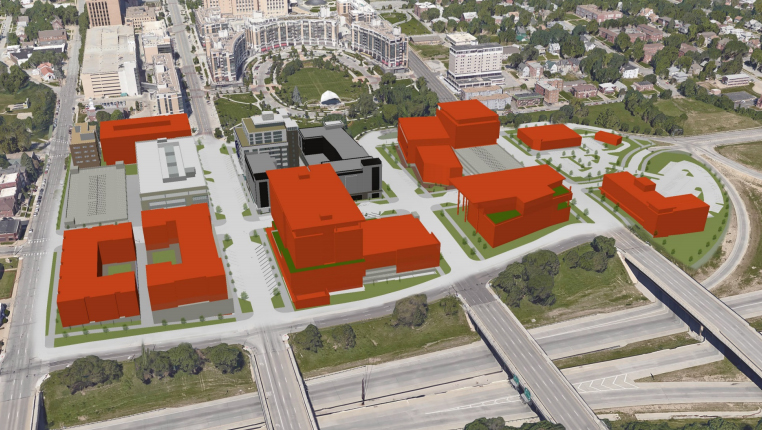 "The company has bought much of the land and is gearing up to embark on its vision for 'Omaha's urban core,'" reported KETV. This artist's computer rendering of the newly coined Turner Park East, is westward facing. Farnam Street is shown centrally, with Twin Towers and Turner Park in the distance. The red buildings represent newly projected structures to the area. There is a good deal of expansion to the north and south of the newly razed Farnam and Park Avenue buildings with another large park area to the north of Dodge Street. More and more buildings will be demolished forthcoming.
I foresee two potential issues with this type of mono-crop expansion. Omaha will be losing even more lower-income and mid-level apartment price points in this area (affordable housing) with the removal of the current homes and apartment buildings standing–essentially out luxury-ing the everyman. There are also many homeless and wandering people who spend time in this area, particularly around 30th and Dodge. This expansion will serve to flush everyone without high end means from the district. It is Gentrification 101. I also have serious concerns about the level of quality in both building materials and design of these new mixed-projects all over town. Will they be as well made and long lasting as the current structures they are replacing? Not possible. The goal appears to be to complete the projects as quickly and cheaply as they are legally allowed to sell (meeting minimum building codes.) Ease of building over quality means that we have at least two whole generations of buyers and renters interested in this particular market that are not savvy enough to tell the difference in durable, quality construction. They possibly think that hollow and shaky floors, tiny windows, short doors, low ceilings and whisper thin walls are standard, as long as they are offered those top-notch, shiny appliances, a rooftop collaborative space and urban finishes. They have been offered the "toy" version of a home made out of flimsy materials. Midtown Crossing has finally gathered tenants and businesses, meanwhile the building featured so many sexy trends upon arrival that it is already looking dated. I cannot honestly speak to the actual quality of the accommodations, as I have not been inside the Midtown Crossing project. I can recognize people seem to really enjoy this manner of living.
A Souvenir
Before I get into the proper Glimpse Back to three of the four buildings that were just flattened, allow me to share a fond recollection connected to the Mutual of Omaha story. The 2920 building was home to many restaurants in its day but my first time there was in the mid 1980s. My boyfriend at the time, who we now, interestingly, all suspect of possibly being ten or more years our junior, had taken me to an Italian-ish restaurant on the main floor. It was lunchtime, probably on a weekend. The food was unmemorable but I enjoyed sitting in that half circle window looking out on Farnam Street, where the wanderers of this particular world still maintained a marvelous and mysterious distinction. I would study the area across the street of the fabulous old automobile dealership and service garage building at 2929 Farnam, which I incorrectly remembered as being Helen and Sid Novak's infamous Franx Antiques & Art. (But I just looked it up and Franx Antiques was actually up at 3141 Farnam.) Oddly the Novak family had also owned the 2929 Farnam building as Novak Volkswagen previous to Romeo's Restaurant acquiring the property in the early 1980s.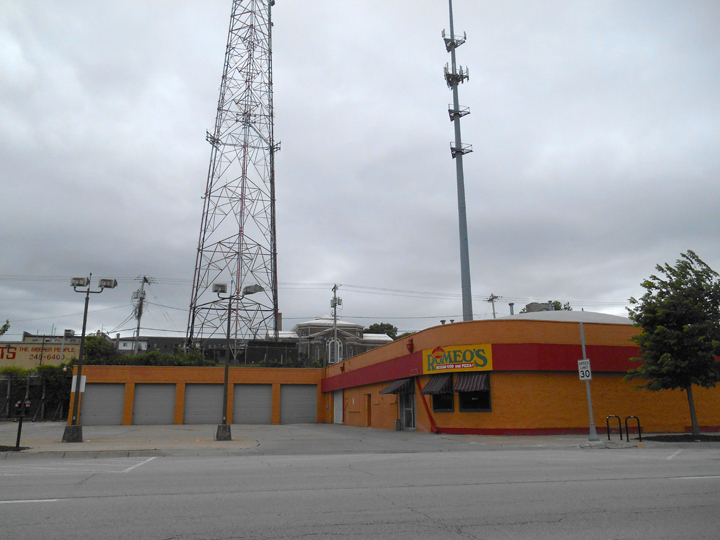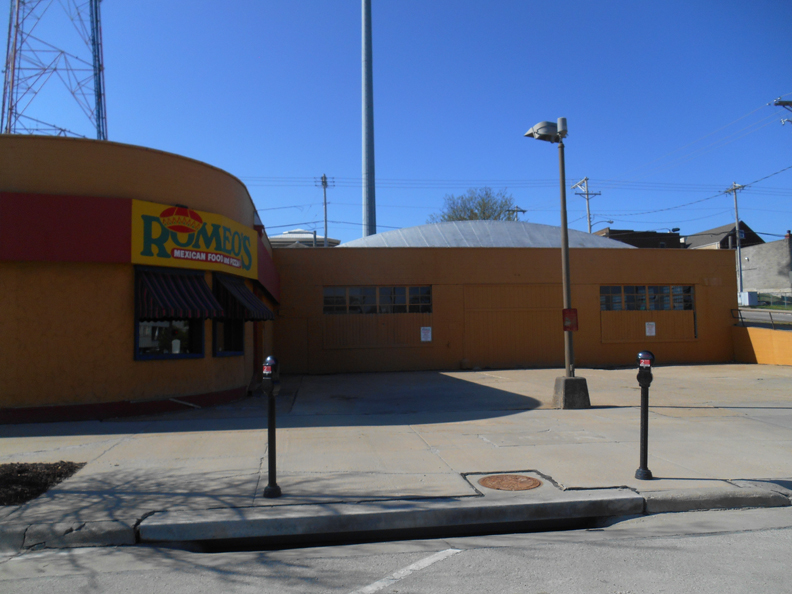 Romeo's at 2929 Farnam Street.
My boyfriend rented an apartment with a number of other fellows in a great, old building up toward Mutual of Omaha. From the Mutual headquarters down Farnam to Turner Park Boulevard and all of the blocks surrounding were filled with houses, apartments and trees, razed in the following decades for Mutual of Omaha surface parking and later still, the Midtown Crossing development. We would stroll this whole area or use his Vespa and especially enjoyed Franx Antiques at 3141 Farnam—pinpointed as the first time I remember seeing a large collection of George Nelson white, bubbly lights and other Mid-Century Modern Space Age type lighting. I couldn't believe the glory and I can still see those lights hanging, all lit up in the Novak's automobile district showroom. This fine site had also been a leftover car dealership-service garage from back in the early days. To memory this is also when I was introduced to Franklyn "Frank" Novak, the owner's son. Frank was one of those incredible Omaha characters that, not surprisingly, found too little action on our slow streets. Long ago settled in Los Angeles, around this time period he was known to me as the Very Cool Older Guy of the punk and arts scene, who had created the famous Mutant of Omaha t-shirt. If you are not in the know, Novak's design mocked the Mutual of Omaha logo with the company's Indian head insignia and poked at their classic motto as well. From the court documents of November 1986: "In April of 1983, defendant Novak produced a design using the words 'Mutant of Omaha' and an accompanying logo depicting a side view of a war-bonneted and emaciated human face. The design was initially placed on T-shirts in conjunction with the phrase 'Nuclear Holocaust Insurance or 'Sponsored by Mutant of Omaha Nuclear Holocaust Insurance Co.' The reverse side of the shirts read 'When the world's in ashes we'll have you covered.'" That spring Novak produced another design, this time using the words "Mutant Kingdom" and "Mutant of Omaha's Mutant Kingdom" with an accompanying logo depicting a Cyclops-type, one-eyed tiger.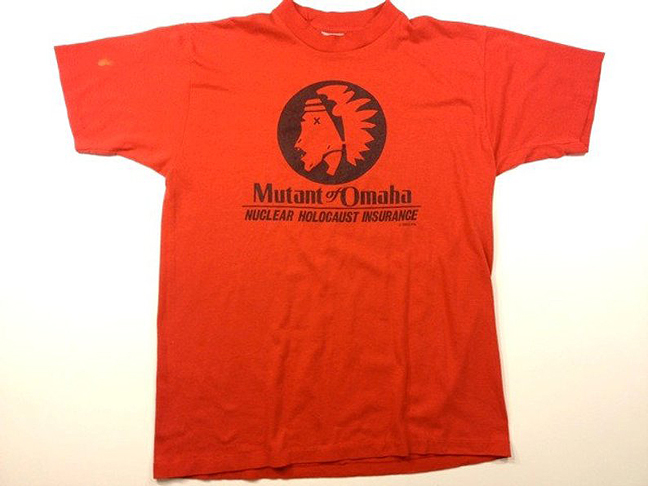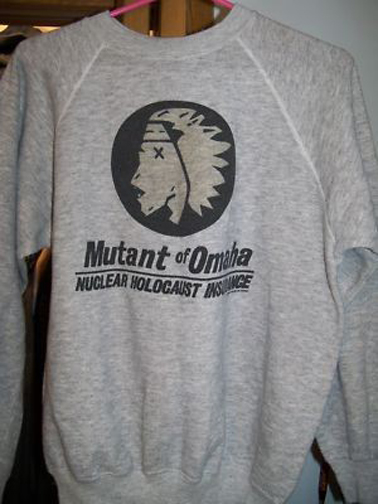 The famous insurance company filed a trademark infringement lawsuit in the fall of 1984 and asked for a permanent injunction preventing Novak from using the trademark and "Mutant of Omaha" on his products and literature. For his part, Frank Novak's attorney, Warren Schrempp's stance was the whole thing was a "spoof about an internationally known company." Hal Daub would even ring in, calling the design, "despicable, tasteless and rude toward a company," he said, "who had done much for Omaha." The more upsetting this became to the establishment, the more we locals found it hilarious. A true David and Goliath story for the Omaha annals. All so apropos for anyone who grew up or spent a lot of time in the Mutual of Omaha district.
The 2920 Farnam Street Narrative
The Douglas County Assessor's site had 2920 Farnam listed as being built in 1900 but I would find evidence of its position as early as 1896. One of my favorite older buildings in this whole area, 2920 was one of those I had not anticipated ever having to say goodbye to. 2920 was a commercial location on its street level, offering 5,300 sq ft—sometimes with as many as five businesses operating out of the main level. (Don't worry, I will not detail them all.) Above featured five apartments–10, 800 sq ft of living space from behind those tall, cool windows. 2920 was built in the same year as its very cozy neighbor, 225 Park Avenue. In fact in modern times these two buildings were always sold together. More on that later.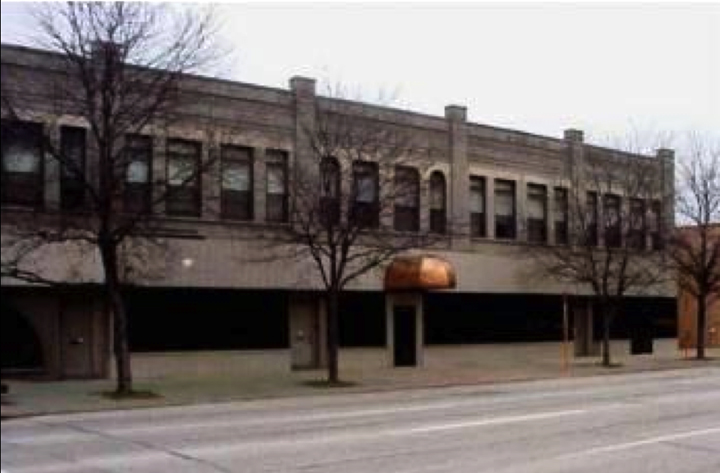 2920 Farnam Street.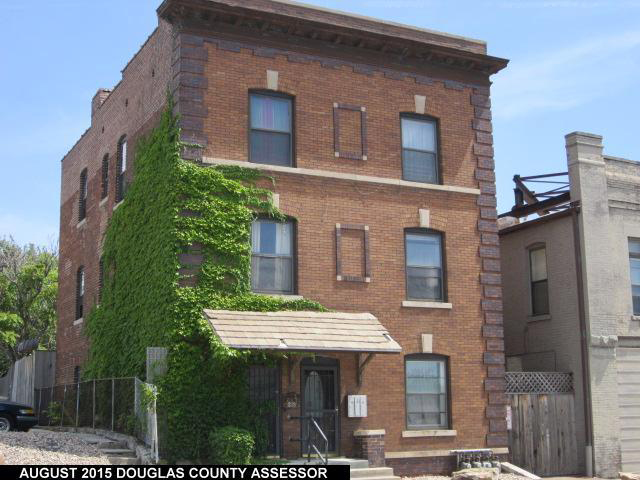 225 Park Avenue.
The reason I estimate that the 2920 building dated back to 1896 was the connection to a drug store. In 1896 Samuel S. Lanyon applied to sell liquor as a druggist out of this address "for medicinal, mechanical and chemical purposes only." By 1905 William C. Hayden was also detailed as a druggist out of the address. Furnished and unfurnished rooms featuring steam heat were rented out, "Over drugstore." The most well-known drug enterprise was the Pickett-Loring Pharmacy—the C. O Pickett and Lewis P. Loring team. Loring had been district head of the Rothenberg & Schloss Cigar Company as well as proprietor of the Pickett-Loring Drug Company. Both had met selling cigars out of Paxton & Gallagher. Mr. and the Mrs. Loring became Omaha Famous for the birth of their two children—each baby upon birth, weighed an astounding twelve pounds.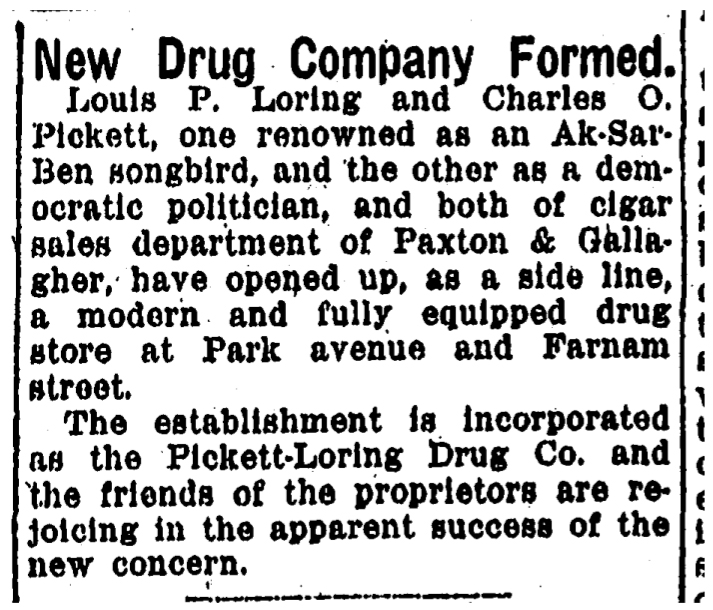 OWH. 1916.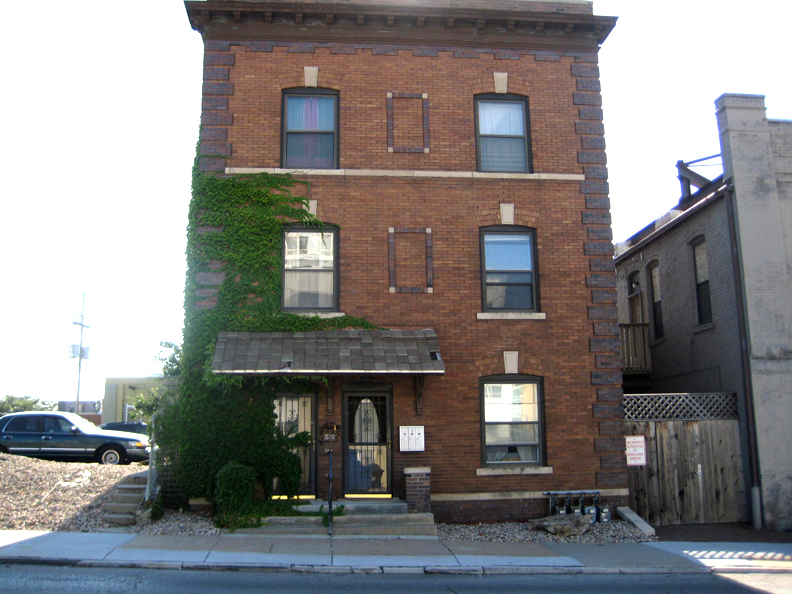 This 2015 photo was taken by My Omaha Obsession friend, Detective Shirley. I appreciate her sharing this photo with us!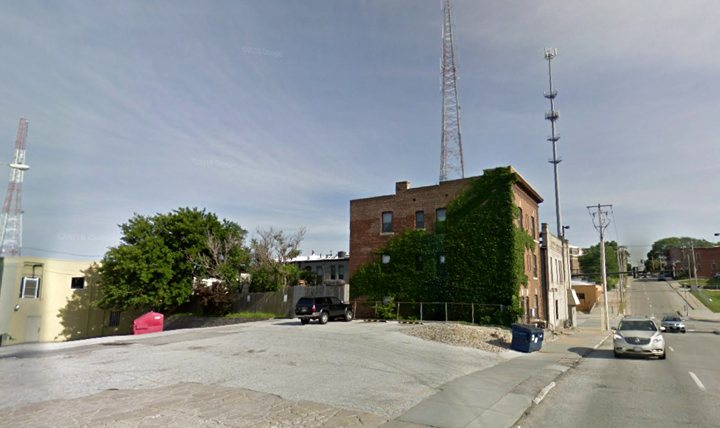 225 Park Avenue found its role early on, as a simple apartment building–although it offered up some very nice treatments as seen in the photos. It proudly sat at 3,528 sq ft. There were, at times, five units in the building. It shared a tree-filled, shaded garden area with 2920, between the two buildings. I will speak more to this environ later.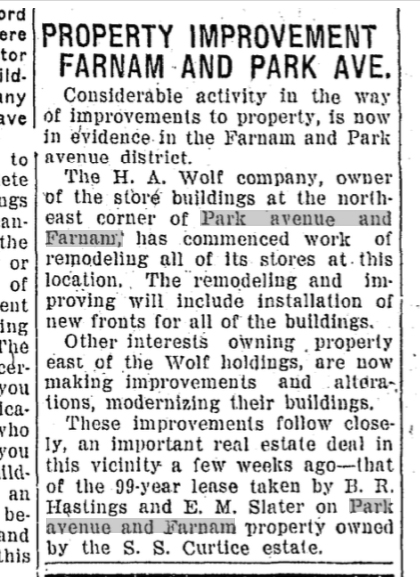 OWH. 1923. Clues that the W. A. Wolf Company owned this large building.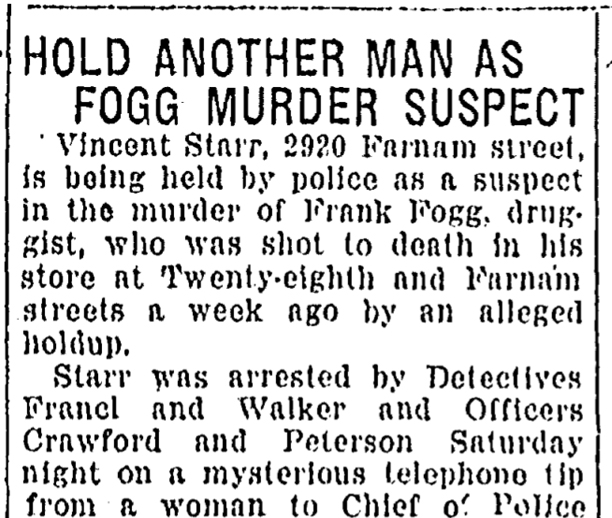 The 1920s brought excitement to the 2920 building. The murder suspect of Adelaide Fogg's druggist father was found living in the apartments above. If you have not yet read the fascinating story of Miss Adelaide, take some time to check out The Quest for Miss Adelaide Fogg at your leisure. A mysterious telephone tip from a woman! The best kind. As I have said many times, at some point, all of these investigations will have a connection, just as all of us characters will have and do have a connection.
The Park Avenue Pharmacy and later the Farnam Pharmacy would hang their shingle on 2920. The longstanding Delrough Café served up "genuine French fried" food from their kitchen, starting in the 1920s. Unfortunately a transient laborer from Massachusetts held up the Delrough with a revolver after ordering a light breakfast. He commanded the 1:30 a.m. (?!) restaurant crowd to "Not make any smart cracks," as he made off with a measly twenty bucks. Mr. Massachusetts later admitted to the crime and was sent to the penitentiary for three years.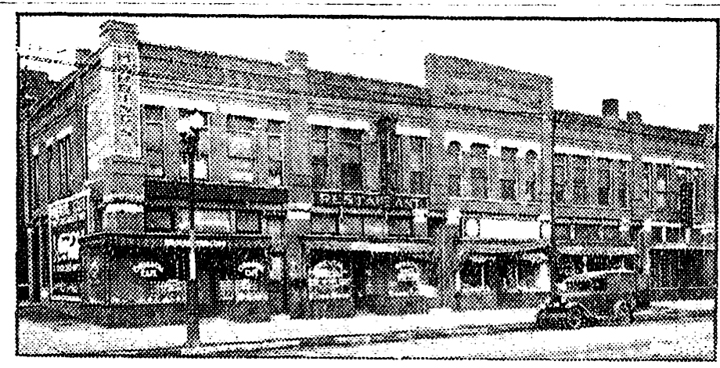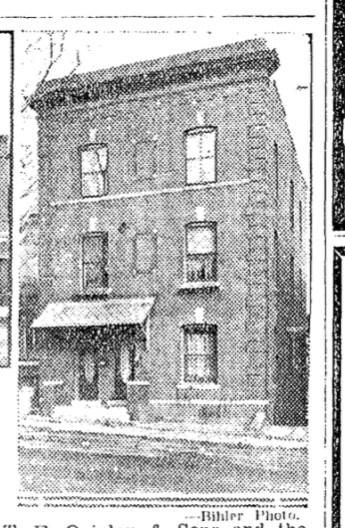 OWH. 1935. The building at 2920 was purchased by B. Hrdlicka, as well as the 225 Park Avenue apartment building. . One can see the hand-painted Delrough Café signs in the frontage windows, along with possible half-window curtains for privacy. Love the street lamp and the look of the buildings, contented with themselves.
A 1941 aerial photo shows that there were four large houses, very close together on the lots to the north of 2920 Farnam and 225 Park Avenue. These homes all faced Park Avenue. Possibly row houses or multifamily units. Likewise there were four large houses facing east on 29th Street, north of what would become the YWCA. The Oriental Café and Hollywood Grill would each makes attempts to eek out a living in this solid Farnam address.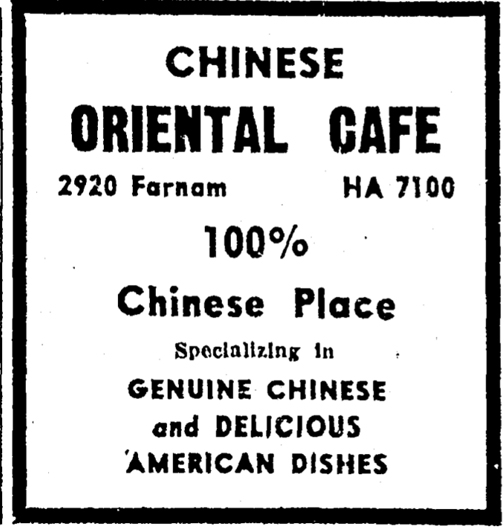 OWH 1941 Oriental Café. It is possibly strange how much I adore this stark advertisement.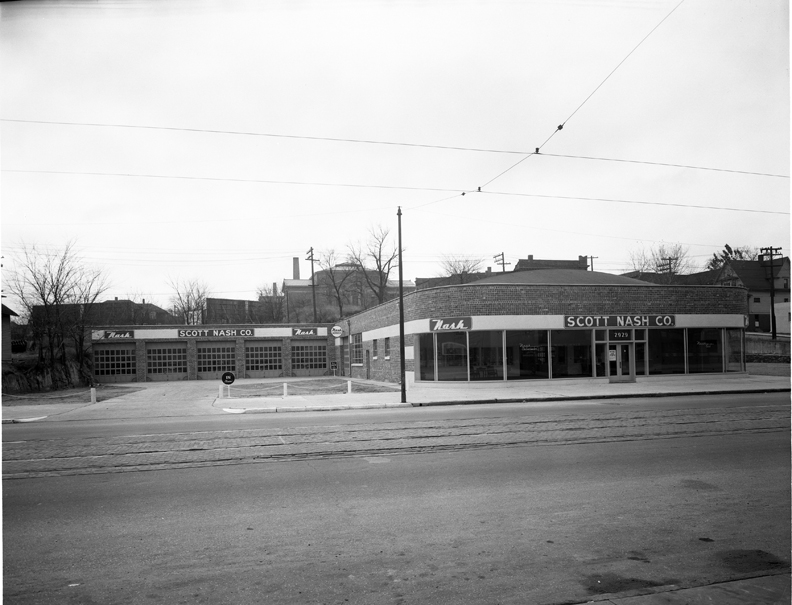 Across from 2920 Farnam was the great-looking Scott Nash building—later to become the Novak Volkswagen and now the Romeo's Restaurant. Scott Nash Company dealership at 2929 Farnam Street. Creator: Bostwick, Louis (1868-1943) and Frohardt, Homer (1885-1972). Publisher: The Durham Museum. October of 1946. We can all guess that this building is now threatened.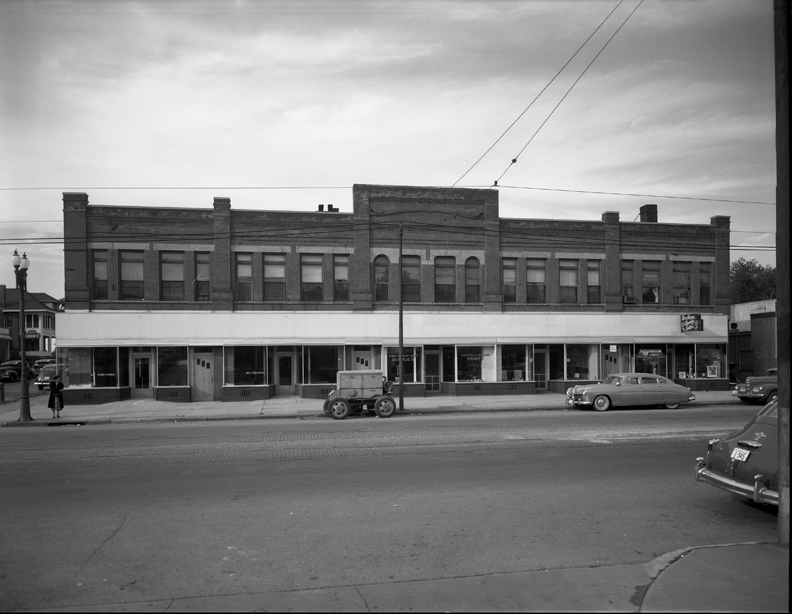 Around 1947 the popular Neapolitan Café had moved into 2920 Farnam. An exterior view of the building. The stores include: Neapolitan Cafe and Bushon Beauty Salon. Creator: Bostwick, Louis (1868-1943) and Frohardt, Homer (1885-1972). Publisher: The Durham Museum. September 1950. I feel very rich and satisfied with this photo. A peek at the homes along Park Avenue are possible on the left hand side of the photo.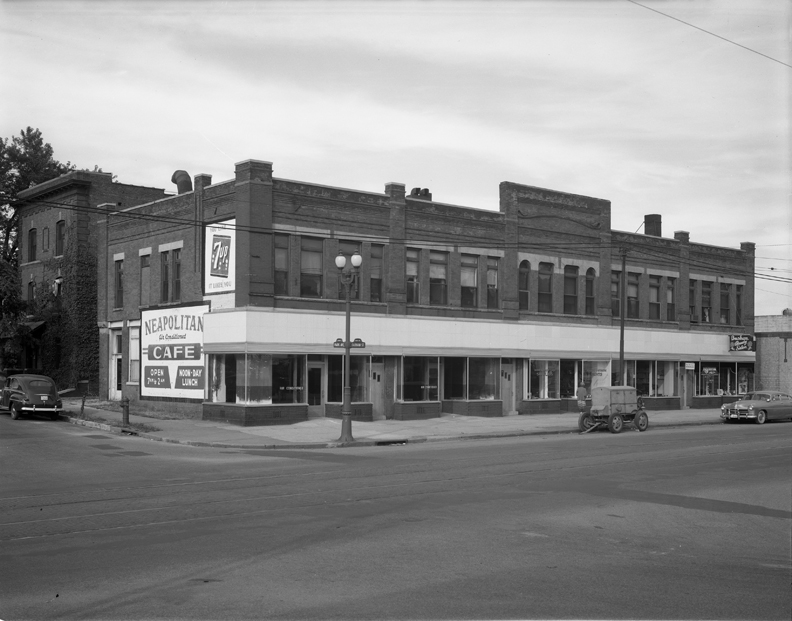 An exterior view of the 2920 building, with the cutie 225 Park Avenue to the rear. The stores include: Neapolitan Cafe and Bushon Beauty Salon. Creator: Bostwick, Louis (1868-1943) and Frohardt, Homer (1885-1972). Publisher: The Durham Museum. September 1950.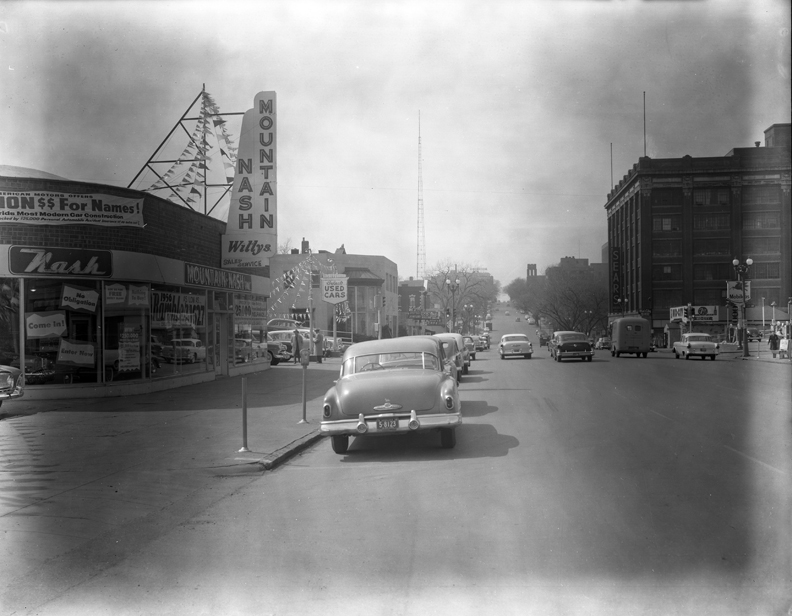 Fabulous Farnam Street looking west. Mountain Nash automobile sales, on the left. In the distance on the left side of Farnam is the Godfather's Pizza building that I had mentioned earlier. Although it was not a pizza shop back in 1956. The original Sears- Roebuck (Twin Towers) is on the right, the next block down, with Mutual of Omaha in the distance. On the left side of Farnam Street are a women's clothing store, George's Watch Shop and Jewelry, and in the distance WOW-TV's tower and the Blackstone Hotel. Creator: Bostwick, Louis (1868-1943) and Frohardt, Homer (1885-1972). Publisher: The Durham Museum. 1956.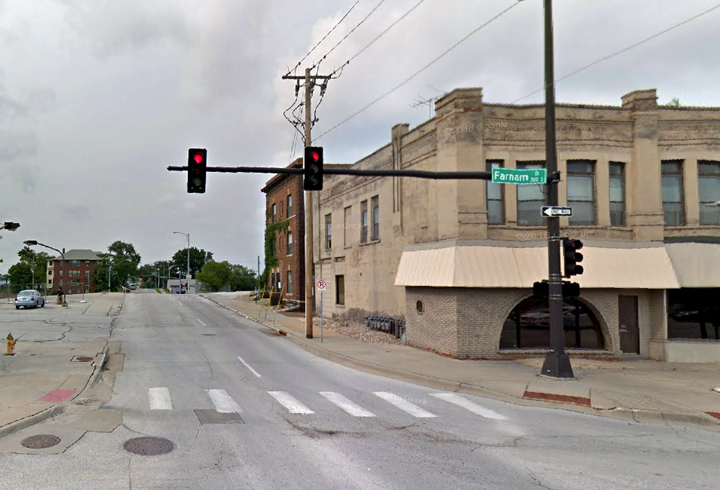 Through the early 1950s United Rent-all operated out of 2920 Farnam. Of note the late 1960s would usher in a string of risqué businesses. I would find that Caesar's Palace would have their liquor license transferred from Rocky's Hideaway. Caesar's Palace is featured in my upcoming book so I very pleased to see yet another crossover connection.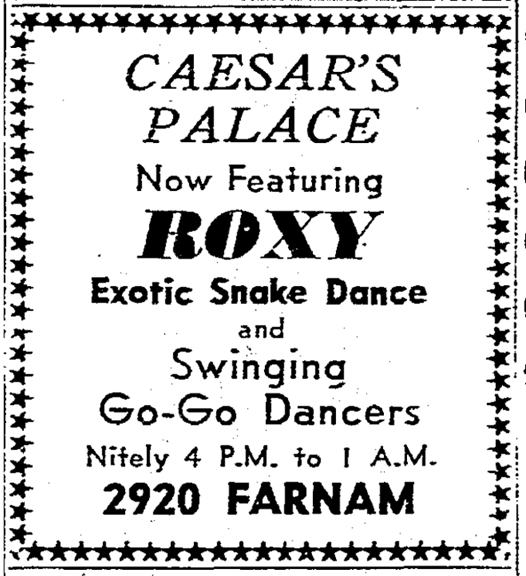 OWH. 1970 Snake Dance displayed at the Caesar's Palace Lounge. Interestingly Subby Anzaldo was also operating his entertainment agency out of the second floor in the same years as Caesar's. His bevy of talent provided "Entertainment Acts and Combos for your Party or Convention. Call-Write-Wire." Love it. Did some in his company also work at the club downstairs? Just wondering…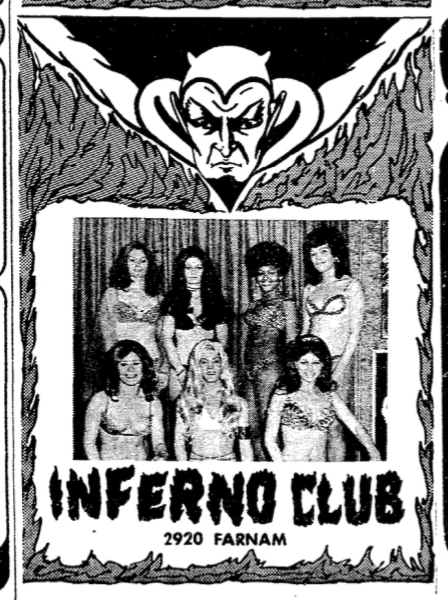 Lynn Russell's Pink Tiger Lounge made its colorful entrance in 1972 but by '74 it has transferred names into the sultry "Inferno Club." I noted Them There Guys would play regularly like they did when it was the Pink Tiger. Were they the go-go club House Band? It was still a go-go club under the designation of The Inferno Club– lest you forget, here is great photo! I think that someone should make a t-shirt of this image and sell it locally. It would be a smash hit. (We've learned—just don't put the name Mutual of Omaha on it.)
By the late 70s it was The Park, where they began acknowledging the patio space between the two buildings. From what I've read, The Park perhaps created this patio area with outdoor seating. We'd have to ask someone who frequented the go-go clubs to see if this was always an outer area. At any rate, The Park served outdoor dining and drinking.
***Addendum of May 19, 2019*** A secret detective from Omaha just wrote in: "The Park Bar in the late 70s / early 80s and was run by a local restaurant- bar owner, named Jim Overton and a sweet older couple whose name I don't recall. I worked there for a summer when I was home from college one year. This was the place that had the dial-up phones on the table that were numbered. It was Jim's idea. He said he saw these in Paris. I worked lunches there and would often go there at night to hang out on that great patio in back. I'm amazed not many people talk about it now as it was popular and kind of wild for its time. Live bands in the back, cops called on a regular basis. I used to change the marquee in front as the bands were booked. The older couple also rehabbed the old hospital down on Park to become apartments. I think that building is still there. Jim had other places around town, such as the amazing Jackson 1022 which was a disco, bar and restaurant and was way ahead of its time. I dj'd a set of music there one night and played mostly European dance 12-inches and Kraftwerk to, basically, an empty room."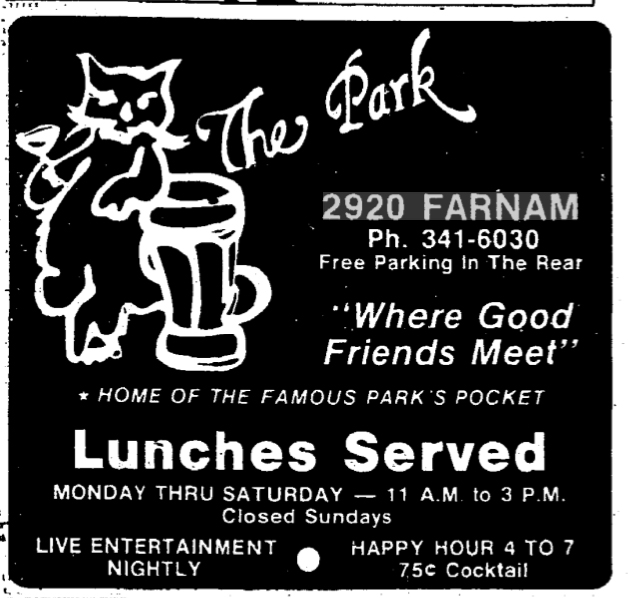 OWH. 1979. And what was the famous Park's Pocket?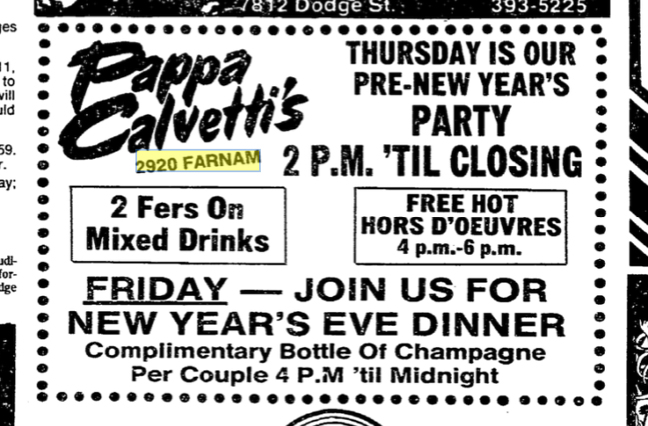 By the time 2920 Farnam came on my teenage radar, it had morphed into the Pappa Calvetti's World of Spaghetti, where I had dined with my boyfriend. This venture offered seating for 100 outside and 125 indoors. The Pappa's and Jim and Pat's Twin Cafes also gave it a go in the late 80s when I no longer lived in Omaha. Cancun's Mexican Restaurant was rumored to have taken over the lease in the 1990s. Apparently "four dining rooms have been opened and have a thematic flow with art deco colors" offering "painted brick throughout," with "lots of hanging plants and ceiling fans. Only the outside beer garden remains pretty much the same, with its black mesh, wrought-iron tables and chairs and vats of plants." Was it one of these operations that brought the Spanish-style, adobe-ish window to the front elevation of 2920 Farnam?
A 1990s Memorial
Dooley's Food and Spirits and later The Brickyard would take the reins of 2920 Farnam Street in the 1990s, featuring "alternative" and cover bands nightly. It was during this time period that my girlfriends rented an apartment above the bar. Such a wonderful high ceiling in that apartment and the long windows were charming. The bricked back area was both the bar's and a community space for the tenants in both buildings. Not everyone knew of this hidden gem. It was similar to those small but coveted backyards found in Manhattan, shared amongst a gazillion high-paying tenants. There were good, heavy, black metal tables and chairs and some fashion of lighting, as I remember. We would sit and smoke endless cigarettes and laugh and laugh, I suppose believing we were very European. The enclosed brick walls of the space were the apartments and windows above, screening us from the public view. Very similar in feel to the Passageway of the Old Market. There were a number of large, old trees, which provided an icy, cool environment back there, an oasis on summer nights. I hope to always remember these summer nights.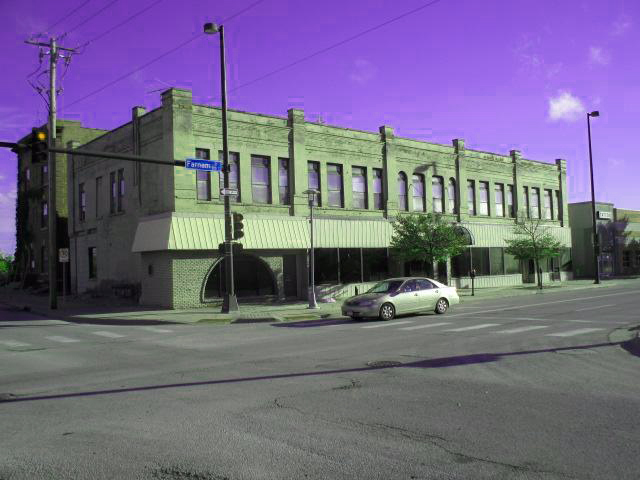 2910 Farnam Dossier
The little sliver building that could at 2910 Farnam Street was supposedly constructed in 1910. From what I could unearth, this was a 3,644 sq ft, two-story, mixed use building since it's beginning. This stucco address started life as a feed store in the late 1880s but most likely was another structure altogether. By 1906 there were furnished rooms advertised.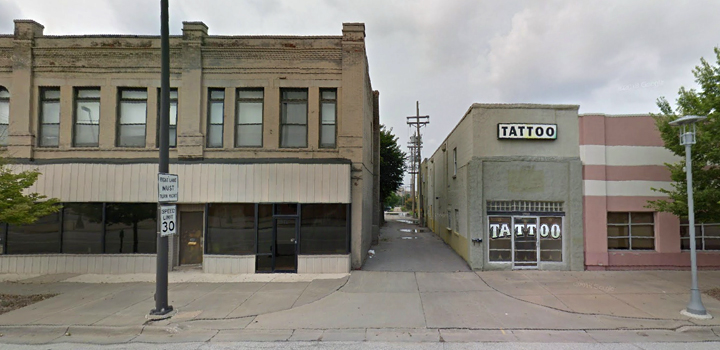 The actual building that was present until very recently would host the Omaha Furniture Repair Works and the P. A. Blum Steam Fitting Company in its origins. The 1928 Goldstrom Upholstery Company also rented out a "fine large apt" in a portion of the shop. The Vacuum Cleaner Standard (where they would clean grease and overhaul that pesky Eureka of yours) and the Hobbart Sales Agency (who peddled in cash registers) each clocked in at this address. By the 1960s the Puritan Dry Cleaner and Launderers had moved to the sliver shop from their forever 2910 Farnam location.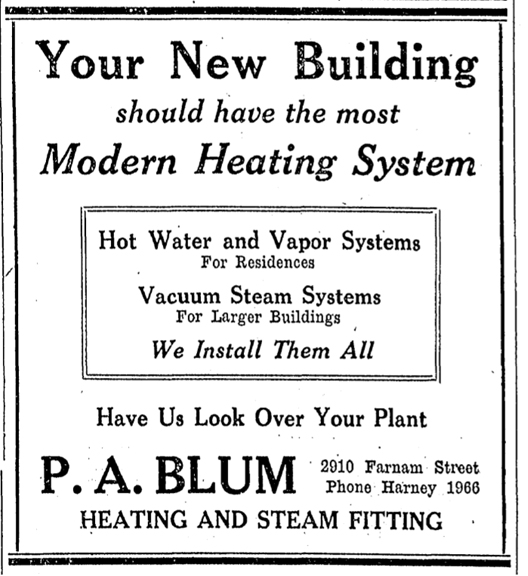 1921 P. A. Blum Steam fitting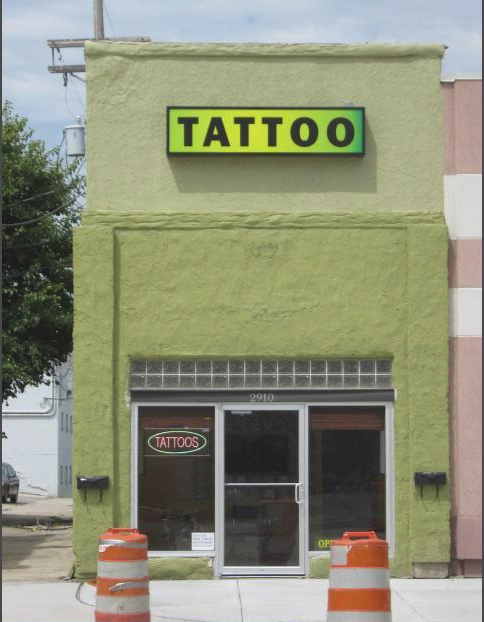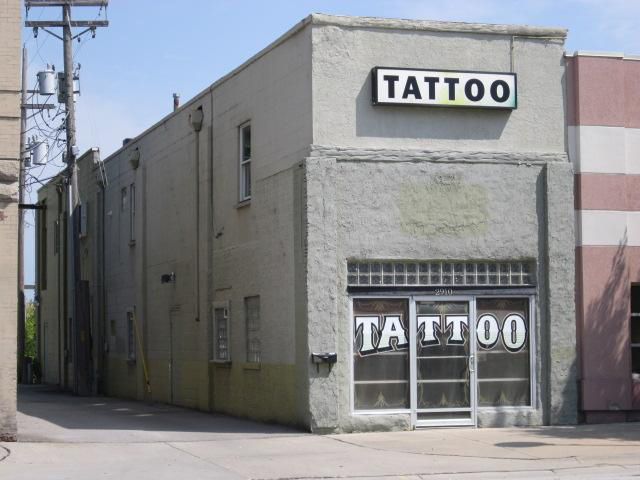 Rosen-Novak would move their used car division to the location sometime in the 1970s and later Dunn and Co. would focus their operation on automobile wheels. In later years Eileen Ratigan of Midwest Statuary and Art Restoration made 2910 Farnam Street her business. Ouch Studios and Think Tank Tattoo would follow, selling their services to the tune of tattoos, piercing and tattoo removals. This building always appeared to offer a quiet, steady business for whoever was leasing the space. I sure would like to see a historic photo of the place, if anyone out there has one.
The free market, the real-estate market and those developers calling for change will continue to sever the historic continuity of these humble, older building and the neighborhoods they have long inhabited. This adaptation happens easiest in these "cheap buildings" when no one is really looking or seems to care. I had written earlier that the Farnam Street swath could have incorporated some of the older buildings, interspersed with new construction as a way to display historical process. Ultimately, as a barren slate, I guess it still does reflect a message about Omaha's process, for better or for worse.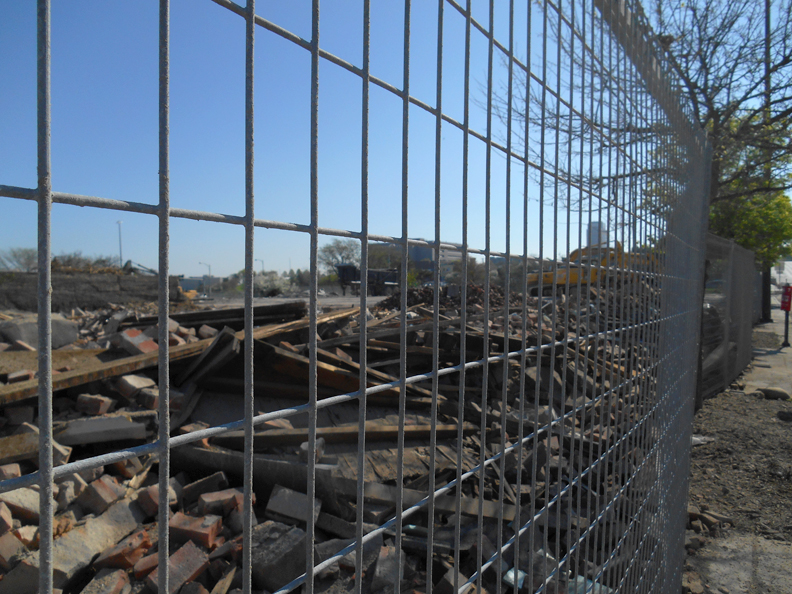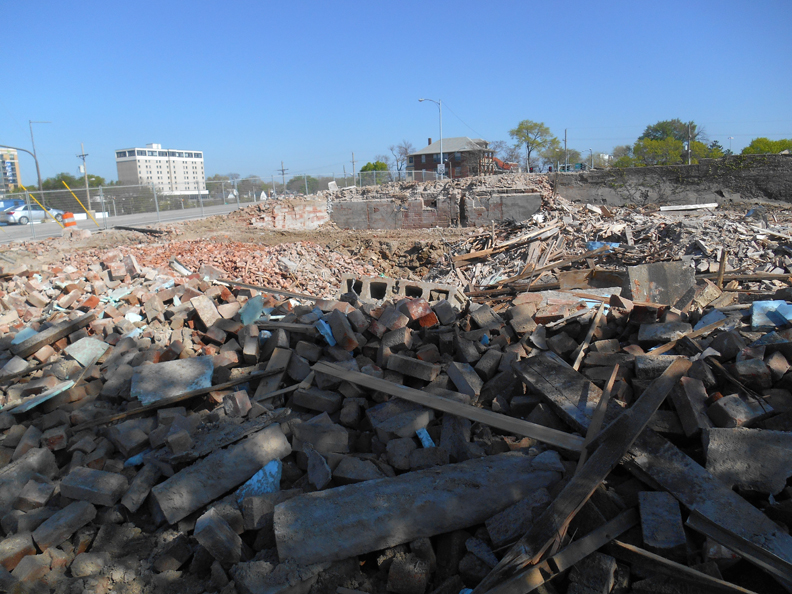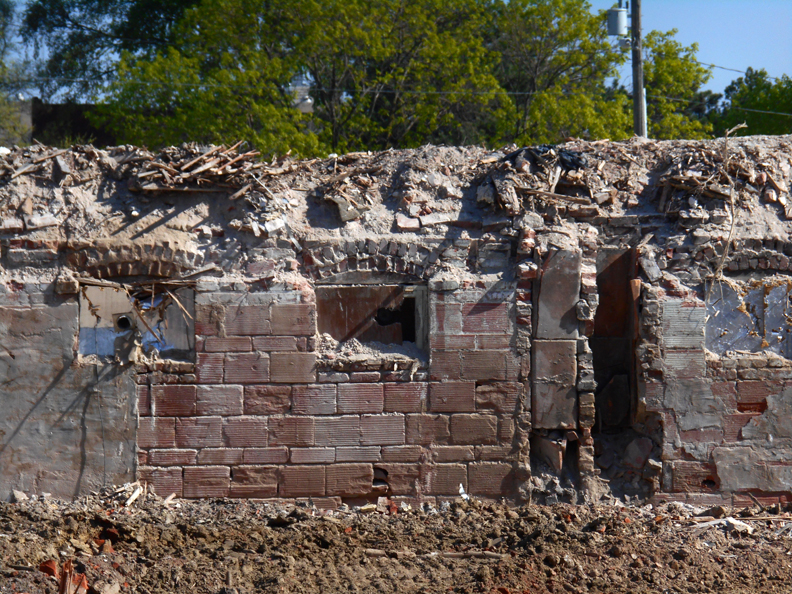 This is only a small part of the story. I welcome your feedback and comments on the Farnam Street corridor and the Turner Park North and East (soon to be) neighborhoods. Please feel free to leave a memory you have in Comments. I welcome you to poke around with your flashlight. Investigate. Hide in the shrubbery. Look under these rocks and down those alleyways. I am more than pleased to have you tiptoe about. By the time you head for home, I hope you have been fully Sherlocked and Satiated. Thank you, detective friends.
You can keep up with my latest investigations by joining my email group. Click on "Contact" then look for "Sign me up for the Newsletter!" Enter your email address. It will then display "Thank you, your sign-up request was successful!" Make sure to check your email address to confirm. You will get sent email updates every time I have written a new article. Also feel free to join My Omaha Obsession on Facebook. Thank you, Omaha friends. Miss Cassette
© Miss Cassette and myomahaobsession, 2019. Unauthorized use and/or duplication of this material without express and written permission from this site's author and/or owner is strictly prohibited. Excerpts and links may be used, provided that full and clear credit is given to Miss Cassette and myomahaobsession with appropriate and specific direction to the original content.