Early on the morning of Tuesday, August 17, 2021 I was startled to see an excavator tearing down our little Morton Meadows Mystery property at 42nd and Marcy. I had noted the strange pile of broken concrete in the front garden days (weeks?) earlier but I wasn't prepared for the shock of seeing a grizzly-toothed bucket digging into the face of that tiny Tudor at that untimely hour of day. Except for the fact that UNMC now owned the property and it was dangerously positioned alongside other empty lots that UNMC had acquired years back, I had been able to look to the house and little shop as a point of inaccessible reflection. I had observed the red flags for what they were (and honestly, these are omens that we have even discussed here) but I no longer search the city's demolition permits list for things to feel bad about, so I was caught unawares on that morning. People who do not get these feelings about buildings might not understand when I say, I had an ache for an old friend. I had been obsessed with the 812 South 42nd Street shop going back twenty some odd years, probably much longer, and when we started these investigations in 2016, I knew I had to figure out this curious storefront building and its sister residence straight away. If you'd like to read the early investigation, it can be found through this link: Mysteries of Omaha: 812 South 42nd Street.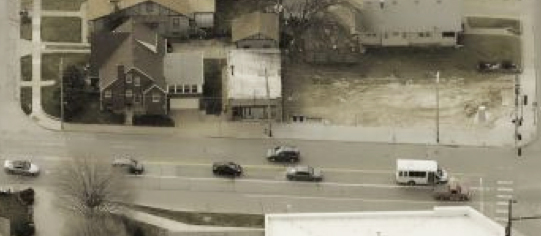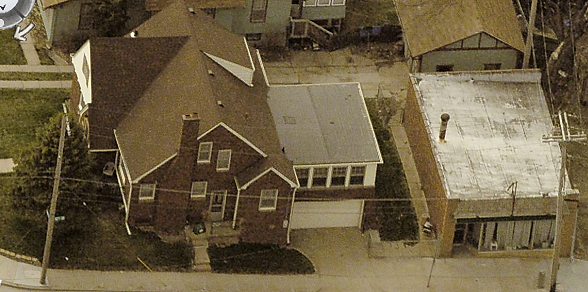 With those UNMC razed lots so close, the writing was on the wall for 4202 Marcy and 812 South 42nd Street. 2020 aerial views of 4202 Marcy and 812 South 42nd Street. Camera faces west. Marcy street far left, Leavenworth Street on the right. Large stretch of empty lots seen to the north of the store, extending down to Leavenworth Street. Second aerial photo is a detail. Images borrowed from the GIS website.
Was 812 South 42nd Street a collector's storage rental? To my memory I had been inside the flea market type store in the 1990s but couldn't, for the life of me, remember the shop attendant or how it was I ever wandered in–because it always seemed closed. I had observed years ago that the curious combination of objects in the window was moved from time to time but there was no official name given the store in any formal listing. Was the jumble shop missing its owner? Why all the mystery—which I LOVED, by the way. With an address that had fallen off the books and a city employee with GIS mapping who didn't show record of the little store building ever having a separate address or parcel, I wondered if I had imagined the whole thing. I had to know the truth and as one of many strange detectives dedicated to the world's unsolved mysteries of no real significance…well, the little 812 South 42nd Street store herself became a person of interest.
As much as I had obsessed about the hidden meanings within the strange shop–her pigmented glass tiles, that original slate roof, the curious antiques seen from the window, the intriguing handwritten signs, the unclad marquee bracket, her odd retail hours (there weren't any) and the peculiar proximity to the very residence she would, in time, be named for and absorbed by, (suddenly she was called "4202 Marcy St building 2"), the greater mystery soon became about the elusive owner… and the curious protection of said owner. At the time of the original case, a couple of comments and private emails were put forth, alluding that people in the know, who I presumed to be family or caretakers, said with authority that the owner of the building did not want any more attention for the shop. They were concerned that her name and her landline were mentioned in the story, even though one of these clues was found in the very shop window. Someone said I had "scared" the owner with my two telephone calls wanting to interview her and another neighbor suggested I was "stalking" her. Out of respect of the owner's privacy, I took her name and phone number out of the article. It was a learning experience about ethics, privacy and public record and ever since, I have refrained from using current names of anyone living in a house that I investigate or even making contact. But the experience would continue to needle at me, strangely barbed by the new mysterious turn in the case. I had known of people calling the number and setting up appointments to visit the shop in the past. Had I been given the slip? I always hoped I would receive more intel at a later date.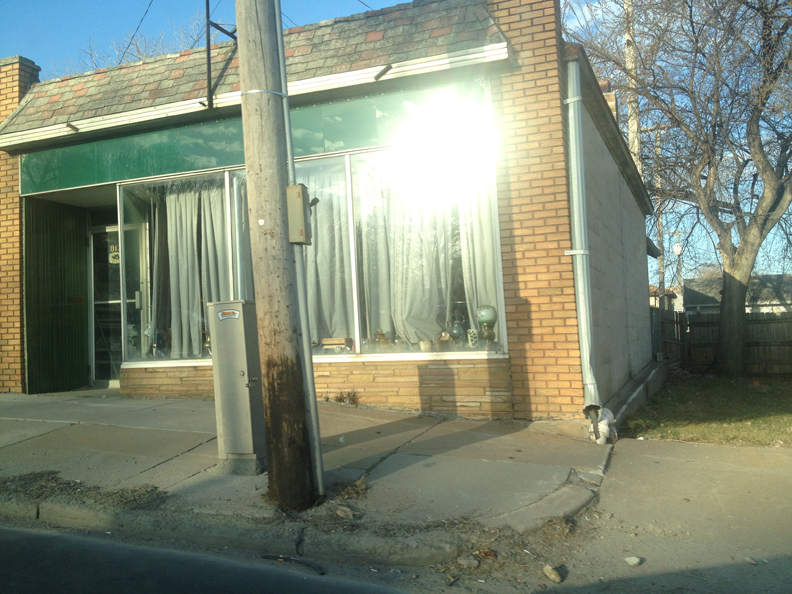 812 South 42nd Street back in 2016.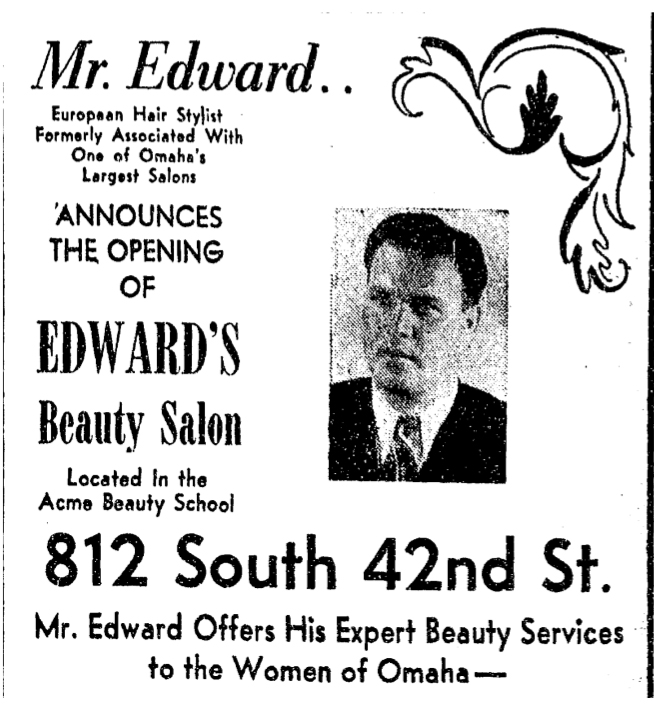 OWH archives. 1951 advertisement. Another lifetime ago 812 South 42nd Street was a fancy women's salon featuring the divine Mr. Edward! I would find the 812 building served as many different incarnations over time but there was never information offered up in print about the antiques store. I fantasized it, too, belonged to another time, but one that was undocumented.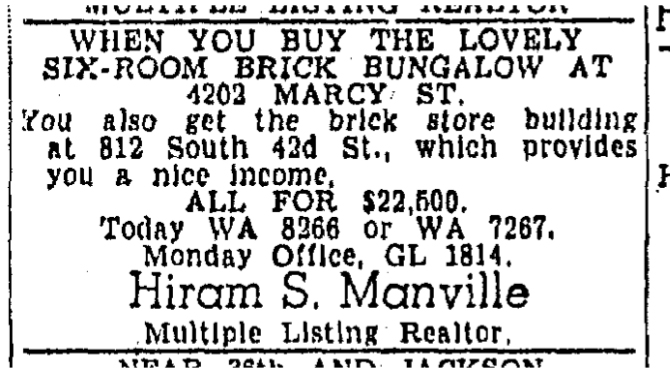 OWH archives. June 1952 advertisement. Love This.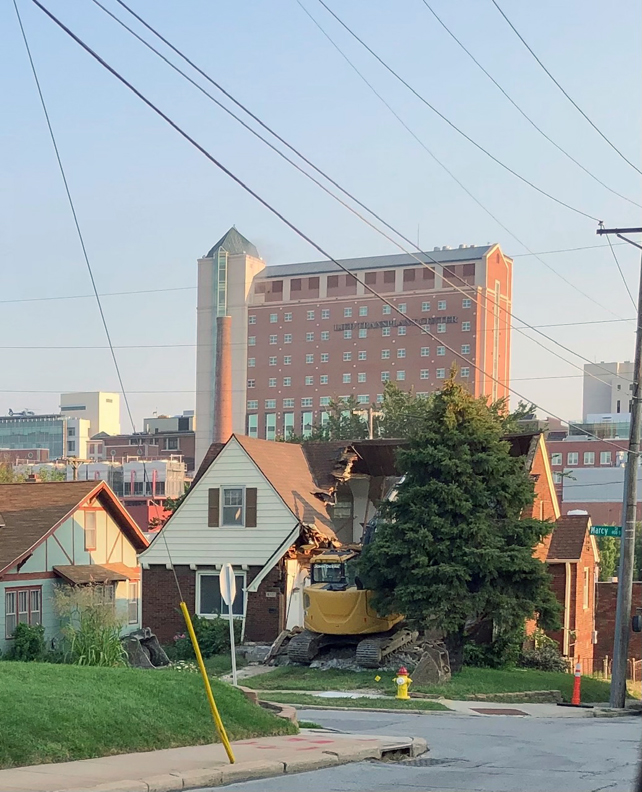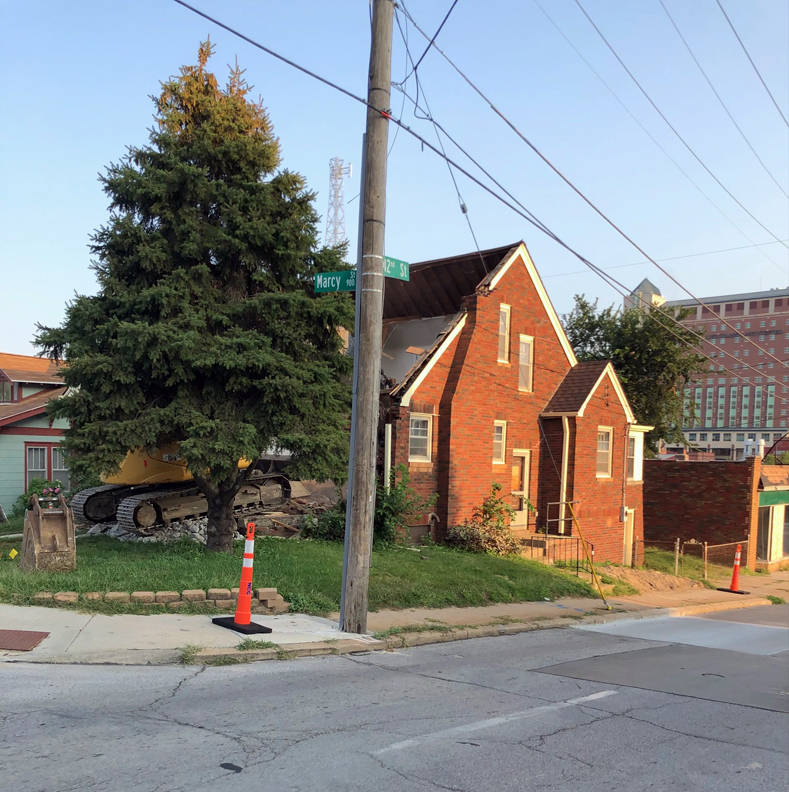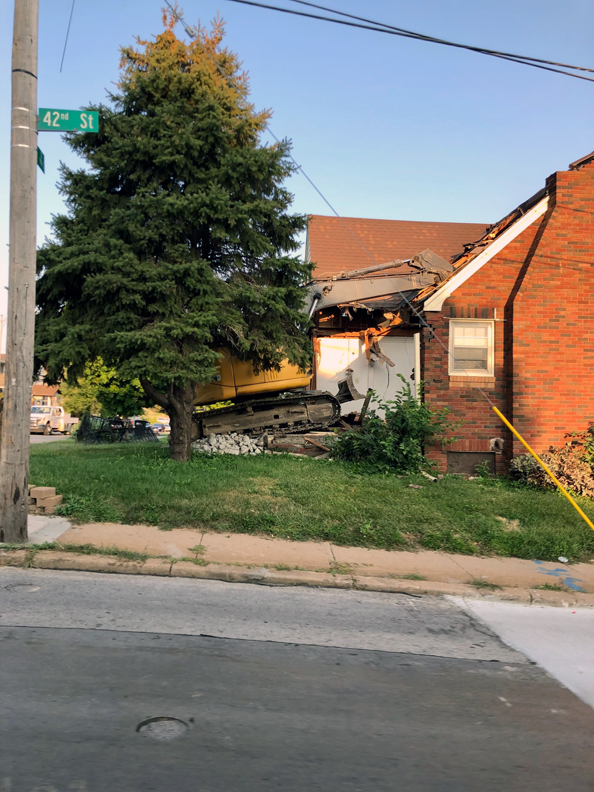 With the current demise of both the house and the shop, I was fortunate to have contact with the former owner's granddaughter and daughter, thanks to the Internet. It isn't often that I write a story in four parts, but I would like to tell the story that I wanted to tell back in 2016, as I dreamed it could be. Some of this will be a rehash for those who have been with us from the beginning. For I wouldn't want to do anything if I couldn't do it very close to obsessively.
Minnie Moves to the Corner
Calvin Wiig, the former owner of Wiig Underwriters Inc. and his wife, Frances had lived in the 4202 Marcy home from 1956 on. Mr. Wiig had operated his business from the 812 South 42nd Street building, within perfect proximity of the home. (This is covered in one of the other chapters of this investigation.) When Wiig passed away in 1985, his wife Frances continued to live in the home, eventually selling in 1991.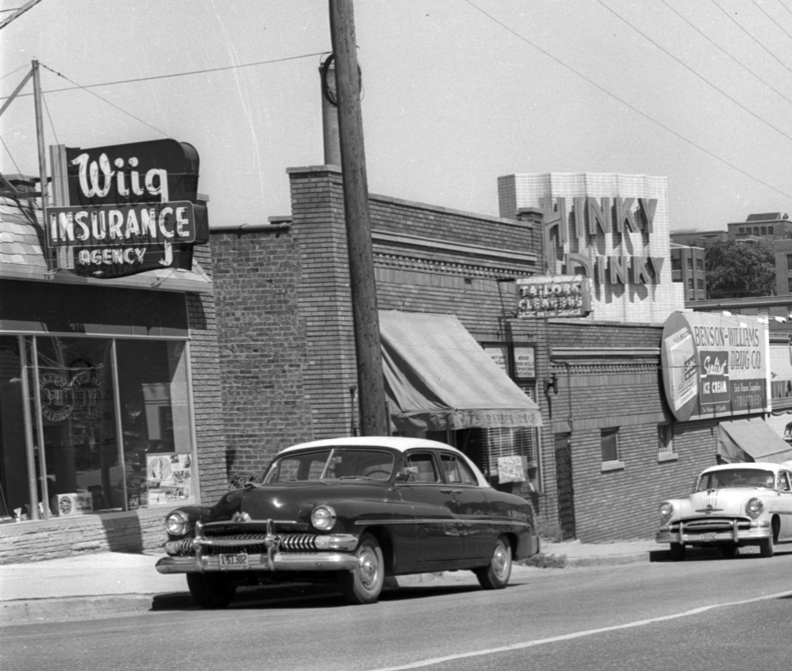 Camera is facing in a northwestern angle, on South 42nd Street. Wiig Insurance Agency at 812 South 42nd Street is on the left—I believe the last time that marquee bracket had a good use. The two northern buildings, reviewed in the other chapters, are seen. See previous investigation for what happened to them. Hinky-Dinky Grocery Store is seen along the roofline, across Leavenworth Street—which was always Charlie Graham in my day. Parson's Top & Body Shop is beyond that. All building are now gone; land is owned by UNMC. Creator: Savage, John. Publisher: The Durham Museum. Date: 1955.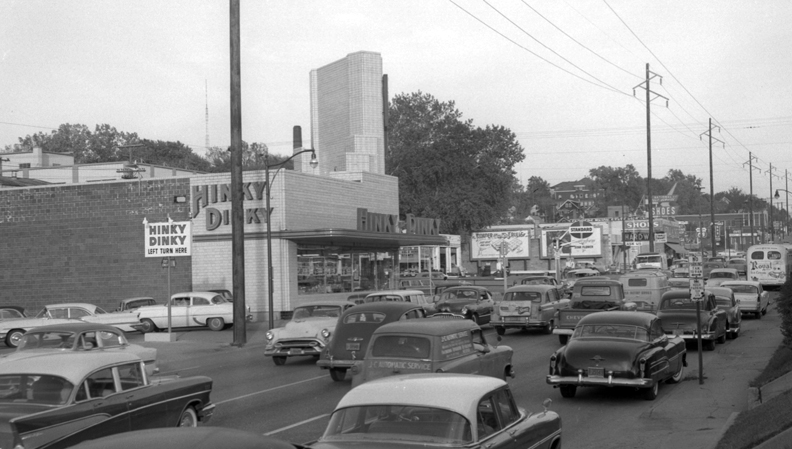 For those curious and hungry minds, here is another view of that Hinky-Dinky Grocery Store. Camera is facing Leavenworth Street looking east, toward the 42nd Street intersection. The grocery store is on the left. Later it became Charlie Graham. East from the grocery store are a Standard gasoline station, West Leavenworth Hardware Store and National Self-Service Shoes. On the right side of Leavenworth are Perma-Stone Omaha Company, a sign for the Benson-Williams Drug Store and a Frontier gasoline station. Creator: Savage, John (1903-1989). Publisher: The Durham Museum. Date: 1960.
Meanwhile Cirino "Chuck" Caniglia and wife, Minnie "Rusty" Evanoff Caniglia married and had four children– three boys, Chuck, Tony, Michael and a daughter, Rosemarie Caniglia Spellman. This must have been a very lively household. After husband Chuck's passing, Minnie Caniglia acquired her perfect Morton Meadows abode with accompanying shop building in March of 1991 for $35,000.
A curious coincidence, daughter Rose and her husband had put in an offer for the property also. "The realtor had said there was another offer as well. When I told my mom about the house and that we had put an offer in she said 'Oh you're who put the other offer in.' None of us even knew she was looking to move. So we withdrew our offer." For the record this must be a real Morton Meadows family because Rose and her husband, Mitchell, resided at 44th and Marcy, same side of the street, and her in-laws, lived four houses from mother Minnie Caniglia, on the same side of the street. Close proximity to family aside, Mrs. Caniglia liked the looks of the 1939 adjacent structure, buying the property for the shop. Long an avid antiques collector, the original plan was for her to run a store of sorts, "like a garage sale."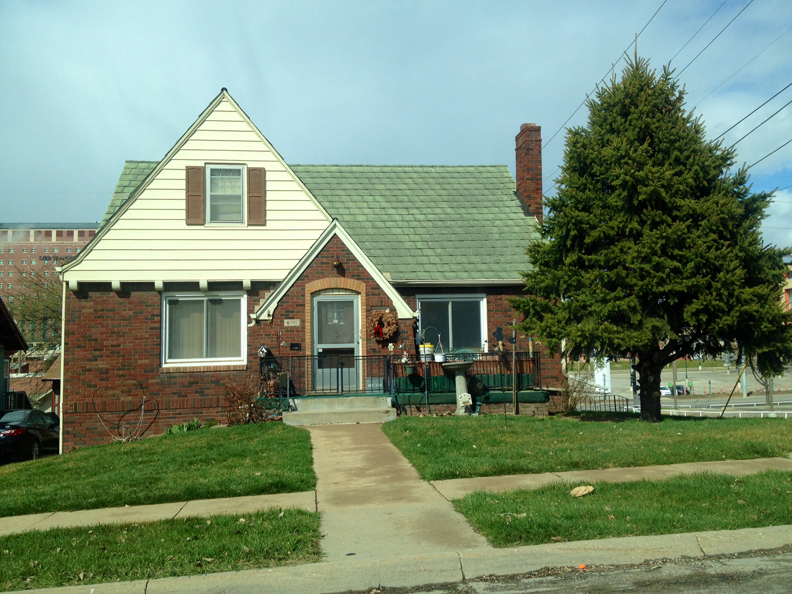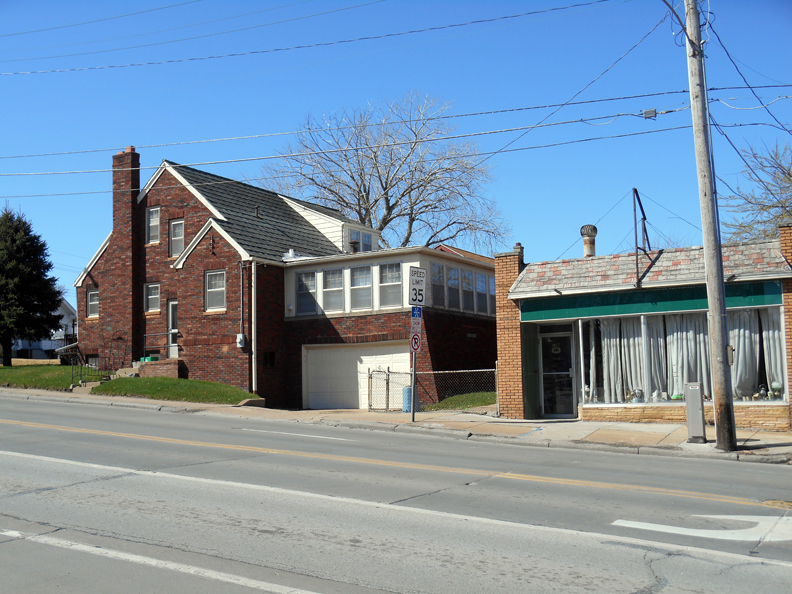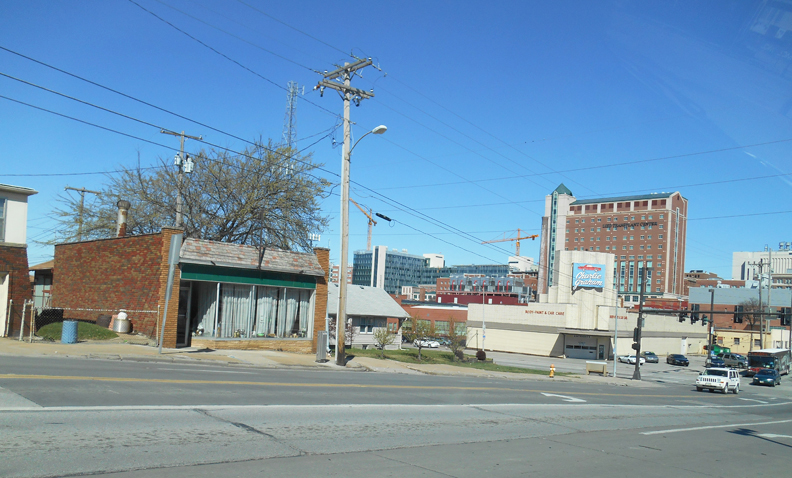 Images I took back in March of 2016. Above photo shows how close the two structures were. Lower image show the old Charlie Graham building, now gone.
"Cash Only Thank You"
The plan had been to meet Mrs. Caniglia or be able to interview her over the telephone but I never got my chance. Her daughter, Rose, was so kind to answer my queries and give her input. She also set the record straight, as I did erroneously scratch in my field notes that her parents had owned Anthony's Steakhouse.
My true fixation and line of questioning was about the little shop itself. Daughter Rose: "Technically she could not run it as a business due to city regulations. She brought a good majority of the stuff from her previous house. She just kept buying once she moved into this house. She loved antiques and collectibles. There really was no rhyme to reason though on the stuff she bought. Not only was the building full but her basement in the house, as well as the finished attic upstairs in the house. My brother set the building up with water for her so she would have a sink and restroom while in the building. Unfortunately the basement flooded from a storm and everything that was in the basement of the building was destroyed, which is where she had put the majority of things worth value when she moved in. We all tried to help her at different times and stages to get the building set up so you could walk around and see the items but she just preferred to leave it as it was and wouldn't commit to any type of schedule. Hence why the note was placed on the door. (With the phone number and stating to go to the house to the south.) People definitely were interested and anytime we had the building open, trying to sort through stuff, people always stopped. The problem was she enjoyed talking to the people but didn't really want to let anything go, which was obvious from the prices she had on things."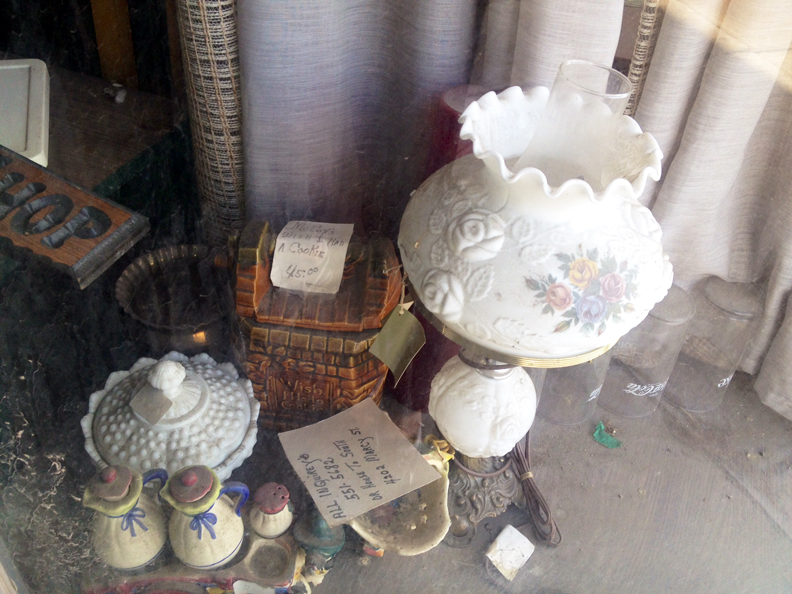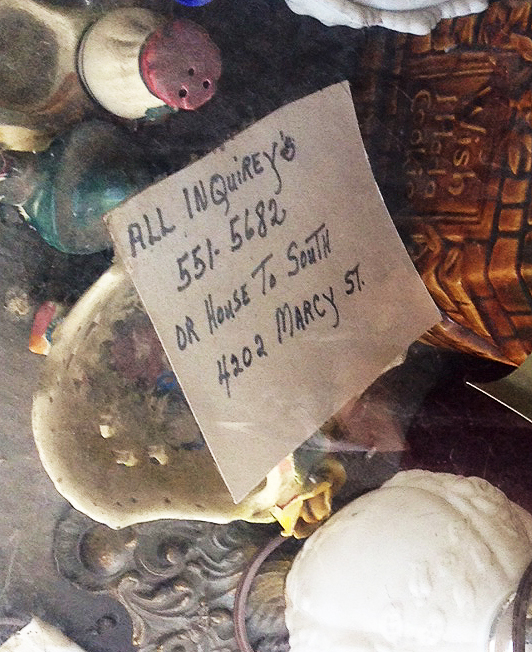 In another world. The shop window as it appeared in 2016. Detail of the familiar note.
This explained so much–the doors must have been opened when I had entered the store all those years ago in the 90s. I surely was still locked in my Virgin Mary statues and scary antique dolls phase in those days, among other preoccupations. (I have since largely reformed my ways.) Did I buy anything? I seem to remember leaving with a treasure, because we always find something, don't we. It was interesting to hear of how the fascinating array of inventory was acquired and stored within. I loved to know that Minnie's vintage clothes and antiques shop had been her passion and her engaging pastime– on her schedule, when she saw fit, without particular interest in selling. More like a conversation piece of large proportion. The same impulse that allowed Minnie Caniglia to be a sentimental collector and avoidant seller would have made her the dream interview subject, I just knew it. As a reconstituted digger and rummager myself, like knows like, after all.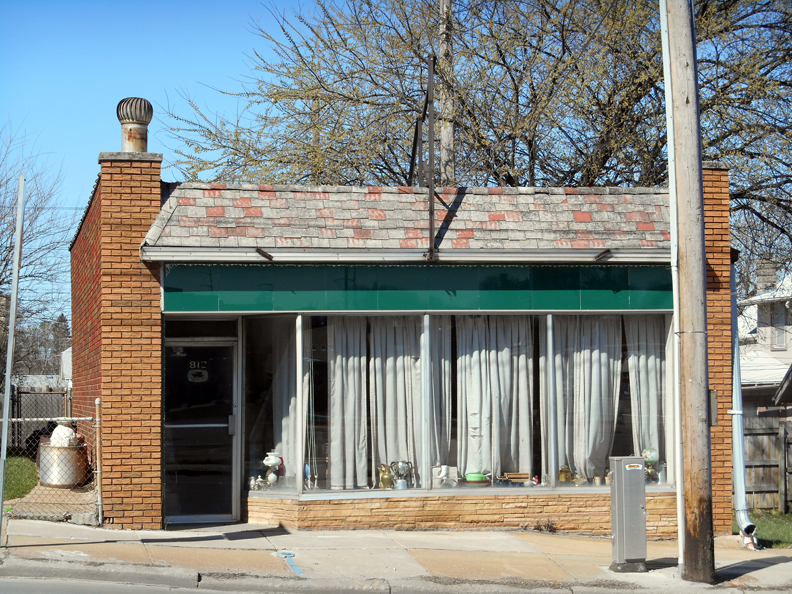 Photo I took in March of 2016.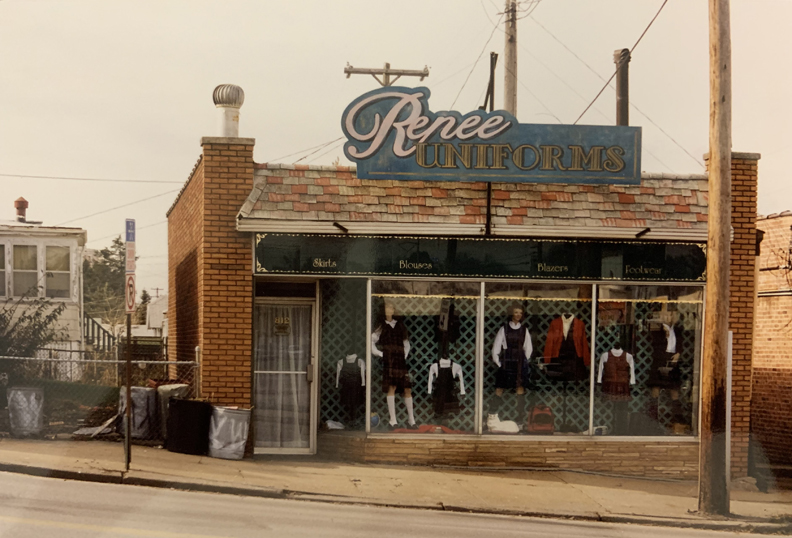 In a surprising disclosure, Rose would share 812 South 42nd Street had a brush with fame, other than being a star in our eyes, of course. In 1998 director, writer, collector of Omaha artifacts and fellow obsessor, Alexander Payne, also a major devotee of the 812 South 42nd Street building, wanted to feature the shop in his upcoming film, Election. His team dressed up Mrs. Caniglia's little antiques store, refashioning it as "Renee Uniforms." Isn't it AMAZINGLY homey and perfectly Authentic Omaha? Read the script on the glass tiles and note the curtains, the garden lattice, and the Catholic school uniforms displayed in the windows with a cat. Rose informed that they filmed at the shop for a couple of days. When Rose sent this photo to me I was certain I must have overlooked the Renee business in my historical timeline of the shop, because this doctored-up set was so spot on. The quandary then became, why hadn't I remembered this scene from 1999's Election? Alas Alexander confirmed the Renee Uniforms' scene unfortunately did not make the final cut for the film. Great photo from Rose Caniglia Spellman's collection. 1998.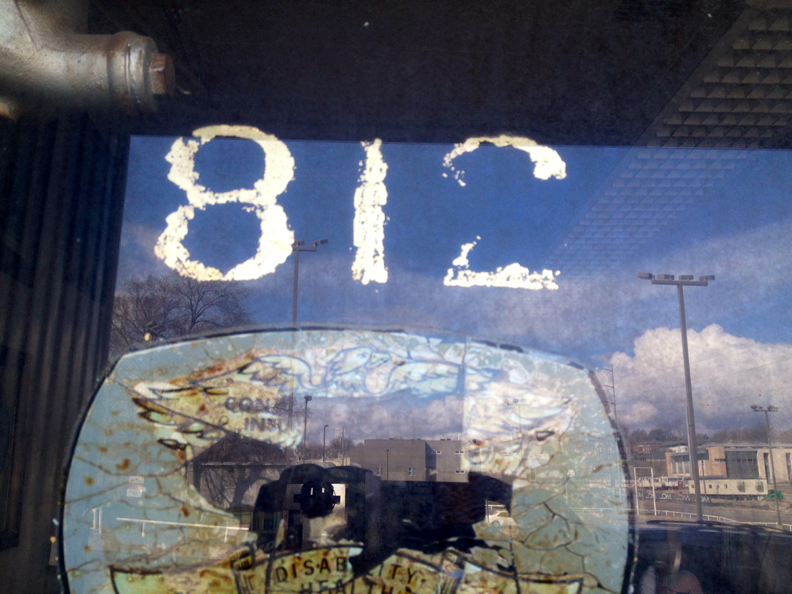 Loved the postal numbers and eagle emblem. A postal insignia?
Rose was so nice to assure me: "Please know you did not scare my mother. Up until the last day she lived in her house she never locked her front door, which we always gave her a hard time about. I wish you could have met my mother. She loved to talk to people anywhere and anytime. She would have loved to show you the building and even her house. I'm assuming from the date of the article you started reaching out in 2016, which is when she took a fall and moved in with my brother and sister in law's. Then we had to move her into an assisted living facility until she passed last year. I assure you he/she (the persons who reached out to My Omaha Obsession) was not speaking on my mother's behalf. At no time did my mom complain or try to put a stop to people contacting her, which is why the note on the door was there. Unfortunately, when she moved in with my brother, her answering machine was rarely checked. Anyone who knew my mom knows how much she loved having visitors even if it was strangers. Believe it or not there were people who would go up to her door and knock and want to see something that was in the window. The problem was she always had things priced so high, she rarely sold anything."
Habitually leaving the doors open had been a "blessing" the day that Mrs. Caniglia fell, because the newspaper lady heard her yelling for help, was able to go inside and called Rose's nephew and brother for her. From there, things quickly changed for Mrs. Caniglia and her passion project.
The family would maintain Mrs Caniglia's lots, which is why the yard always looked so tidy. Rose could confirm for me that there originally were two parcels for the adjacent properties 4202 Marcy and 812 South 42nd Street. "I have proof because we had separate utility bills and taxes."
By January of 2020 the family had transitioned the property into Rose and her brother Tony's name. Sadly Mrs. Caniglia died on January 25, 2020.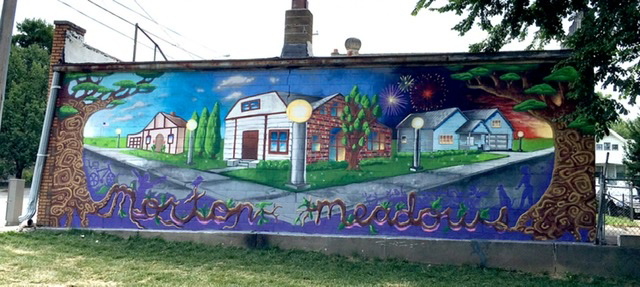 Mural photo borrowed from the Mercy High School website. I was interested to learn Minnie Caniglia was very involved with the Morton Meadows Neighborhood Association. As I had covered in a previous story, she had allowed for the painting of a large mural honoring the neighborhood on the northern side of the 812 building. Rose said that the last time her mother had been admitted to the hospital before passing, "everyone that came to visit her, she would point out the mural and that it was her building and house." That made me smile.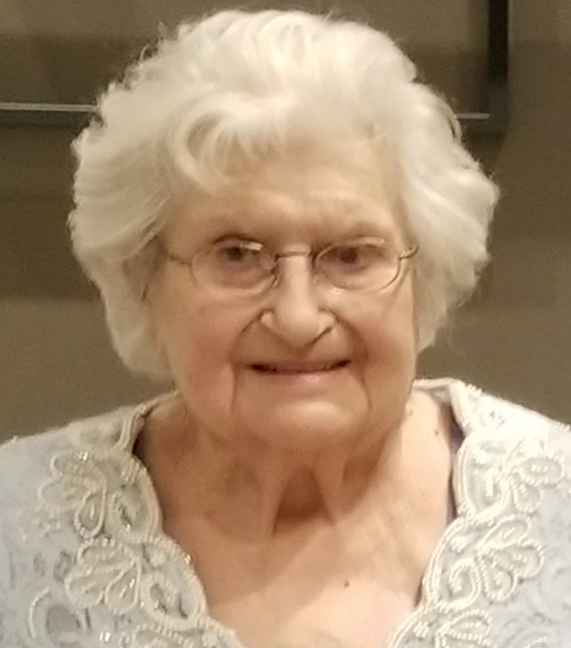 Minnie "Rusty" Caniglia. February 14, 1928 – January 25, 2020. This is the photo the family used for the mortuary. So glad to be able to see my "Mystery Lady." I would like to think I knew Mrs. Caniglia in some fundamental way. The collections and the mysterious movements. It seemed both of our natural states. I was so grateful to communicate with her daughter. Photo shared by Rose Caniglia Spellman. Thank you.
The Estate Sale
The Caniglia family would organize an estate sale of their mother's beloved treasures last summer in July of 2020. I would have loved to have been there but I didn't know anything about it and was out of town. My girlfriend and supersleuth, Shauna Daly Hollowell, texted me that she had happened upon that serendipitous sale. Detective Hollowell equated the experience of walking through that door, into that secret building to "scratching an itch. It's like Second Chance castaways and the bins." These are her amazing photos from that day.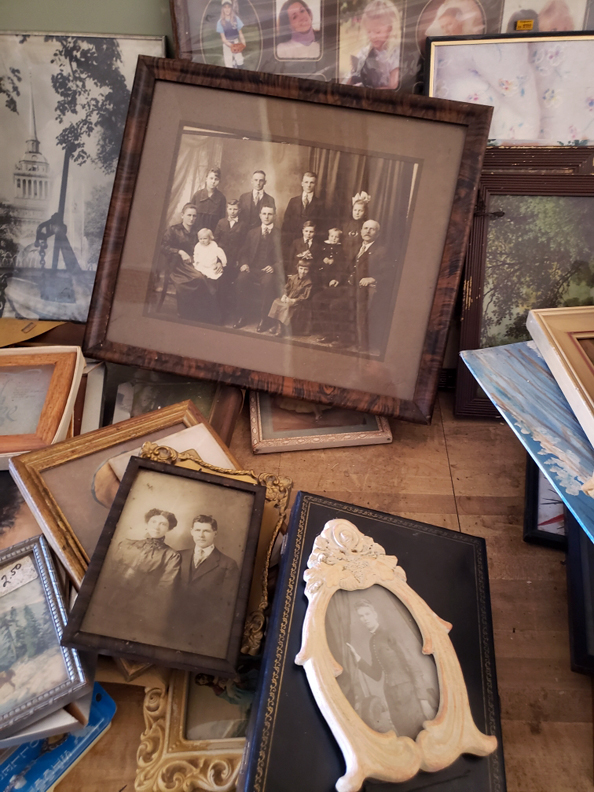 "Totally buying that bone frame." Photo by Shauna Daly Hollowell.
Rose Caniglia Spellman: "When we had the estate sale so many people stopped by just to see inside the building. Like you, they always wondered what was behind the curtains. We even had people that had talked to my mom about certain items and wanted to see if the item was still there. Believe it or not some items were and some were not. But it was amazing talking to people that had met her because of the building!"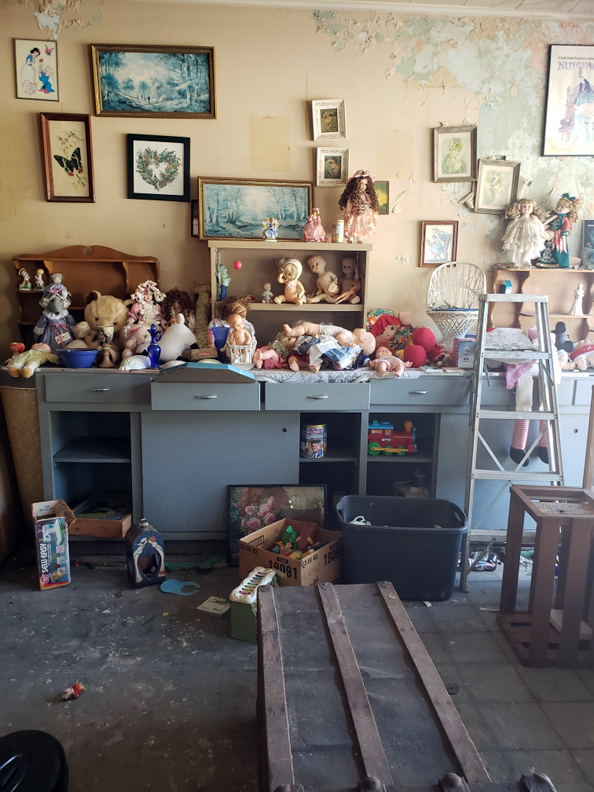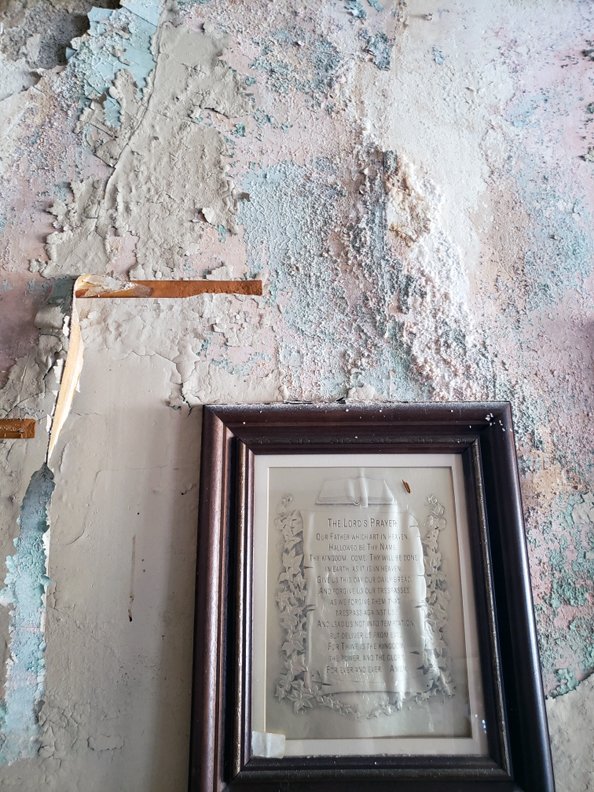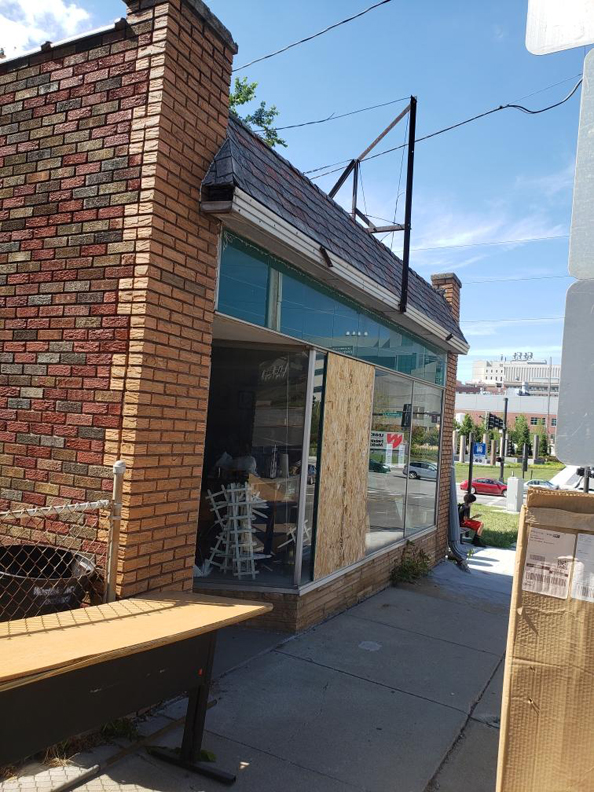 Estate Sale photos by Shauna Daly Hollowell.
"Several people at the estate sale told me I ruined future estate sales for them. They said they would never again get items like they did there for the prices we sold them at. I know the 'special' pieces went to people who will cherish them and loved them as much as she did. And it really was fun talking to so many people that had met her just because of the building. I can't even tell you how many people came to the sale because they overheard someone talking about it at another garage sale. For me it wasn't about the money and how much we could make off the stuff. It was about the smiles and excitement people had buying the stuff and hearing the stories of how they knew my mom. Her door was always open to anyone and at anytime. Like I said she never locked her door."
Board of Regents University of Nebraska
The Caniglia family had sold the property—the house including the shop, to the hospital. The parcels, now one, are held in the Board of Regents University of Nebraska name. Rose and her brothers were as shocked as the rest of Midtown to see the house and building were scheduled to be torn down. I had posted the photos I captured that Tuesday morning to the My Omaha Obsession Facebook page, which is how I came to know Rose. "When we sold the property and building originally (to UNMC) we were told both would be used for International doctors and students to have a place to stay for conferences and residency. Obviously we knew there was a possibility they would be torn down but we hoped that wouldn't happen." I do not blame Rose or her family for selling and I feel bad that they would learn of their mother's property in this manner, even though it sounds as if they knew it could happen.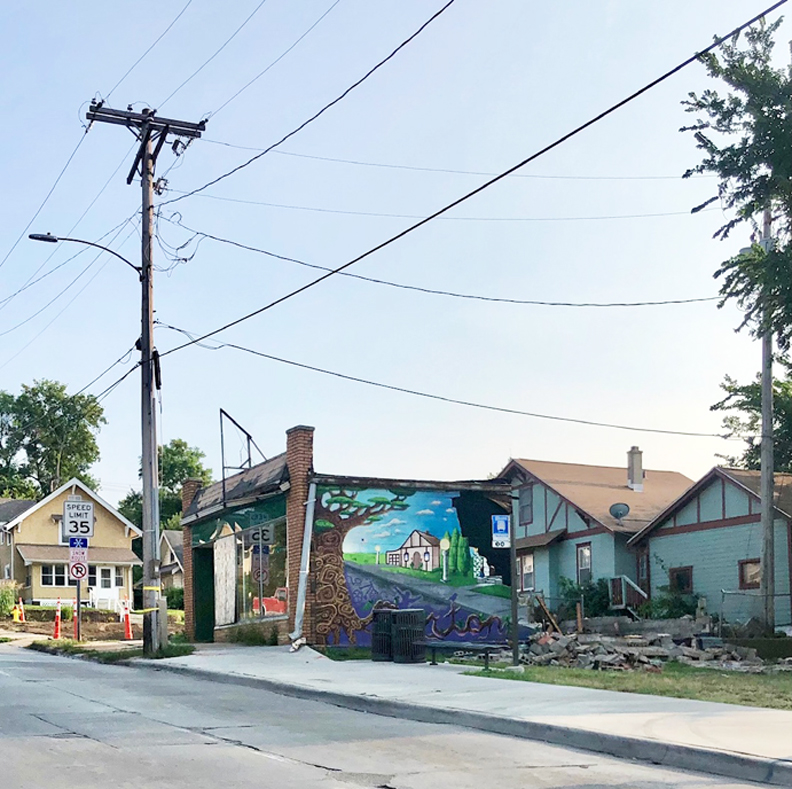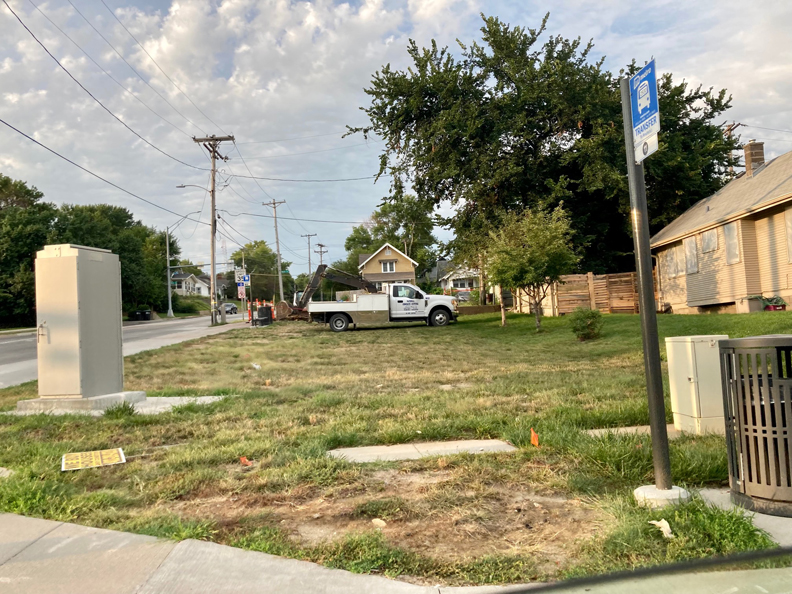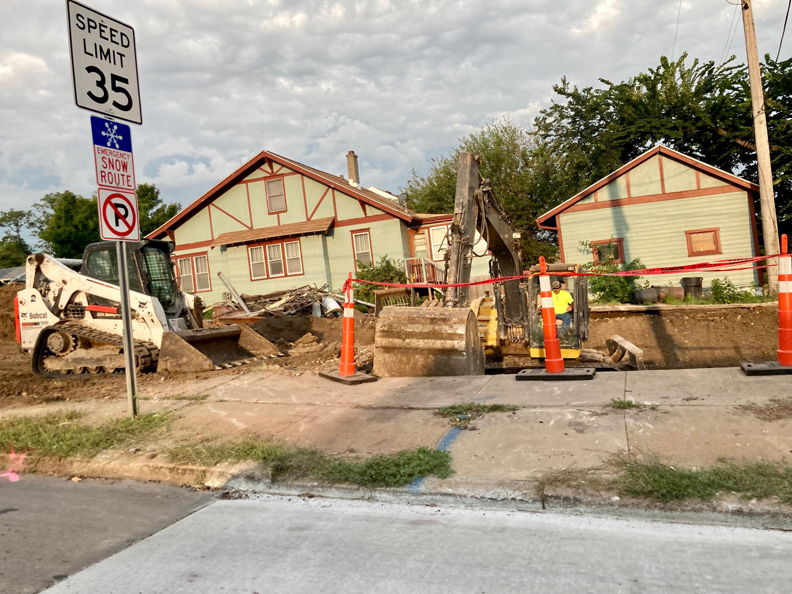 For the rest of us, this has become a practical matter. The writing is on the wall for any property bordering UNMC. A survey of parcels along Leavenworth will reveal the slow acquisition and what is happening. With the razing of Mrs. Caniglia's buildings, we are now officially losing neighborhood ground. We've discussed this before–in this town, if your property (or a property you are obsessed with) is next to an empty lot, it is vulnerable, certainly if it's owned by the city or a large entity.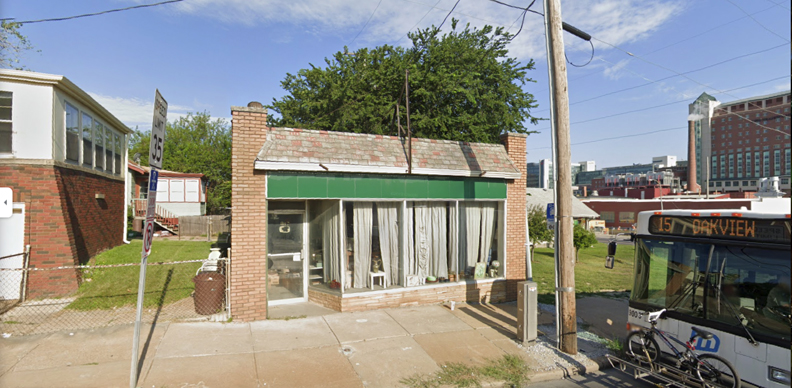 The gauzy, romantic truth (for the building lovesick like myself) was that 812 South 42nd Street remained a vestige to days of not long ago, when anyone with an idea and enough money for rent could create a small business. There were strange, ambiguous pop-up enterprises all over town, even within houses. The way the buildings smelled. So much peculiarity. No marquee. No parking. No phone. No franchise. No loan or big backing. No marketing. No need for a name, even—although the names chosen were part of the outré draping. Customers came by word of mouth, cash in hand, perhaps with a little caution. Before the Internet and certainly pre-Pinterest, no small enterpriser seemed to need "to find inspiration" in what other entrepreneurs were doing or found need for a prescribed minimalist aesthetic. There were neighborhood cubbyholes, diverse, curious and perfectly puzzling unto themselves. If you strayed from your own corner of Omaha, there was great mystery to be found. It was truly wonderful and a wee bit scary. I will always remember the markings of the spirited, creative individuals. The beauty of it all, almost lost in a game of telephone, was that Minnie's antiques shop didn't have direct explanation or, apparently, need to keep up strict appearances. As long as the curtains remained in the windows of 812 South 42nd Street, I could dream of another time and that possibly, hopefully, a comeback was in the works.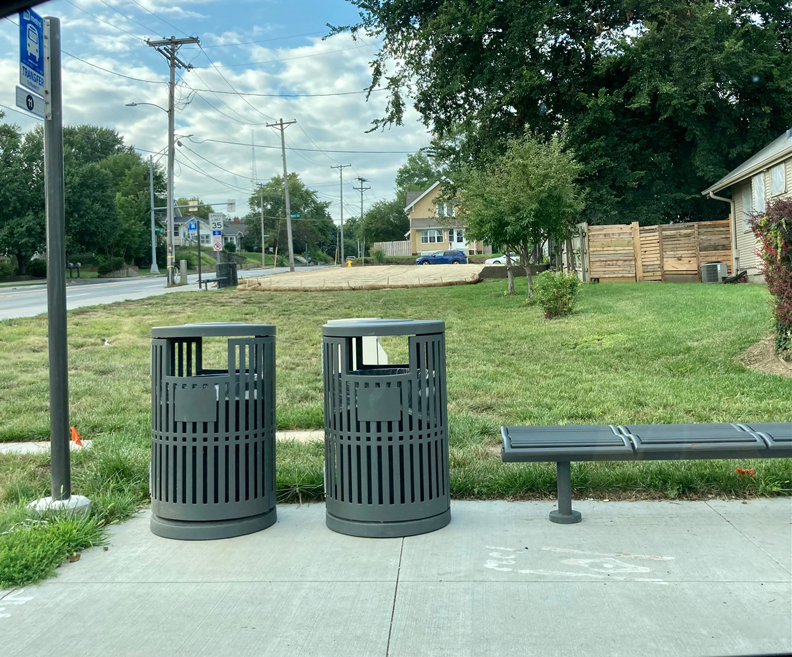 ** Addendum of August 30, 2021. Camera facing south from Leavenworth. 42nd seen on the left side. Minnie's property leveled–straw mulch with tack in place.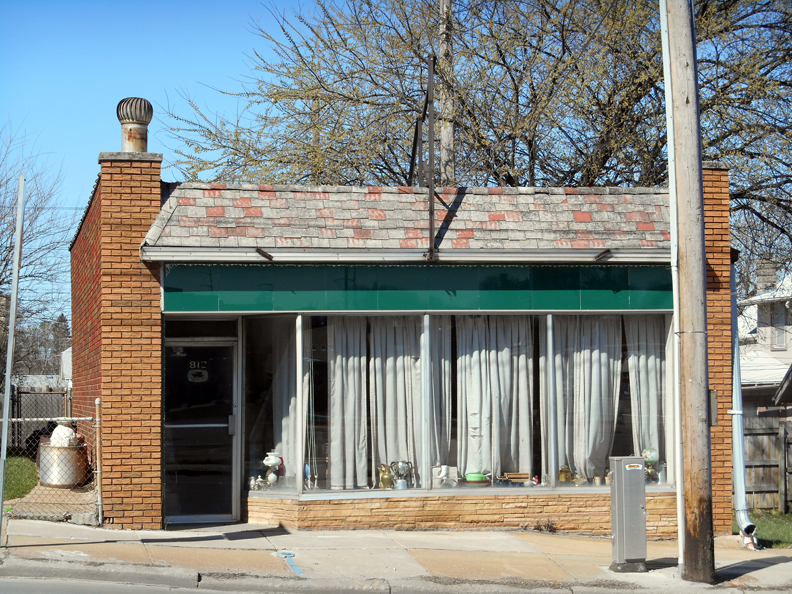 "The rest of the story" would not have been possible without the generosity of Rose Caniglia Spellman. Rose, I do thank you for sharing your perceptions and experiences with me. I feel very lucky to have had this opportunity. Thank you.
I welcome your feedback and contributions to this Morton Meadows investigation. Feel free to share thoughts and clues in "Comments." I welcome you to poke around with your flashlight. Investigate. Hide in the shrubbery. Look under these rocks and down those alleyways. I am more than pleased to have you tiptoe about. By the time you head for home, I hope you have been fully Sherlocked and Satiated. Thank you, detective friends.
If you like what you see, you can keep up with my latest investigations by joining my email group. Click on "Contact" then look for "Sign me up for the Newsletter!" Enter your email address. It will then display "Thank you, your sign-up request was successful!" Make sure to check your email address to confirm. You will get sent email updates every time I have written a new article. Also feel free to join My Omaha Obsession on Facebook.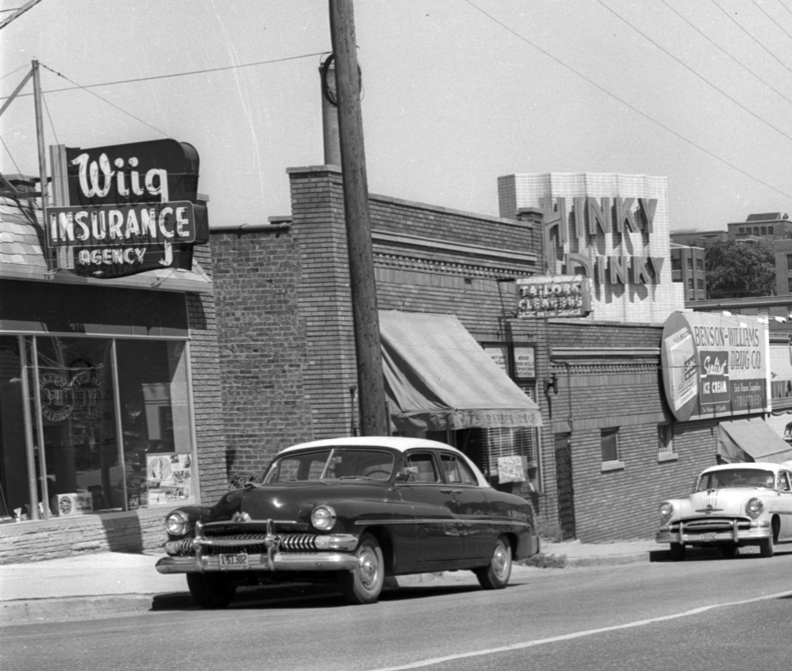 © Miss Cassette and myomahaobsession, 2021. Unauthorized use and/or duplication of this material without express and written permission from this site's author and/or owner is strictly prohibited. Excerpts and links may be used, provided that full and clear credit is given to Miss Cassette and myomahaobsession with appropriate and specific direction to the original content.
If you are looking for more architectural and Omaha history sleuthing fun, ask your local or big box bookseller for my new book: My Omaha Obsession: Searching for the City. You can also order it through this website. Thank you.