The little shop at 812 South 42nd Street, the original third building, south of 42nd and Leavenworth, has slowly been driving me mad for many years. I say this in the best way. I am sure, by now, that I am not the only one who pines for more details on this elusive enterprise. This is a story about a Midtown Morton Meadows Mystery and my decades long quest to solve the strange secret.

The original drive for the alley between 810 and 812.
My Love of the Building
A substantial part of my early obsession with this building is due to the interesting exterior. A mix of brick and stone facade with an odd little 40's roof, all cloaked in those secretive white curtains. The building has a large picture window with rich green glass tile work above. I love these tiles. I had always imagined this to be a 1920's building because of those very tiles. I thought that might be a little early for this particular part of town, though. The structural pigmented glass that was used, sometimes called Vitrolite, Sani Onyx and Carrara — helped define modern architecture and interior design from the 1920's to the 1940's. We've all seen the great movie palaces, streamlined downtown storefronts and other facades depicted in movies and photos using this sleek, glass tile. In the upper left and right corners, there are delicate little, metallic embellishments. They look to be painted on, in a stylized symmetrical pattern–so lovely and simple.
Illustration of uses of Vitrolite from a Libbey-Owens-Ford Poster on "52 Designs to Modernize Main Street."
The variety of Vitrolite is displayed in a Libbey-Owens-Ford Poster on "52 Designs to Modernize Main Street."
Production of structured glass ceased in this country in 1947. There are, apparently, no true modern replacements for the heavy pigmented structural glass of the 1920s-40s. The fact that 812 South 42nd maintains all of its deep green glass tiles is a glorious wonder.
I have been obsessed with 812 South 42nd Street for about twenty years. Mr. Cassette has never much cared about my building obsessions, which, I suppose works for us on some level. "What is going on in that building?" I would ask him as we passed by. "Is it an installation piece by a mad artist?" This hypothesis always seems to win his attention for a quick moment, even to this day. Seeing as I can never back up this conjecture with any real proof, I'm sure by the look on his face, he goes back to dreaming of gardens. I was left to fantasize to myself. Was this a shop that never truly opened– like when Beauty and the Beast moved to South Omaha? Was 812 a collector's storage rental? Was it a jumble shop and then the owner died so now it's a tax write-off for the family? I had observed years ago that the curious combination of objects in the window were moved from time to time, which made me all the more obsessed. I had to know the truth.
A Brief History of the Building
After some tedious and somewhat pathological research, I believe that 812 South 42nd Street was built in 1939. I have a suspicion that the furthest most north building (what would become 4201 Leavenworth) was originally numbered 808 South 42nd. I might be wrong about that as there was an additional southern door on 4201. Perhaps at one point it carried its own address? The building in between was 810.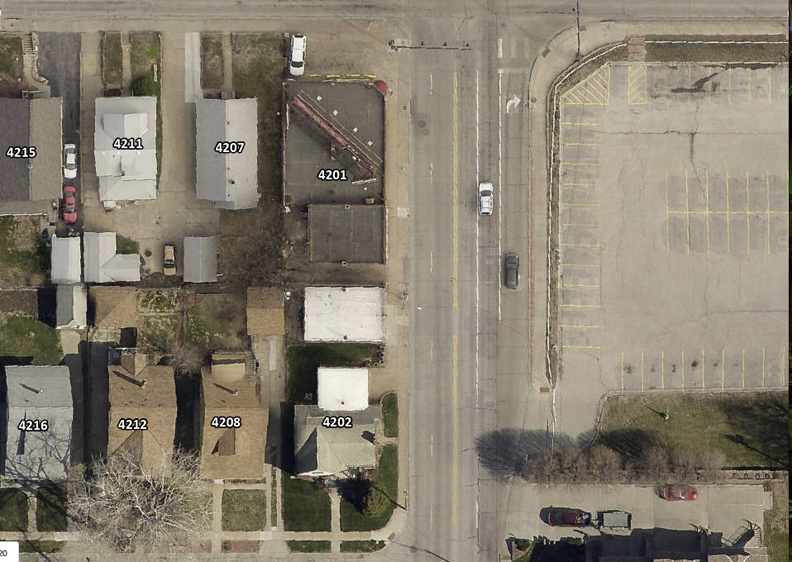 Aerial view of 4202 Marcy Street with 812 South 42nd Street shop. This photo shows the close proximity of the other buildings 42001 Leavenworth (originally 808 South 42nd) and 810 South 42nd Street. Top of image is north. 42nd Street runs north-south; Leavenworth Street is seen on top of image, running east-west. Aerial view borrowed from the GIS site.
If you might remember, there were different buildings and businesses on the east side of 42nd Street too. Mrs. Christine Olsen's Women's Clothing was the first business at 812 South 42nd. I imagine it to have been quite an upscale boutique. 1940 brought in Mrs. Nadine A. Adam Beauty Shop where Mrs. Adam, no doubt, operated a successful business until 1949. 808 at this time, was Orrin's Beauty and Barber. I add this detail as there appeared to be a repeated history of a barber and beauty shop shared community along this short block. Acme Beauty then took over the lease at 812. Love the name. I try to imagine the different business names painted on the glass window or adhered to those beautiful tiles. Had everything gone as planned, I would have found some advertisements from these shops. I was not that lucky. In 1949 there was a great little place at 805 South 42nd, called Chi Chi Barbecue. 808 at that time, was the Schutz Paxton Barber Shop.
In 1953 812 South 42nd became the Edwin Mirsky Beauty Shop. In 1956 Calvin Wiig Insurance Agency moved in breaking the pattern of primarily female focused businesses. Mr. Wiig changed the name of his business in 1964 to Wiig Underwriters. An Omaha World Herald article announced on September 30, 1979 that Wiig-Codr Underwriters Co. was moving to 45th and Leavenworth. I found the 812 address continued listing under his name until 1988.
Early Mystery
According to city directories, 812 South 42nd went vacant from 1989 until 2015. Mysteriously off and on throughout the 90's, 808, 810, 812 are listed as "vacant" or "not verified (3 buildings)." This was all sort of strange to actually read, as I had very foggy memories of having been in 812 South 42nd Street a couple of times while researching this story. To my memory there was a flea market type store there in the early to mid 90's. It seemed that there was even a sign with hours on it. There were hidden gems, choke-full and an air of musty mystery therein. (Miss Cassette has always enjoyed these shopping conditions.) I do not recall the owner of the store or an attendant—this little part of the story bothers me greatly. I had to park in a neighboring block in order to go to the tiny shop, as there has never been parking to speak of on this corner. There were a number of these odd, pop-up type thrift stores throughout the 90's, some even in people's houses. They were great. Many open a year or less. Memories be damned, I could find no mention of this store in the city directory. Did I imagine the whole thing?
"Cash Only Thank You" reads the tiny script.
The 2000's brought a number of businesses to the corner of 42nd and Leavenworth, newly called "4201 Leavenworth." I am probably forgetting a few but remember Futonation—the Zen-like, pre-Urban Outfitters, groovy futon business? The Refinish Shoppe, which was a woodworking, restoration business. Novedades Veronica was a clothing company, which specialized in Mexican American formal attire for la Presentación to Quinceañeras. I can still see the colorful dresses in the many windows. 810 South 42nd Street appeared, to me, to be an apartment throughout the 2000's. At least I saw a lot of people coming in and out of the building, smoking and standing around. They had potted plants out in front. For a while there was a family with small children. They would often park in the little alley between 810 and 812. I remember them painting neon stripes in the alleyway for more visible parking or at least that's what I figured it was for. It's strange what you remember.
Tragic Car Accident
Scott Goff owned and operated New 2 You, an estate sale and thrift store out of 4201 Leavenworth. The bustling business seemed to be doing well, judging from the foot traffic and the amount of estate goods being hauled in and out the front door. On July 12, 2013 two young males drove into the building headed north on 42nd. They hit the eastern side of the building at a high speed and later were found dead in the building. (Please see Omaha World Herald story.) http://www.omaha.com/news/after-agonizing-wait-bodies-found-after-car-crashes-into-shop/article_72e54aa8-7f45-5427-8a78-02ba9b1f65d7.html Mr. Cassette and I were driving Leavenworth Street, headed home after a night with friends, when we passed right by the deadly crash soon after it happened. It was such a devastating sight. I began to cry the minute I saw it, out of shock and knowing that lives had surely been lost. I honestly had never seen anything like it. The building was destroyed and collapsing under the weight of the billboard above.
Photo courtesy of Brad Williams. www.bradwilliamsphotography.com
4201 Leavenworth, (or formally called 808 South 42nd), 4203 Leavenworth (Joann Frederick's photography studio to its west) and 810 South 42nd were safely razed after lowering the huge billboard attached to the top of the corner building. 812 remains the lone building of the original four. The Board of Regents at the University of Nebraska, AKA UNMC, owns these three parcels of land, now one. This is not surprising. Apparently years earlier in 2007 Gary Roberts sold to Carol Cole and Troy Davis of Cole and Davis investments. I am not sure of their connection to UNMC. Currently there is a large plot of land, covered with grass and newly planted trees where the buildings used to be. It still bothers me to think of those boys' families and the shop owners.
The Plot Thickens
A year and a half ago through the Douglas County Assessor, I had found that Mrs. C***(please see addendum following article) owned 812 South 42nd Street. She had bought the building in 1991. I could see that she also owned 4202 Marcy Street, the home just south of the shop, which delighted me. Mrs. C owned a number of properties around Omaha, including Anthony's Steakhouse and a storage warehouse. She had been M—– E—— until she married C—– C——. After her husband had passed, Mrs. C moved into the Marcy Street house. I thought, now this is quite captivating. I wondered if her vintage clothes and antique knick-knacks shop had been an engaging pastime for her? Or maybe it was her friend's or a relative's shop? I imagined that she had run the shop at her convenience, open when she wanted to open. It was never listed as a business, after all; the little shop that never was. A friend of mine later confirmed that in the early 90's he had been interested in buying 4202 Marcy Street when it went up for sale. He mentioned that 812 South 42nd was included in the property. I had my answer, I thought.
**August 18, 2021 Correction from Mrs. C's daughter, Rose Caniglia Spellman: "My mom was never owner of Anthony's Steakhouse or a storage warehouse."
I think now is a good time to tell you that this story was not going to be a mystery. I mean it had curve balls and a bit of aura going for it but it wasn't until I searched for 812 South 42nd Street again this year did I find that it had fallen off the tax rolls. To my amazement, the Douglas County Assessor no longer listed this address. I sent an email to them inquiring about this phenomenon. No one answered my email. The fabulous Omaha librarians tipped me off to the Douglas County Register of Deeds, whom I called the very next day. I spoke with two very nice people there. They had no such address in their records and even when I explained that I knew for a fact that 812 South 42nd Street existed just a mere year before….well, who was looking crazy then? They suggested I call GIS mapping, "option 4" and "ask for Pete."
"McCoy's Wish I Had a Cookie 45.00" cookie jar sign.
Because I had all of Mrs. C's information, it was during this time that I began calling her publicly listed home phone number. To date I have left two messages for her. I have yet to hear back from her. I had wondered if she was maybe living in a nursing home. Her home and yard are well maintained and look quite tended to. Perhaps I had sounded too fanatical on the phone, I wondered.
So I contacted Pete who verified that there was no 812 South 42nd Street and that GIS mapping had no record that there ever was one. I apprised him of the probably long, boring details of the buildings that were there, now razed and that the land is now owned by UNMC and divulged to him my belief that Mrs. C of 4202 Marcy Street owned the property at 812. He did not seem moved, understandably. I began to question if 812 South 42nd Street existed. Pete negotiated (probably dying to get off the phone) and said that Mrs. C's Marcy address could very well include the 812 building and that it need not be listed in her 4202 property description. He saw that she had an attached garage but no other information or buildings on the property. The big build up call was a dismal let down. I called right back to ask another break-through question, now forgotten, and no one answered the phone at GIS. Can you blame them?
It wasn't until I was looking at the photos that I taken a long while ago, that a piece of the puzzle fell into my lap. A small, handwritten card in the window of 812 South 42nd Street voiced "All INQUIREY'S XXX-XXXX (home phone number written out) OR House to South." I smiled because this was Mrs. C's land line I had been calling. I would continue to receive even more valuable information but only through the small opening from which her old thrift shop window permitted. And I guess that is enough for now.
****Addendum: Less than 24 hours after posting this article, I received a couple of comments from a writer who alluded to the owner of this building not wanting any more attention for the shop. The writer was concerned that I had used the owner's name and home phone line, although acknowledging that this is on public record. Out of respect of the owner's privacy, I have taken her name and phone number out of the article. This is a curious situation, in that, there is a sign in the window of the shop guiding all inquiries to Mrs. C's home phone and pointing people in the direction of her home. Additionally I have known of people calling this number and setting up appointments to visit the shop. They have reported that Mrs. C was a delight. It simply doesn't add up but I recognize that things change over time. In a previous article I had specifically left out a property owner's name for the same sense of decorum, only to have another commenter "out" the party anyway. I will probably not be walking this tightwire again. Or maybe this will be a continual problem for people as I write on. Understand when you come to this site that I am working to share facts, history, along with shared memories and musings. Everything is public record and in the words of Nora Ephron, everything is copy. Anyone of us has access to this information about one another and the incredible buildings around us. Finally, please understand that I wrote this article, and all articles, with only positive intentions, a true love and admiration, and want to bring attention to the wonderful buildings, people and strange phenomenon that is Omaha.
This article now has a followup story. Please read Mysteries of Omaha: 812 South 42nd Street Part Two.
Please feel free to comment and share your stories about this midtown building. To enable comments, just click on the title. Thank you, Omaha friends.
© Miss Cassette and myomahaobsession, 2016. Unauthorized use and/or duplication of this material without express and written permission from this site's author and/or owner is strictly prohibited. Excerpts and links may be used, provided that full and clear credit is given to Miss Cassette and myomahaobsession with appropriate and specific direction to the original content.