Having just returned from deep in the musty archives of the W. Dale Clark Library, I am pleased to report that an obsessive, time-consuming search of our dear 1101 S 60th Street building really paid off. (Please see Mysteries of Omaha: Arms & Ammo if you are not up to speed on our current, local mystery.) I met many odd and engaging new friends at the library. It seemed that many street wanderers were on a great quest but who knows if the library will give them the answers they need. I can say, the downtown librarians are so patient and kind. Really, they could be considered social workers for the service they provide our town. I had my own fervent motives today, so I had to push pass the astronauts and other great men to get to the work at hand–our mystery.
As one Omaha friend who commented earlier alluded to, 1101 S 60th Street came into being in the early 20's. I found that it was listed as a grocery under the name E. B. Carpenter in July 1923 and specifically J.P. Skryja Grocer by 1925, presumably for James Skryja.

In October of 1913 James Skryja and Anna Benak a South Omaha girl would marry. The couple moved to Osceola, Nebraska shortly after their wedding. But the corner of 60th and Pacific presented an opportunity and the couple had moved into their little grocery operation by at least 1925.
By 1926 James and Anna's business had been named Elmwood Grocery. I could not find any advertisements for the little store, which is fitting of a modest, neighborhood store. But search I did as I LOVE old print ads. It functioned under the name of the Elmwood Grocery throughout the 1930's- 50's. The couple continued to use the building as business and residence. They had at least one child, James Jr.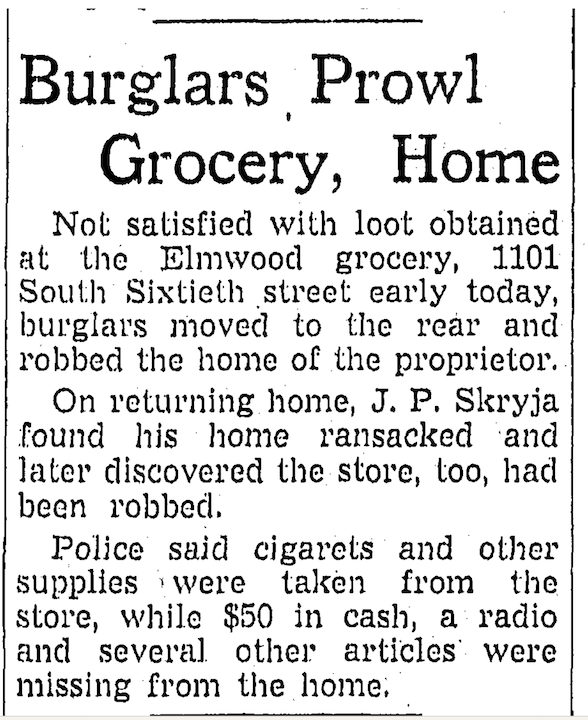 December of 1940. OWH.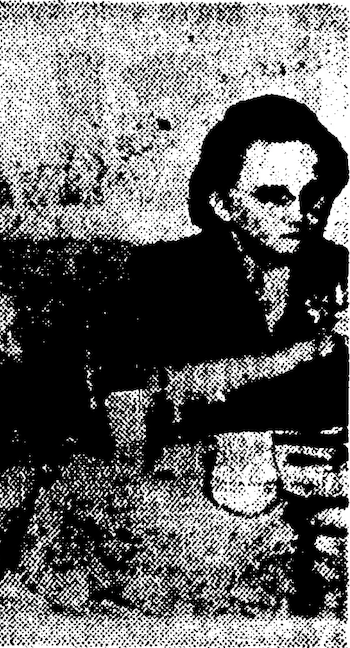 Anna Benak Skryja 1946.
In the mid 1950's Elmwood Grocery then was listed under Mrs. Anna Skryja's name. I would backtrack and find James P. Skryja died in July of 1942 at age 54. I was surprised to find his 90 year old mother, Mary Skryja, was living in the back of their grocery store also. Mary passed away in 1947, revealing her home address was with her daughter in law and grandson. Another Omaha friend had commented that she remembered Anna running the store/living in the store and her son worked there as well. 1957 is the last date that I could find under Anna's name/Elmwood Grocery.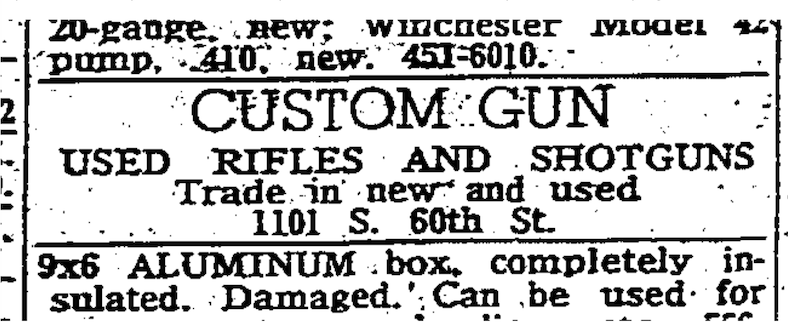 Fall of 1963 advertisement found in the OWH.
1958 marked the year that the gun shop arrived. At that time, S. D. Jensen opened Custom Gun Shop. By 1964 the owner's first name was revealed as Spencer D. Jensen, still operating under the business name Custom Gun Shop. (402-553-5951, for those who like to call weird, old numbers like me.)
Omaha World Herald ad early 1970's.
1968 brought a name change of Arms & Ammo. The owner's name wasn't listed. Previously I had found that Arms & Ammo was owned by Jim Sutton but I did not find his name or any other in today's search. It would appear that Arms & Ammo closed sometime in 1989.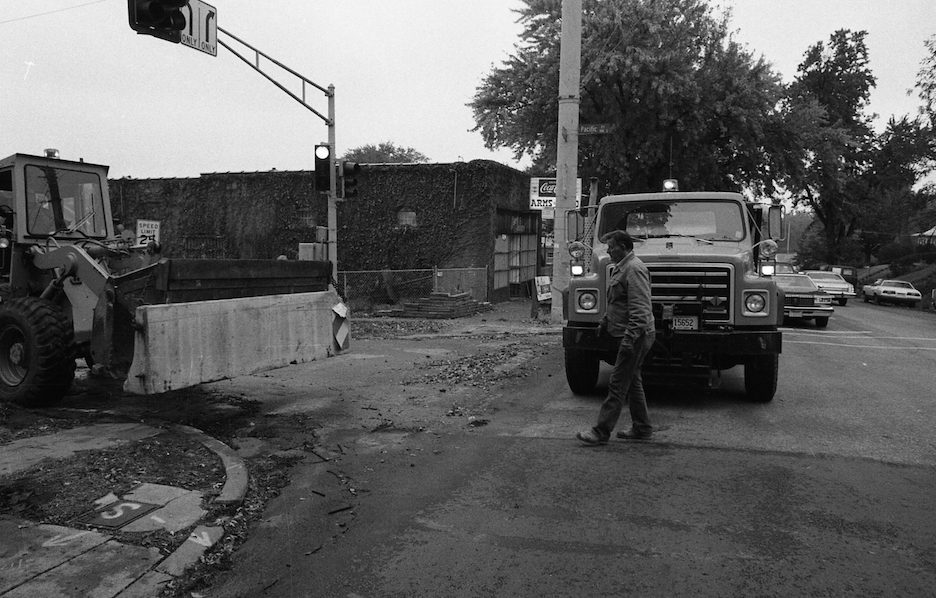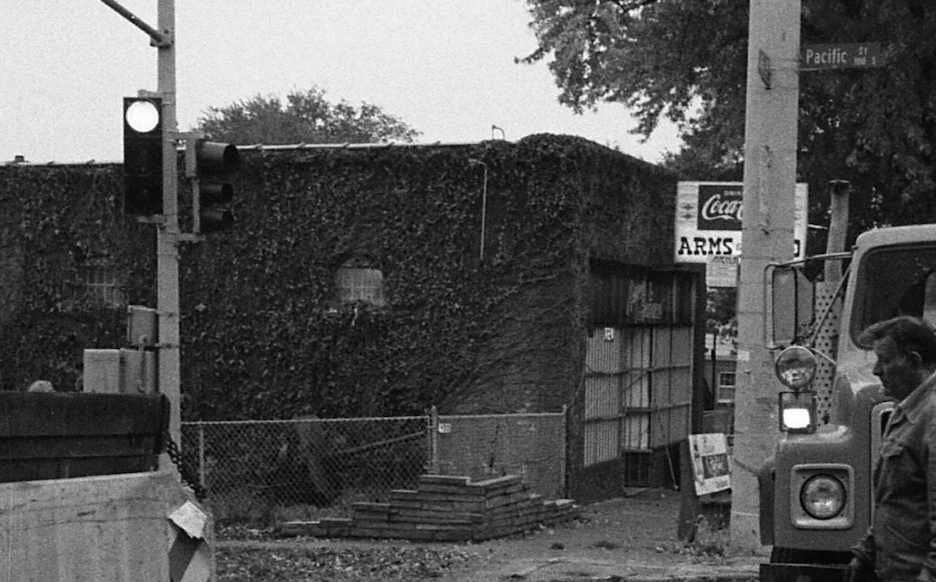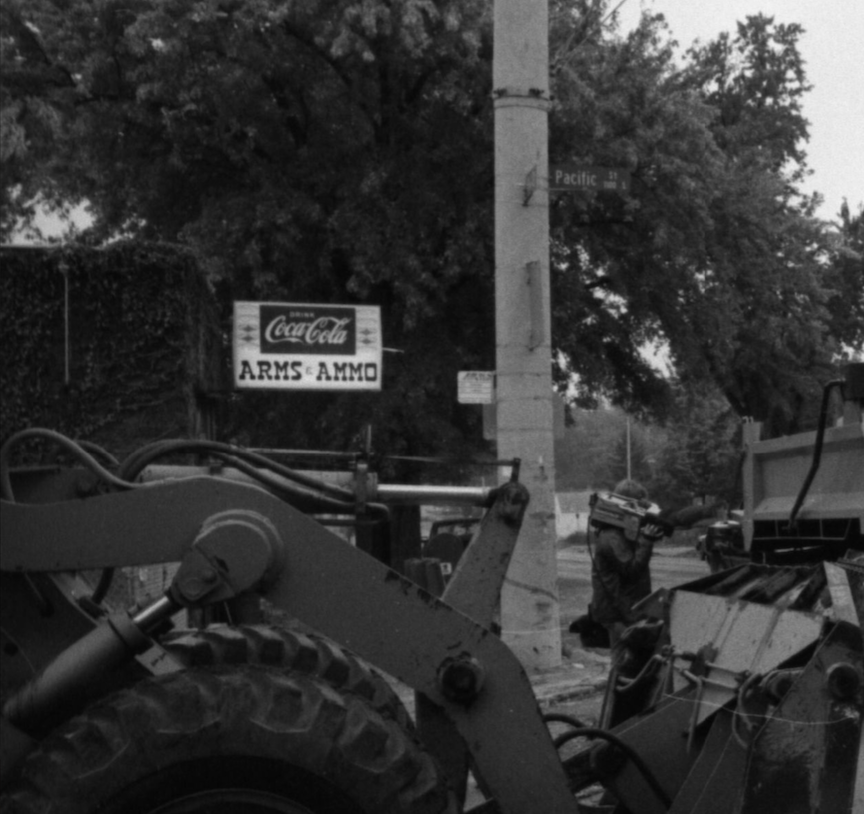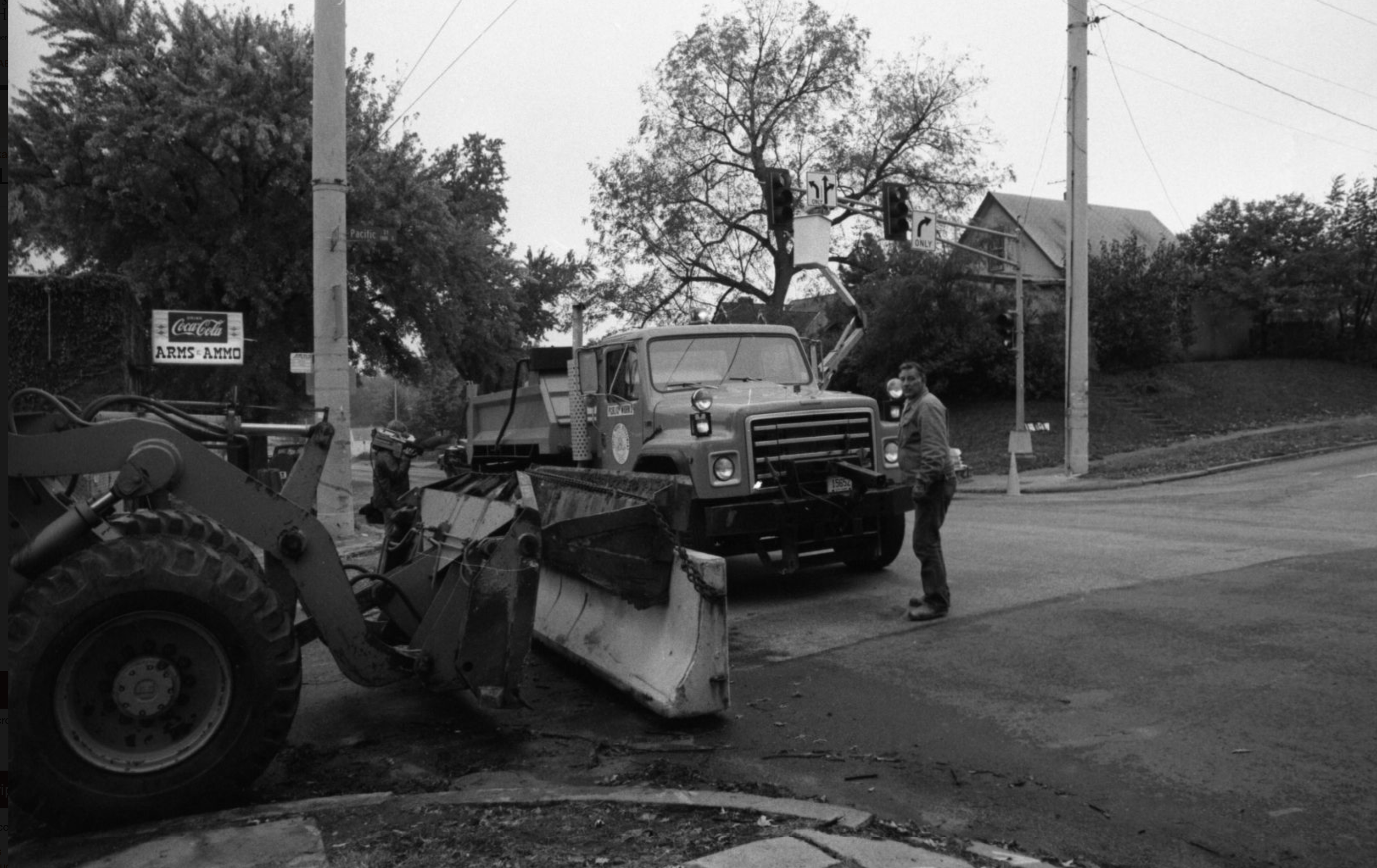 How the shop looked in 1987 when it was, supposedly,  still open for business. Arms & Ammo building at 60th and Pacific. Creator: Paskach, Robert (1927-2001). Publisher: The Durham Museum. Date 1987. A review of the front elevation show bars on the windows, panes of glass not boarded over yet but a cloth in the windows.
By 1990, 1101 S 60th Street was vacant. I could find no business listings for this building through the nineties; listings continued to say "vacant." April 1997 marks the sale date and entrance of current property owner living in Plattsmouth. So this tells us that our building hadn't been moonlighting as a bar in the 70's, which one Facebook friend had remembered. Personally this explains why I didn't remember the Arms & Ammo closing, because I wasn't living in Omaha in 1989.
Other commenters had thought that there might have been a violent incident that caused the gun shop to be closed. I would like to know more about this if anyone has any intel or deep secrets they want to share. Another commenter thought that 1101 S 60th Street might have been a vintage clothing briefly after 1997. I have a feeling that might not be the case…but I want it to be true! It would seem that the current owner has been using this as storage so unless he had some people renting it out as a shop in the late nineties, it has probably sat there all this time. Does anyone else remember this clothing shop? I am just guessing, because of the bars on the front and cloak of secrecy, that 1101 S 60th Street is filled with vintage Chanel, daguerreotype cameras, old, glorious perfumes, cigars and gold bricks. I will say there was an incident in the library archives that skedaddled me out of there without resolving the post 1997 research so there might still be work to be done.
This series now has an update. Please check out: The Arms & Ammo Building Update.
Please feel free to comment if you want to chime in with memories or a piece of the puzzle. Thank you for all for your comments, Omaha friends.