Honestly, if I knew I was going to spend the rest of my life dreaming of Bishop's Buffet, I would have put up more of a fight when they closed. I don't remember being notified that they were closing or I would have ordered many, many more slices of that blessed chocolate ambrosia pie.
(Photo Bishop's Buffet. Westroads Shopping Center. 1970's. I believe this was the middle dining room.)
My dream begins like this. I enter the cafeteria and can view the day's special under a glass or plexi dome on a rolling cart. Everything looks divine but I won't be swayed into ordering any of that. I already know. My Always Order: Iceberg lettuce wedge, slathered in mayonnaise, thick with bleu cheese crumbles. Fried chicken on an illustrated kid's plate. French fries. Chocolate-pudding-ambrosia-French-silk concoction, covered in a creamy whip, coated in chocolate, curly Q's from heaven. As I pass through the line, I see the same line attendants that worked there throughout my childhood. They are all wearing brown dresses with white trim. The women wear panty hose and sensible shoes. They wear hairnets and some of the men wear big, tall toques. The woman at the end of the line will quickly add up everything on my tray and place a small receipt on said tray.  I will try to find a table in the middle fireplace room or the furthest west room. All three areas are decorated a little differently. There are clean ashtrays on every table. I will try to find a reason to turn on the little light so that the wait staff will stop by to offer me more of something. As it is my last time at Bishop's, I will need Exactly More. Most likely I will need more chocolate pie.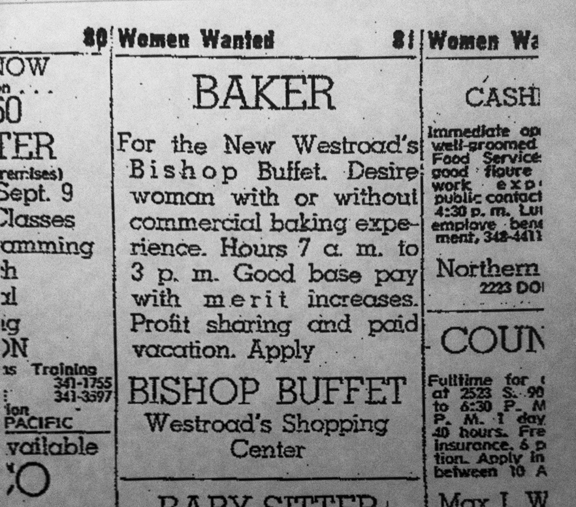 Ad that ran in the Sunday World Herald back in September 8, 1968 "for the New Westroad's."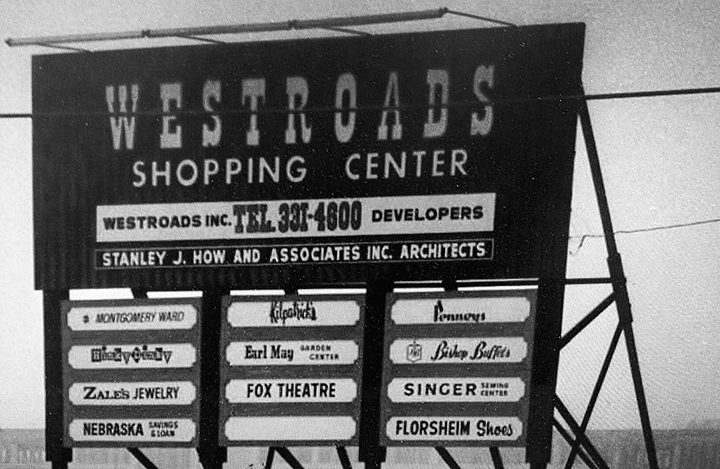 Early 1968 Westroads Shopping Center sign. Bishop Buffet is listed along with Montgomery Ward, Hinky Dinky (grocery store—why?), Zale's Jewelry, Kilpatrick's, Earl May Garden Center, Singer Sewing Center, Fox Theatre, Penneys, Singer Sewing Center and Florsheim Shoes. Note that Stanley J. How and Associates Inc are listed as architects of the mall.

My favorite Bishop's was at Westroads Shopping Center in Omaha. They all looked very similar, decorated in earthen tones and feel but somewhat different.
I always thought the Westroads one was a little higher end than the others. Like a preppy uncle's den, woody and proper but not pretentious. Heavy drapes, thick carpeting, substantial tables and chairs with leather, wood paneling. And that fireplace. The cafeteria's location was on the east side of the mall where Von Maur has an entrance now. Bishop's was on the first floor and if you continued to walk to the north, past Bishop's there was a Baskin Robbins' Ice Cream Shop and one of the south entrances to the Westroads. The smoking deck was above this entrance and to the east a ways. Bishop's was one of a handful of businesses when Westroads opened in 1968. But their story began long before that.
The Downtown Omaha Bishop's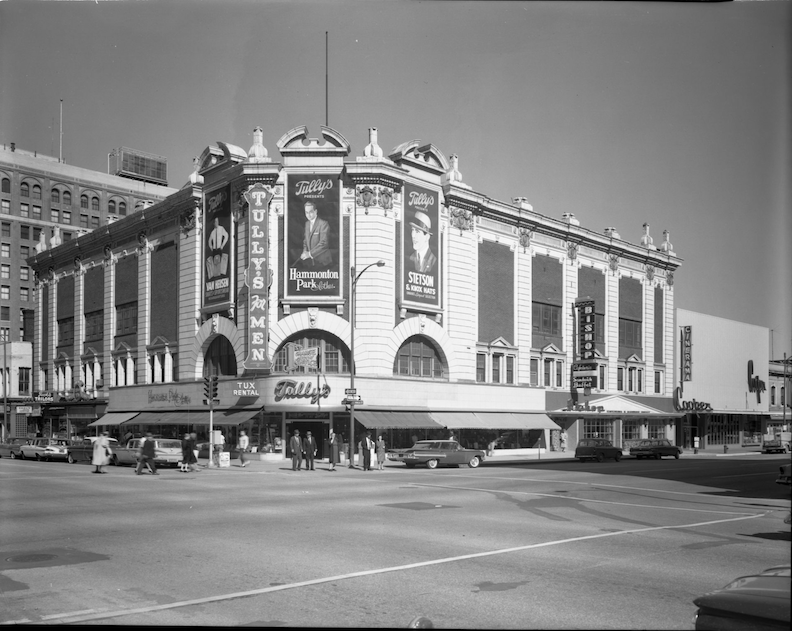 The old Rialto Theater on the northeast corner of 15th and Douglas Streets had become the Tully's Clothing for Men Store. To the right is Bishop's Cafeteria and then the Cooper Cinema Theater. Creator: Bostwick, Louis and Frohardt, Homer. The Durham Museum Collection. October of 1961.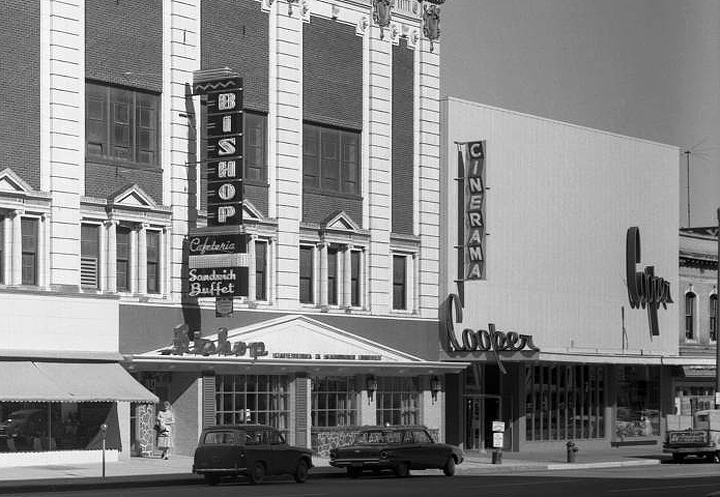 The northeast corner of 15th and Douglas Streets. Tully's Clothing for Men Store. To the right is Bishop Cafeteria and then the Cooper Cinema Theater. Creator: Bostwick, Louis (1868-1943) and Frohardt, Homer (1885-1972). Publisher: The Durham Museum. October 1961.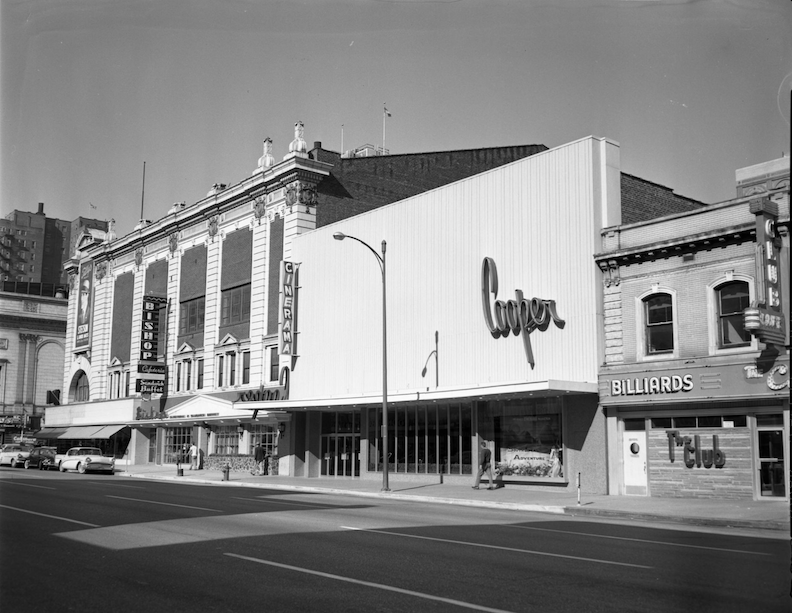 Douglas Street between 14th and 15th street. Cooper Cinerama and Bishop's storefronts. Paskach, Robert (1927-2001). The Durham Museum. 1961-10-27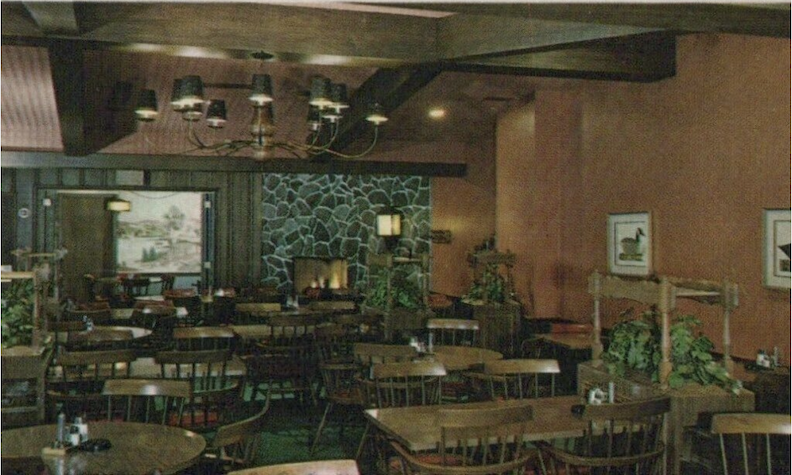 1414 Douglas interior. Fabulous.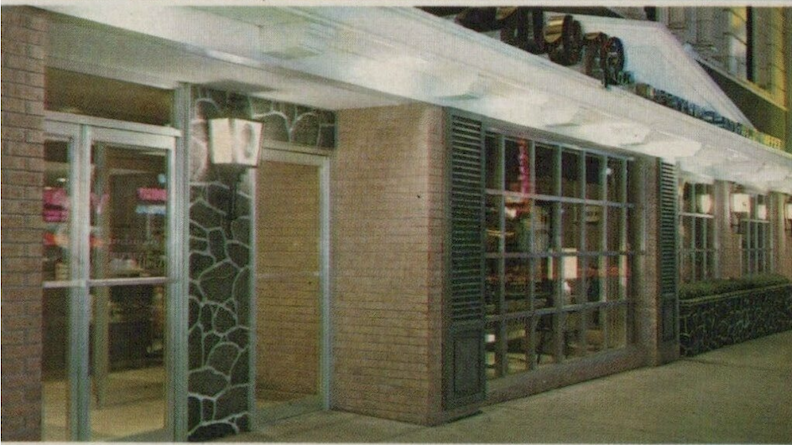 1414 Douglas exterior entrance.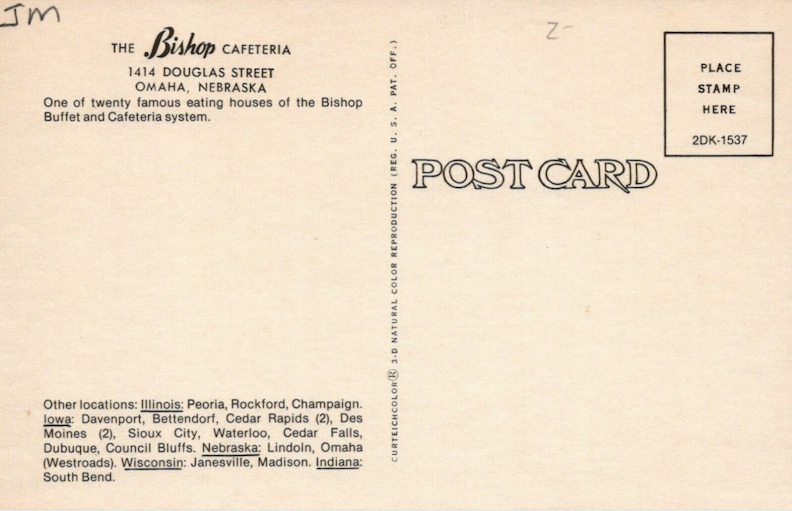 This is the postcard for the above location—at northeast corner of 15th and Douglas Streets. "One of  twenty famous eating houses of the Bishop Buffet and Cafeteria system."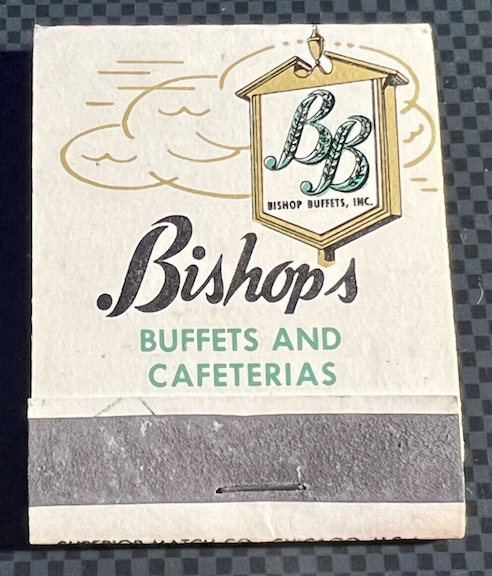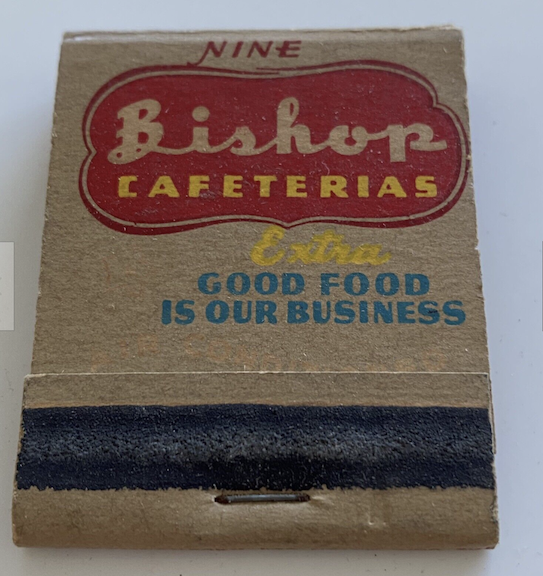 Benjamin Franklin Bishop started the cafeteria chain in 1920 out of Waterloo, Iowa. The Iowa based buffet chain grew to 35 Midwestern locations known as the Bishop Buffet and Cafeteria System. There was one in downtown Omaha and one in Lincoln too, at the Gateway Mall. (The one at the Gateway did not have as cool as a layout as the Westroads, in my opinion, but the food was the same scrumptiousness.) I found that Bishop's filed a lawsuit against Westroads for a dispute over rental agreement and public space fees in 1979. Strange what you can find online. Oddly enough, K Mart bought the whole regional Bishop Buffet chain in 1983. K Mart had previously bought the whole Furr's Cafeteria chain as well. In 1988 K Mart sold 133 Furr's Cafeterias and all 35 Bishop restaurants. The belief was that cafeteria style restaurants were falling out of fashion. Additionally many of Bishop's locations were in malls, which were rumored to be on the decline.  That was the story at the time but in all actuality, K Mart had probably bitten off more than it could handle. The new owners slowly began shuttering the various Bishop's locations. I am not sure when the Omaha location closed. Early 90's, I would guess. I do know that Von Maur opened in August of 1995. The last of the Bishop's closed in 2012. A friend of mine had suggested that Bishop's could make it now in light of the success of the Golden Corral and other cafeterias. But I think the quality of food was quite a bit different then. Everything there was so delicious and not at all on the cheap as we find at buffets today. I'm not sure that it would be as big a success or affordable to the wide range of people that it served in its heyday. I feel lucky to have enjoyed this restaurant with my family and friends throughout the years. That chocolate pie…..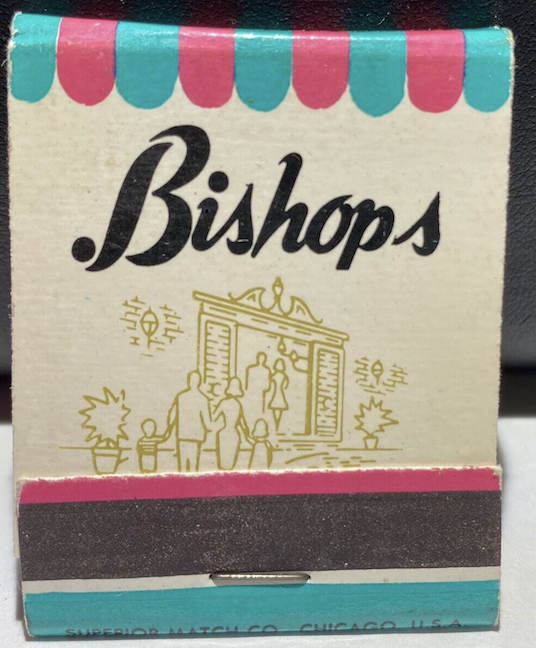 **Addendum of November 27, 2017** A My Omaha Obsession reader just emailed me a relic of this lost, wholesome vestige: the perfect Bishop's Ambrosia Pie recipe. Thanks to E. Crocker!
Bishop's Ambrosia Pie Recipe


1 (3 oz) package instant French vanilla pudding mix
1 (3 oz) package instant chocolate fudge pudding mix
2 cups milk
2 cups vanilla ice cream
9 inch graham cracker crust
1 (8 oz) carton frozen non-dairy whipped topping, thawed
Chocolate curls shaved from a 2 pound milk chocolate bar, for garnish

With an electric mixer, combine pudding mixes and milk.
Add ice cream and beat until just thickened.
Pour into the graham cracker crust.
Top with whipped topping.
With a potato peeler, shave part of the chocolate bar onto top of pie.
Chill before serving.
**Addendum of April 25, 2022** Harry Edwards shared this fantastic typed out Bishop Cafeteria recipe card for their infamous Spanish Rice. Love this card. Thanks, Harry!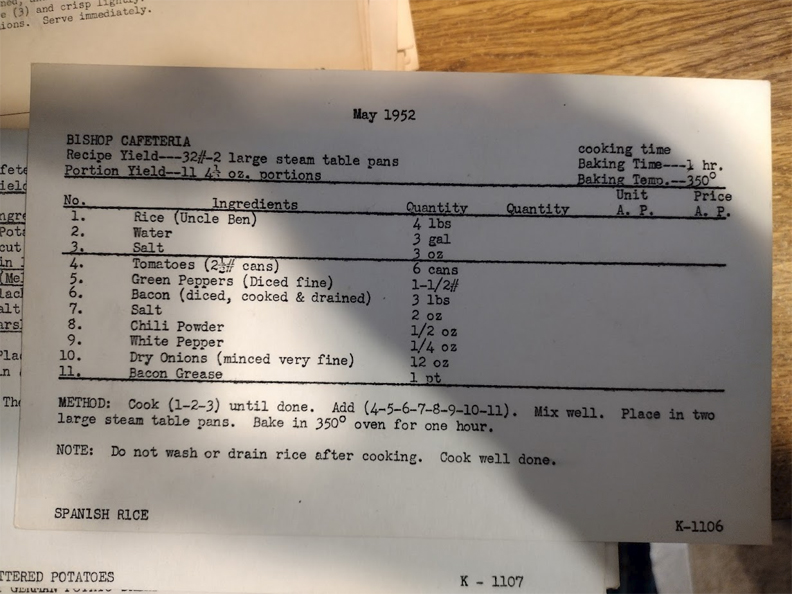 **Addendum of August 4, 2023. Thanks to My Omaha Obsession friend and Bishop's spokesperson Harry Edwards, we now have the typed out Bishop Cafeteria recipe card for their infamous 1956 macaroni and cheese. Thank you, Harry!!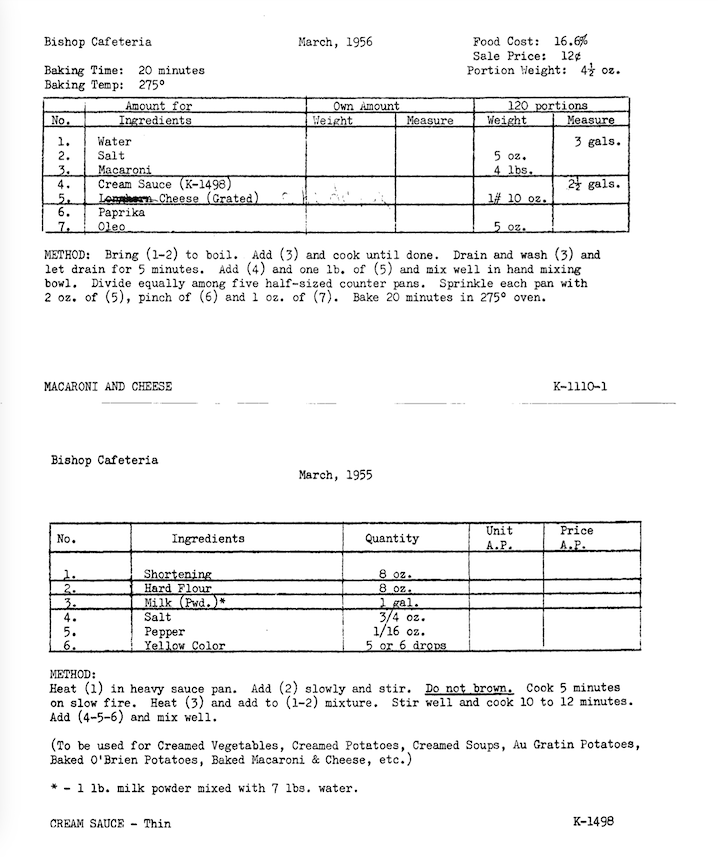 I would love to hear from you. Please feel free to leave a memory you have of Bishop's fun in comments.  Thank you, friends.