I ask you, what could more beautiful than a home owner who hears the pleading calls of his home, who seeks to understand and studies the oft ignored architectural language, and furthermore, (the real biggie in my estimation), has the financial means to honor the request in a way that is structurally truthful? There are very few things more beautiful, I assure you. I am speaking of renovation and in most cases, stripping away flawed renovations. When home and owner see eye to eye in such a winsome manner, one simply must stop dead in their tracks and stare at the glory of what can be accomplished. Friends, there is a new garage being built at the corner of 36th and Howard that you must see.
It would have sounded altogether too unthinkably whimsical or even desperate to explain to Mr. Cassette late that afternoon, when we happened by construction zone—that is to say, that he absolutely needed to stop and turn around immediately so I could get a better gander at that fabulous garage. Instead he wheeled by uninterrupted as I chattered excitedly to practically no one, "I have just seen the Best Garage in a long time…the Stick Style?…A Stick Style garage!…Did you see it? Can you imagine the expense in this day and age? All that wood? Who was that crew? Oh my goodness…that craftsmanship!" Truthfully there are moments when we must stop, if for no other reason but to marvel. I was able to go back to that garage later and for that, I am grateful.  I also want you to know that I made two splendid videos of the site of affection, but I am not able to upload them tonight. Drats!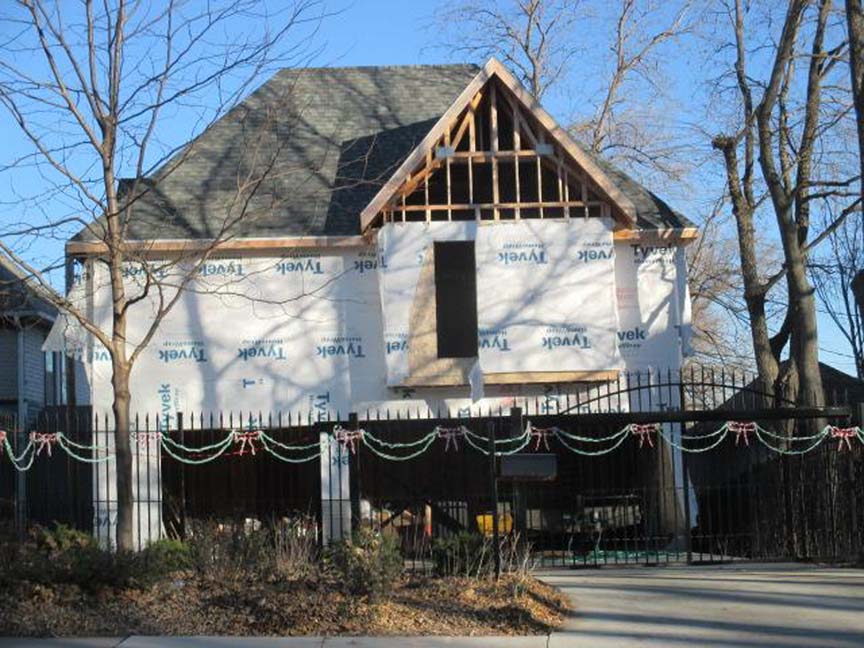 Photo of 3567 Howard Street garage from the late fall. Douglas County Assessor site.
Let me backtrack a bit and say that we, in the older part of Omaha have, generally speaking, problematic single car garages. If you are lucky, I should add, because many homes have no garage at all. I, for one, am quite happy with our little 1941 garage as it suits our small Cassette Lifestyle but for those with large vehicles or multiple SUVs or Collections of Treasures that they might want to cram into a garage (read storage space), our Midtown garages can seem inadequate. And yes, anyone with sense desires an illustrious carriage house but we are not all that fortunate. In a general looky loo about Midtown, it would appear that most garages added after the fact regretfully adhere to function over form. Let's be honest, we've got a few, large, slapped together, void of personality, 1990s barns around here. Oh dear, I often think, here is another one.
This hard truth makes the reality of 3567 Howard all the more transformative.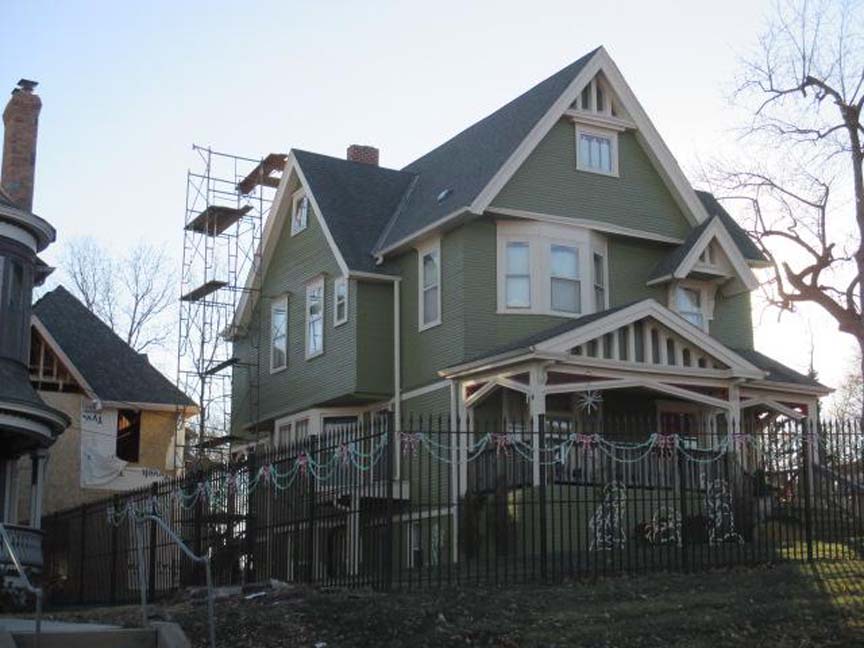 3567 Howard in late fall. Work is being done on the rear of the house, meanwhile garage being constructed. Photo from the Douglas County Assessor site.
A home owner who is keenly interested in building a gorgeous garage that is both historically accurate, cohesive stylistically with his home, impressive in the use of high quality materials, and meticulous in craftsmanship deserves more than just a property tax increase, if I do say. Mr. Home Owner would be deserving of a Magnificent Obsession nod accompanied by a Miss Cassette Salute.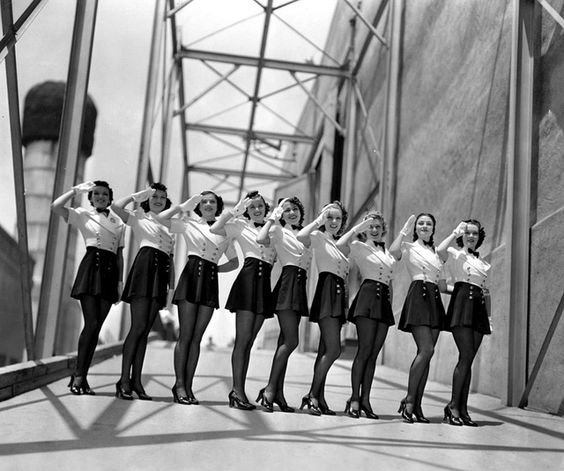 Needless to say…this whole corner has become quite intoxicating. And it is all so exhilarating that one wonders, not for the first time, why people do not take to and live in their garages? It would appear that there will, indeed, be an apartment or studio of sorts on the upper level.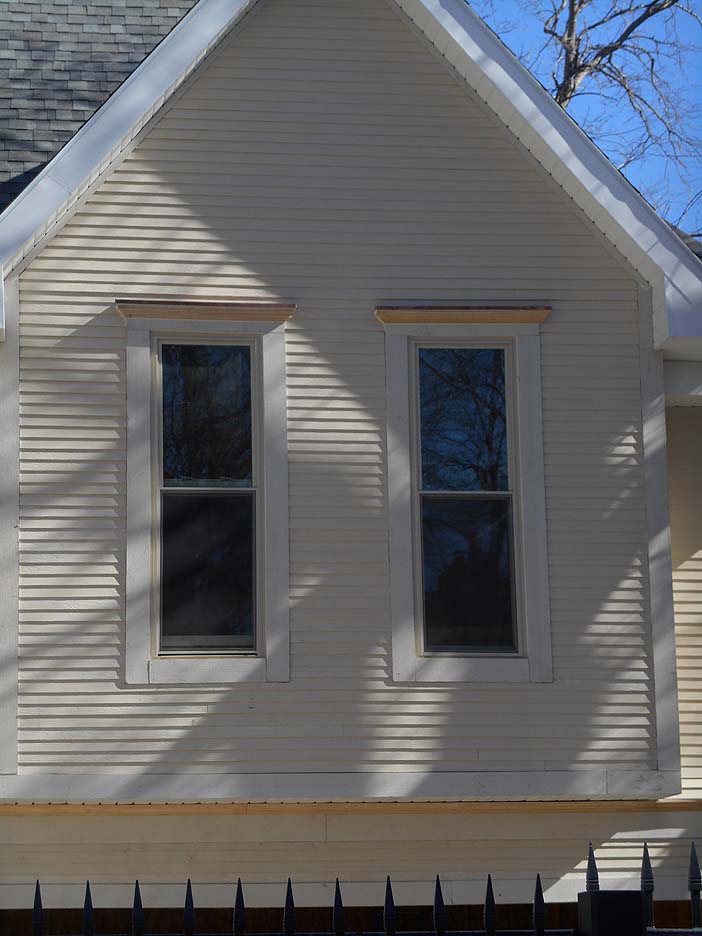 What was that copper treatment around the windows? Too beautiful. Windows of the Stick Style are typically double-hung with large panes of glass in a simple pattern of one over one or two over two. The window trim was kept simple so it would integrate with the overall applied wood "stick" ornamentation on the exterior walls. It will be interesting to see if and how copper is incorporated in other treatments on this garage.
Tiptoeing about in clicking, not such elusive detective, shoes, I was very interested to learn, from the most delightful garage to ever whisper, that this new carriage house style garage was built with an infallible aesthetic sense. She eagerly pointed out how she was best viewed from either Howard or 36th Street, the purest form of Stick Style with the steeply gabled roof, tall proportions, and decorative wood stick structural overlay. Large brackets supported the overhanging roofs, mimicking the only more glorious house. I only saw heaven upon closer inspection. What was good enough for that glorious garage was certainly good enough for me.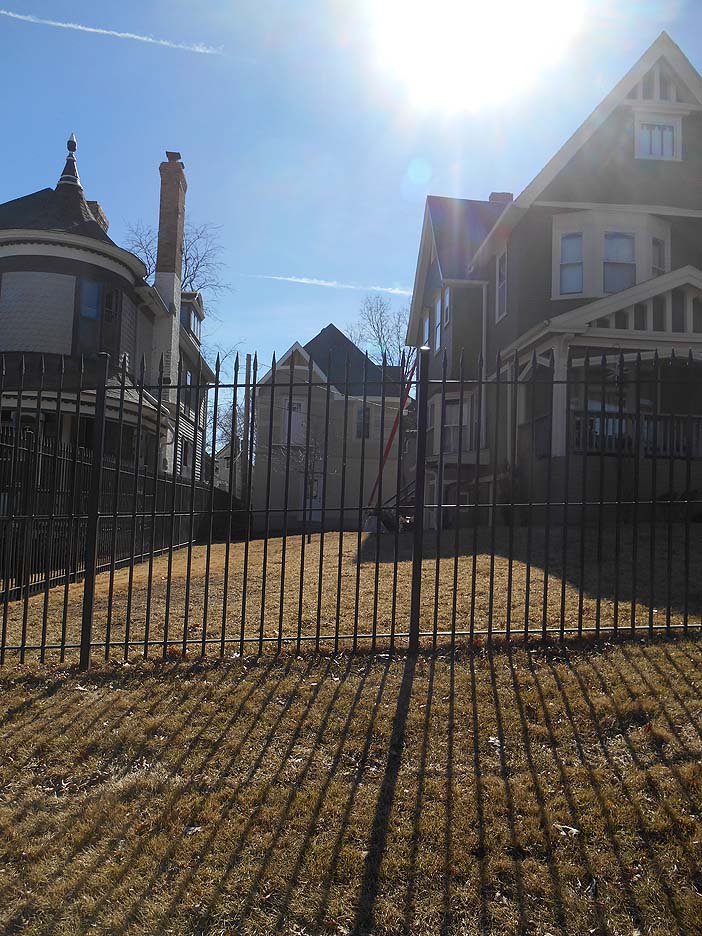 The garage viewed from Howard Street facing south. Note the extended rafters with brackets supporting the overhanging roofs of both house and garage.

My question is who is this genius garage visionary—either architect and or builder? Who is the crew that I have seen toiling away at this painstaking labor? These people deserve a round of applause as well.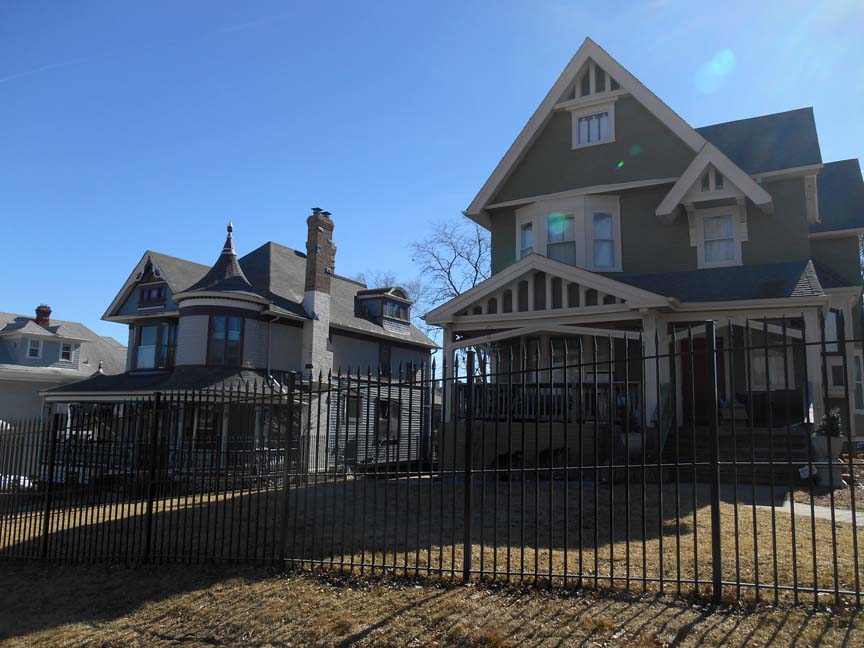 This block is really coming along nicely, if I do say. Mr. Cassette and I looked into buying the third house from the corner many moons ago. It is good to see the neighborhood being cared for in the manner to which it was previously accustomed. This photo displays the fantastic characteristics of 3567 Howard–the typical elements of the Stick Style: steeply gabled roofs, tall proportions, decorative overlay, and note the unusually large brackets that form curved diagonal braces along the porch. More of this, please.
https://www.youtube.com/shorts/x6CYgJUSquk
https://youtube.com/shorts/R48YzjtyG3Y?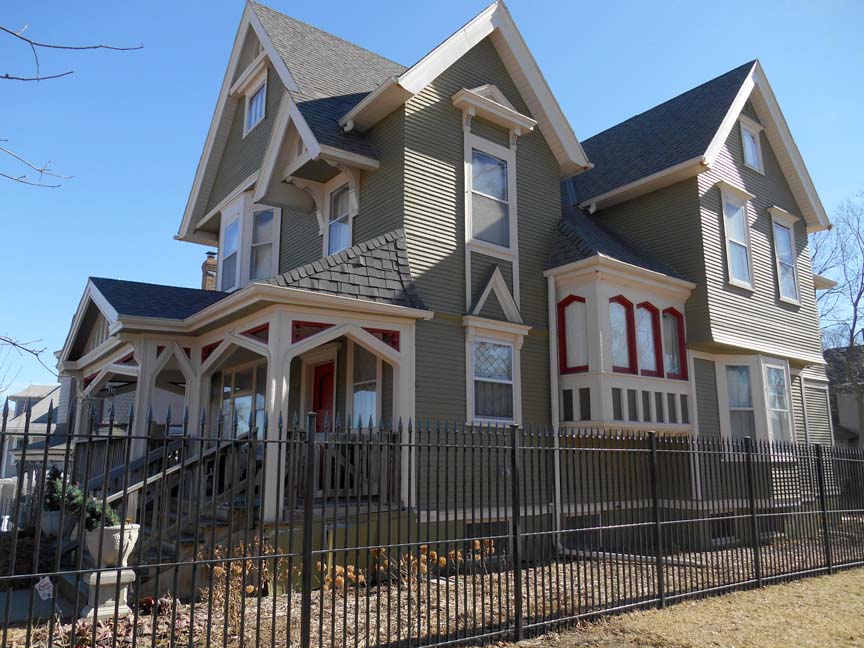 View of 3567 Howard from 36th Street, facing east. The Stick Style house is known (and loved) for its applied wood trim, giving a paneled effect. Characterized by its vertical lines, at times, sharp angularity and as seen here, asymmetrical composition, the Stick Style was popular between the 1860s and 1890s. More on a neighboring Stick Style home can be found at Mysteries of Omaha: 3214 Center Street.
I say there are enough of the architectural uglies, devilish short cuts, and remuddling miseries in the world to distract one and break one's heart, without deliberately building more. Even if it is just a garage. My Omaha Obsession salutes Mr. Homeowner at 3567 Howard Street for taking the time, effort and investing Who Knows How Much in the future to make your little corner of the world and Omaha all the more beautiful. You have inspired me. Thank You.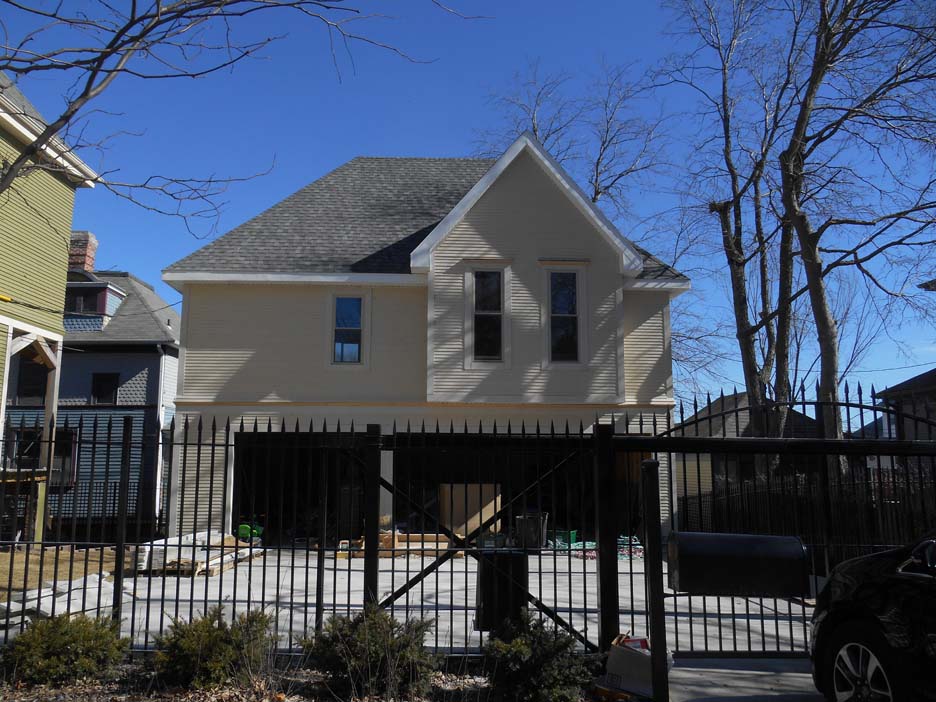 Magnificent Obsession is a new short-read series meant to briefly highlight incredible projects in Omaha and my most recent obsessions, apart from my lengthy historical pieces. Yes, it's named after the Douglas Sirk film.
Thank you, thank you everyone for reading my articles and supporting me. It means so much to share this obsession with houses and their people with all of you. I welcome your feedback and comments on this incredible garage and the area. To enable comments, please click on the header title. If you would like to correspond with me privately, please do so at myomahaobsession@yahoo.com. But I assure you, everyone would love to read what you have to say and it makes the conversation more fun. You can keep up with my latest investigations without even leaving your inbox, by "following" myomahaobsession. You will get sent email updates every time I have written a new story.  Also please join My Omaha Obsession on Facebook. Thank you Omaha friends.
© Miss Cassette and myomahaobsession, 2017. Unauthorized use and/or duplication of this material without express and written permission from this site's author and/or owner is strictly prohibited. Excerpts and links may be used, provided that full and clear credit is given to Miss Cassette and myomahaobsession with appropriate and specific direction to the original content.