I had left the blog for almost a year to get some research and writing done but during that time those of you who follow the Facebook page were privy to some fun, shorter posts. Mother of Miss Cassette called these the Little Stories and she quite liked them. I will be working to get these uploaded onto the website, as most people don't follow My Omaha Obsession on FB. A fellow just commented on the blog about a rollerskate case he had found at a thrift store, which reminded me of this story, originally posted on October 30, 2017.
3716 Leavenworth gives the semblance of being a simple Mid Century Modern flat-roofed business, perhaps a vague shadowy blur to many who pass. By design, methinks. I'm obsessed with it and its covert, industrial façade, hiding what looked to be an elongated brick planter. Had all windows been neutralized? One would never know it from the strip but this property extends a good ways to the north into the Gold Coast neighborhood bordering Leavenworth. This wide-appearing Leavenworth elevation is actually the shorter side of a large rectangle. The 3716 building slyly conceals almost 11,000 sqft of a hidden work space-storage warehouse for its current owner. A well-known monumental sculpture artist in town has worked in this perfectly nebulous charcoal building since 2008. But even more irresistible is that 3716 Leavenworth was built as a neighborhood Art Moderne roller rink: The Roller Bowl Skating Rink opened in September of 1953. This building's original address was registered on the books as 3718 Leavenworth. In their day the Roller Bowl sported the "Midwest's Finest Maplewood Roller Rink" axiom.
The roller business was introduced by Mr. Jack Gelfand. Gelfand was also involved in our The Secret of the Muse Theater and Mysteries of Omaha: 6617 Cuming Street investigations. A huge roller skating craze had hit the country by the early 1940s and by 1950 a local roller rink manager was quoted as saying, "Hardly a week goes by that one of our skaters doesn't marry another." According to manager Bob Horacek, Leavenworth Roller Bowl's focus was on family fun in the late 60s, not as much romance. Was it really true that the Roller Bowl was Omaha's only skating rink by 1968? I found evidence that the rink was still going strong in 1974 but by 1980 it had closed. I am not sure of the exact date. Sad to think that Roller Bowl had missed yet another big resurgence in skating, the likes of the 70s–complete with roller disco and the early hip hop rink antics found out at the Skateland in Irvington, my home away from home in childhood. So good to see 3716 Leavenworth is still going strong, though, and serving such a noble purpose. Added bonus—check out the new shamrocks adhered to the new Marylebone Tavern front, directly to the east. Fantastic!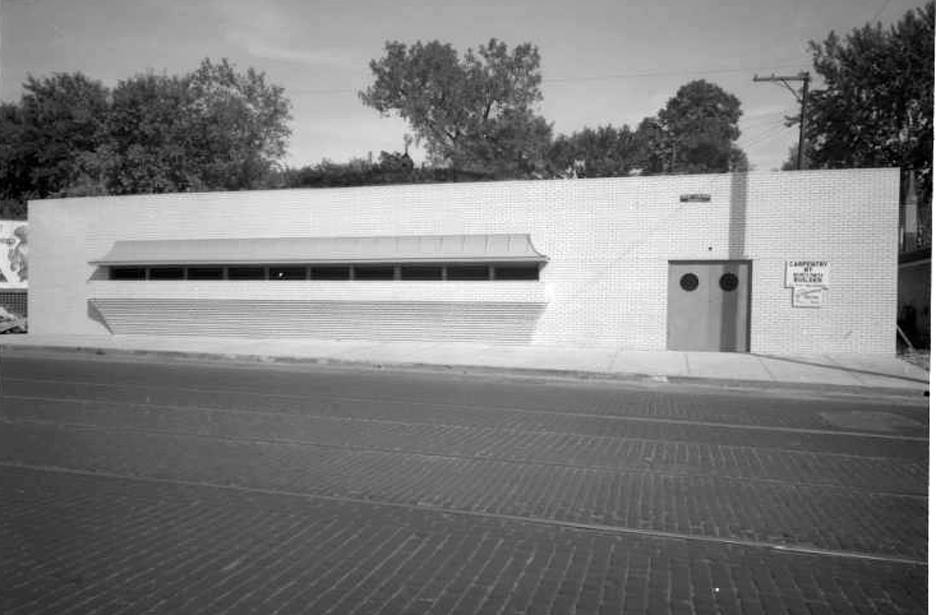 1953 brand new Roller Bowl. Designed by Stuart P. Knutson, architect. Notice the brick Leavenworth street and the superb doors. Kind of like the doors waiters were always swinging out of in 1950s cartoons. New skating rink at 3718 Leavenworth Street. Creator: Bostwick, Louis (1868-1943) and Frohardt, Homer (1885-1972). Publisher: The Durham Museum. September 27, 1953.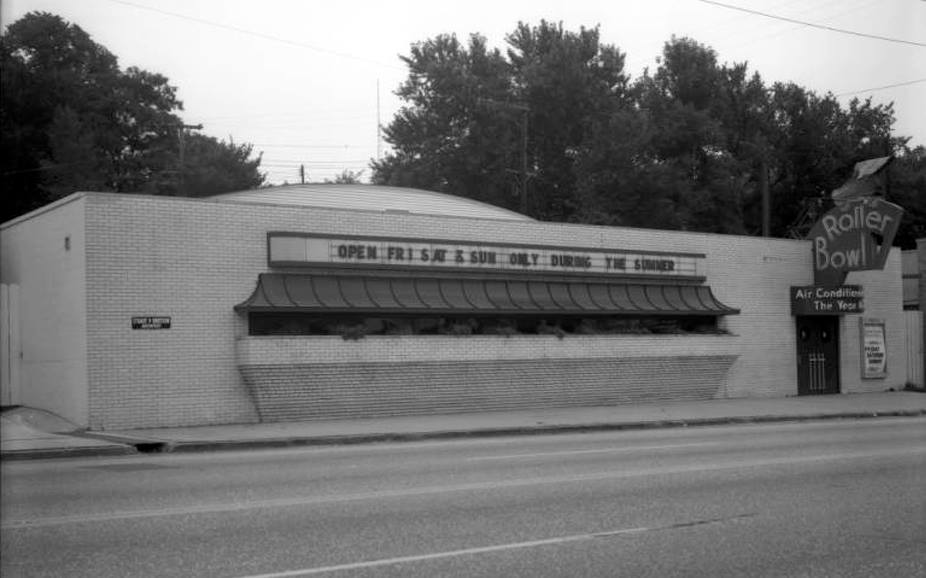 Here it is fully outfitted for business ten years later in August of 1963. Fantastic sign. Check out the barrel roof! Roller Bowl skating rink at 3718 Leavenworth Street. Creator: Bostwick, Louis (1868-1943) and Frohardt, Homer (1885-1972). Publisher: The Durham Museum.
3716 as it looks today. Barrel roof hidden by the new roof addition/facade? Garage and entrance added to the west side?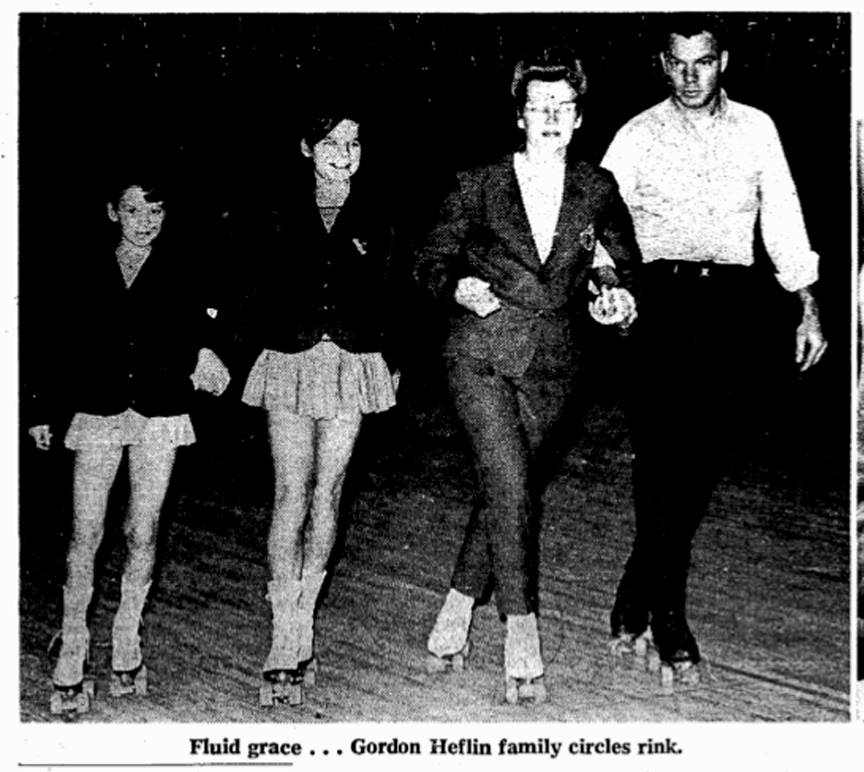 Omaha World Herald 1968. The Gordon Heflin family gives the Roller Bowl a go. Fluid Grace, indeed!
A friend sent me this photo about two years ago and I love it. A banged up, well-loved roller skate case. The address makes a lot more sense now.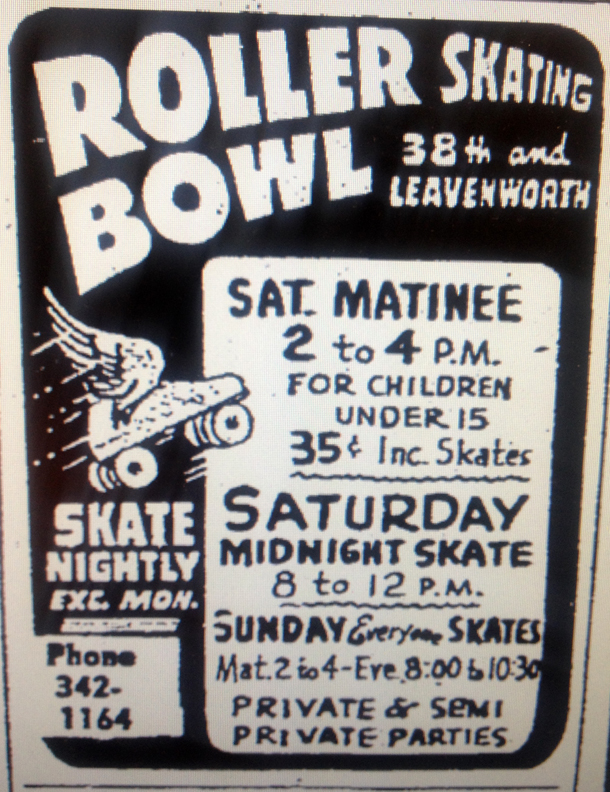 I welcome your feedback and comments on this treasured Omaha building and the historic Roller Bowl. Please share your additional clues to the story in the comments, as we know more together. Everyone would love to read what you have to say and it makes the sharing of Omaha history more fun. I want to hear from you. You can keep up with my latest investigations by joining my email group. Click on "Contact" then look for "Sign me up for the Newsletter!" Enter your email address. You will get sent email updates every time I have written a new article. Also feel free to join My Omaha Obsession on Facebook. Thank you, Omaha friends. Miss Cassette
© Miss Cassette and myomahaobsession, 2018. Unauthorized use and/or duplication of this material without express and written permission from this site's author and/or owner is strictly prohibited. Excerpts and links may be used, provided that full and clear credit is given to Miss Cassette and myomahaobsession with appropriate and specific direction to the original content.