The Miss Cassette Detective Agency had suddenly sprung into being one day in a rented, 1940s furnished office enshrouded in Midtown. My objective was to handle and solve the closed book architectural cases with which I was perplexed and couldn't easily find the answer. Many puzzles had needled at me since childhood. I imagined other Omahans called for the answers as well—and I would charge no fees whatsoever. (Except once, but I truly was a hired gun in that case.) In that manner I could uphold the highest standard of She Sleuth Integrity and be allowed to roam and unravel a case at will. I need to be true to my Goofy Gumshoe ways. Still no one has truly entered the office, as I solely represent the Agency–that is, as far as the public knows. I admitted to one mysterious, somewhat undeveloped (character) employee, not so much a colleague as a true annoyance, Mr. Cross, but no one had ever seen him. Every good amateur detective requires a sidekick to serve as the snooty, suspicious reader's surrogate. Upon first meeting with Mr. Cross, he said, "So this is where you do all your Sherlock Holmes stuff, is it? What on earth you do it for, I don't know," eyeing the office with an upturned nose. I laughed, "Well it's huge fun." There was something about his dismissiveness that I quite enjoyed, as I knew I couldn't very well be taking a friend under my employ. When would the important work at hand get underway if we were gibbering and drinking coffee all day? However this foil was a bit more disdainful than I had bargained for. Very soon after, the public brought all sorts of cases to the Agency through their letters and I attempt to solve them. And yes, it is true, we often get bogged down in lengthy discussions and off-course campaigns, many of which rely on conjecture and obsession, but I just leave it with the evidence for future sussing. Pretty soon the Agency had pulled many chestnuts out of the fire and here they are, in fact, just sitting in this warm basket…waiting for you.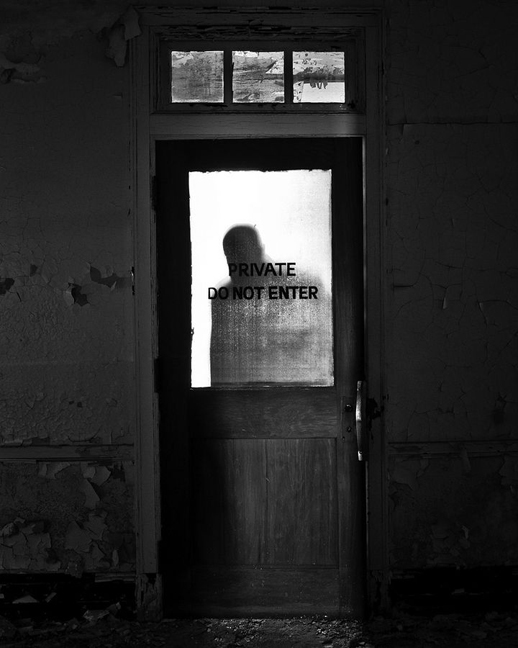 These are hard times and I recognize and feel the anxiety around us as I type these words. I continue to work out of the Cassette Detective Agency, unflappable in the uncertainty. At times my pursuits seem silly, with all I read in the news and observe within our little city. But I continue to duck into this shadowed door and plunk myself down behind the tanker because I need to—for this is an untroubled exploration. The way I see it, there in no greater agenda for the Agency than in continuing the dig for Pure Joy. Your sharing and stories are gifts that uplift me and I hope I can do the same for you, my friends. Please take care of yourselves in this difficult time.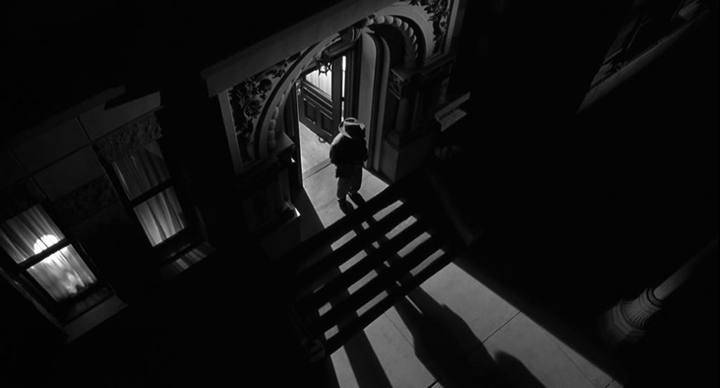 Now let us get to work and allow ourselves to get lost in the folds.
The New Case Starts Here…officially

Arlen Kuklin was about eleven in 1941 when his parents moved the family into a little cottage on the southeast corner of 55th and Leavenworth. Positioned along the perimeter of the Dundee and Elmwood neighborhoods, this perfect, tiny, front-gabled home was also right on the popular streetcar line–not exactly the crossing of Peace & Quiet, as most families might have held out for, but the building seemed to suit the Kuklins' latest strategy to a "T."  Joseph "Edgar" and his wife, Ethel, would commence to transition their private lives and that of their three boys into shop keeps for a small grocery enterprise. The compact front of the home, facing Leavenworth, had already been converted to a neighborhood corner grocery, identical to many sprinkled within any Midwestern community of the time; the back of the structure, small as it was, could be maintained as a home for the five, soon-to-be-close-quartered Kuklins.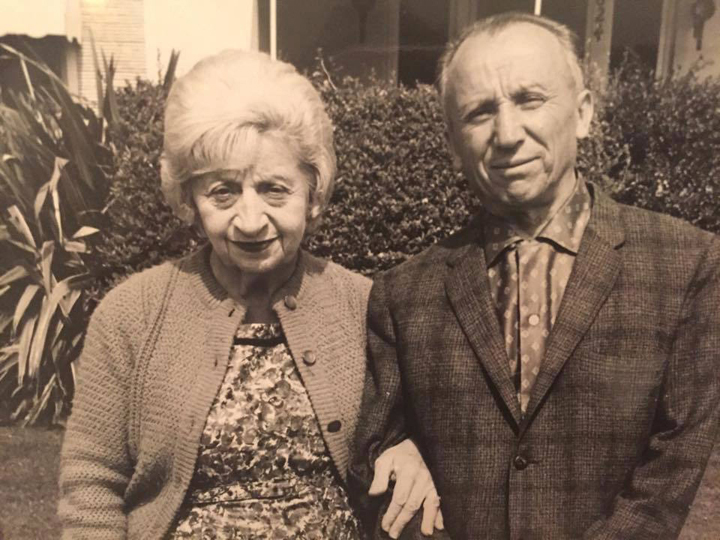 Great photo borrowed from Ian Geoffrey Levine. Later in life, Ethel Beitel Kuklin and Joseph (sometimes "Edgar," sometimes "Joe") shown in the late 1950s, early 1960s in Los Angeles, CA. Corner grocery operators from approximately 1941-1946. Arlen Kuklin's parents.
Son Arlen is now 90 years of age and is the last surviving Kuklin boy of the three. He fondly remembered his time living and working in the grocery of the busy neighborhood, alongside brothers Floyd and Howard. By 1946 the Kuklins would turn in the keys to the grocer business, setting their sights on California. Imagine the time capsule experience. Arlen's daughter, Julie Kuklin Salib was raised on the colorful tidbits of her father's Omaha machinations from his corner grocery childhood. Who could ever forget their formative years, raised in such a shared, public environment as the beloved, center-of-the-universe, corner grocery of the early 1940s?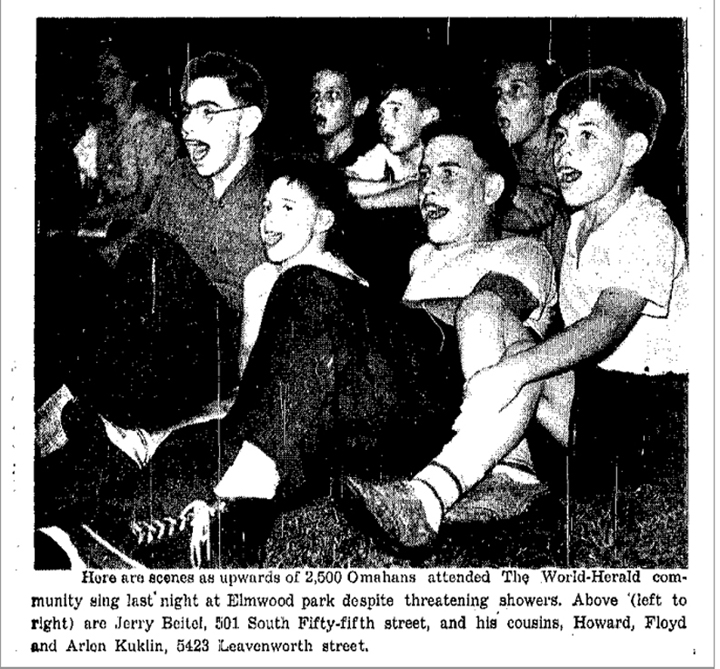 OWH photo from June 27, 1941. Elmwood Park community sing along. My eyes water to think of this time of innocence and unity in our country. On the left is Jerry Beitel (the Kuklins'cousin) who lived at 501 South 55th Street. Brothers Howard, Floyd and Arlen Kuklin of 5423 Leavenworth Street. What sweet, beautiful faces and spirits.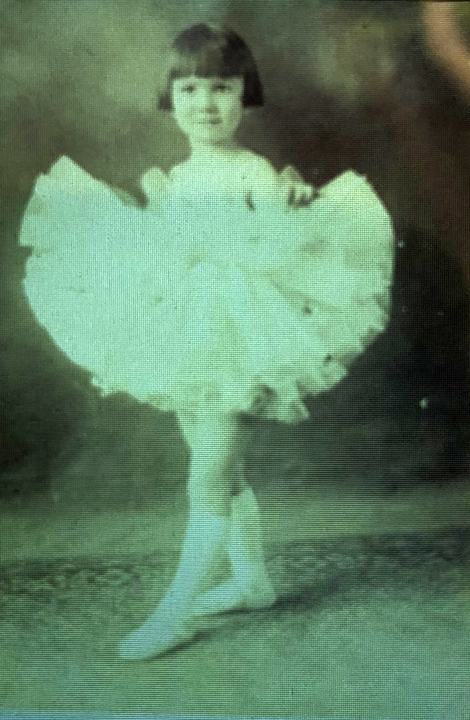 Lovely photograph of angelic dancer, Ardith Vickery. Lent by her daughter, Alison Rider.
Like Arlen Kuklin, Ardith Vickery warmly preserved her own memories of the same corner market on 55th and Leavenworth, although her view was from the other side of the counter. Back in the late 1920s and early 1930s, years before the Kuklin family assumed ownership of the shop, "Ardie" was but a small girl sent to market on her own. I imagined a tiny framed child lugging a weaved basket of some sort along Leavenworth. "The Cottage," as Ardie called it, "was a place my mom would send me for basic essentials — a loaf of bread, pound of butter, some milk. We didn't do our major grocery shopping there, but just got last minute things. I could go there alone because I didn't have to cross any major streets." Ardie grew up nearby on 57th and Marcy, in what is believed to be the first house built on that street in 1922. Still residing in Omaha, Ardith Vickery is now 98-years-old.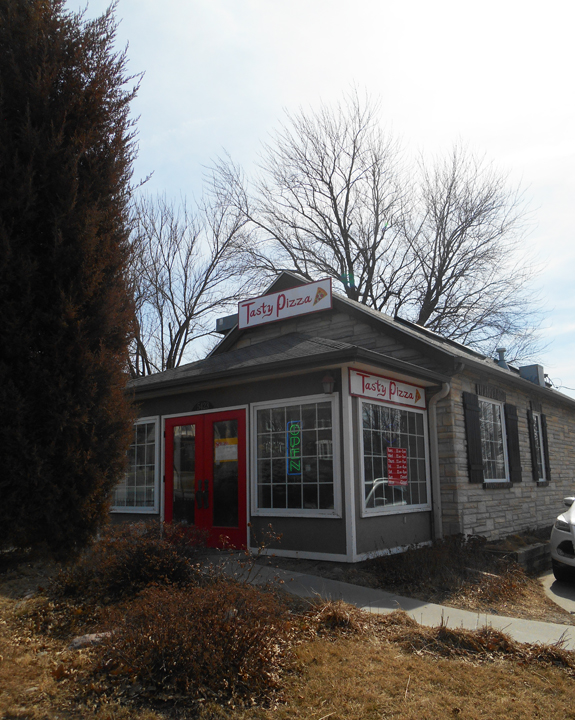 How 5423 Leavenworth Street appears today. The very popular Tasty Pizza inhabits the space, bringing a new generation to the cottage for a slice.
By the time Alison Vickery Rider (Ardith's daughter) was frequenting The Cottage, the corner market had a new stone façade. Alison remembered "a fresh meat counter with a butcher. The butcher's family lived above the store, at least that's what I was told." Not surprising of the autonomous children of the 1950s, the well patronized Cottage meat counter along the back, south wall was not the magnetic draw for little Alison or the local neighborhood kiddies. Alison shared, "Almost every Saturday involved at least one trip to The Cottage where we could go, without getting permission, to get a dime full of sweets, which were placed into a teensy paper sack. The cash register counter was on the right as you came in from the north door, and the candy shelves directly across—Lickamade, Bazooka bubble gum, Nik L Nip wax bottles filled with a colored, sugary drink, candy cigarettes." Such a divine haunt.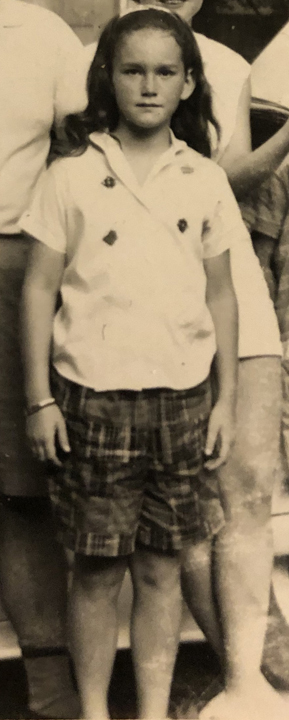 A wonderful photo of Alison Vickery Rider. She allowed me to share these images for this investigation. I can see her skipping along Leavenworth with pals.
I have been chiseling away on this case for years and how very strange that our current predicament of physical isolationism would be upon us now. For this investigation involved a simple structure that most all in Midtown have been acquainted with in passing or spent gobs of time in, dependent. Long a mainstay of the Dundee and Elmwood neighborhoods, 5423 Leavenworth has been devoted to the noble work of community building, all without much fanfare. Uniting and contributing to a neighborhood is no small task, especially when one is gussied up for business, passing oneself off from within a modest residence. She has kept on eye on the neighborhood for longer than anyone knows and yet she remains a marvel. Through the years, she served as a personal residence, grocery store, retail store, restaurant and more. How did this little cottage come to be? How and why did she become such a public character, literally known to everyone within a stone's throw for decades? This is my investigation into 5423 Leavenworth Street.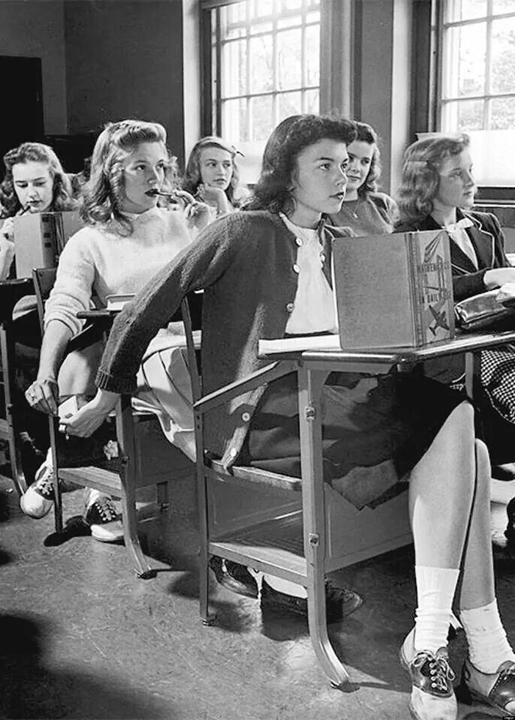 The Assessor's Excavation
I began my search by surveying the Douglas County Assessor's site. 5423 Leavenworth was registered as being built in 1910, apparently remodeled in 2000. Every property has an address, (which, by the way, can alter and meld over time as we have seen on our various missions) and a legal address, which is supposed to remain unchanged, although these designations have also been known to revamp through the years. It is all very complicated and just a small part of the fun I have dug into since beginning my operation. What we all know of as 5423 Leavenworth carries the legal name of Lot 4, Block 1 of the Wakeley Addition. From what I could make out, both the physical and legal addresses were not tweaked over time.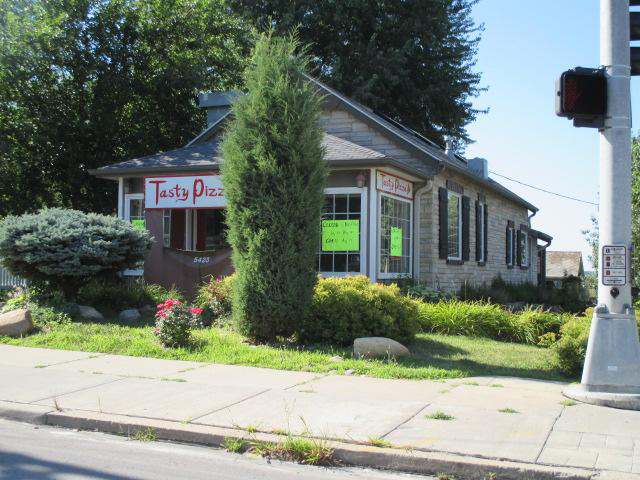 Photo of 5423 Leavenworth borrowed from the Douglas County Assessor site.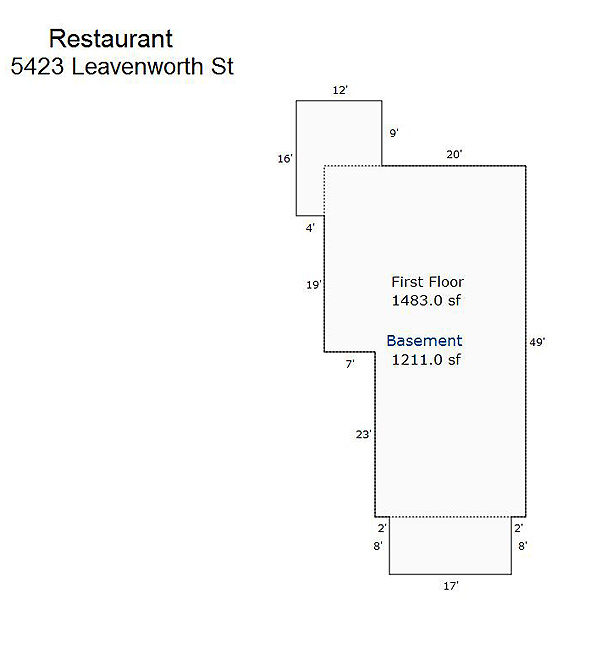 Floor plan of 5423 Leavenworth borrowed from the Douglas County Assessor site. The vague plan does not give indication of a second floor. Was the 1/2 or second floor removed when the ceiling was raised for the skylights in the restaurant?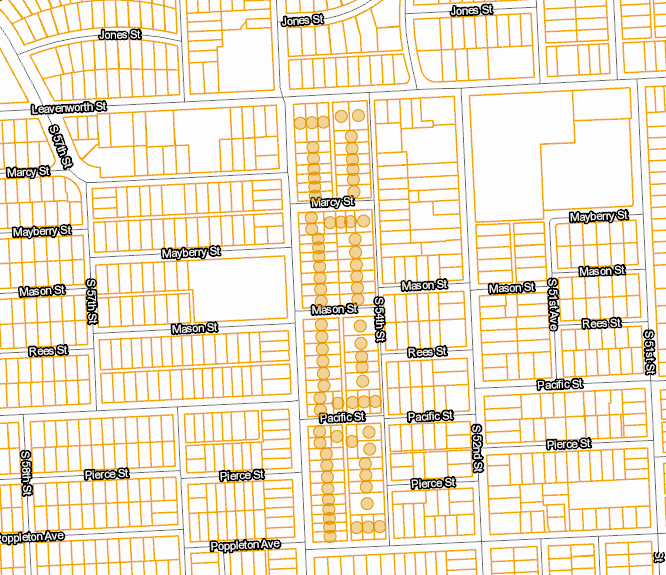 Wakeley Addition map from the Douglas County Assessor's site, revealing orange dots on the lots within this subdivision. A fairly small, compact addition, as far as additions go. Wakeley upholds a northern border of Leavenworth, east side bound by 54th Street, southern fringe is at Poppleton Avenue and 55th Street edges the western perimeter. I first discovered the Wakeley subdivision through the Omaha Bee in their 1888 newspapers. The World-Herald mentioned the Wakeley subdivision by its 1900 advertising.
The Wakeley Rabbithole
Omaha maintains many honorable nods to the Wakeley family name from Wakeley Street in Midtown, to the Wakeley Manor Apartments, the condominiums, to Wakeley Plaza. There are possibly more Wakeley namedrops that I am not thinking of right now as I listen to these snoring twins nearby. They say that Eleazer Wakeley was not only Omaha Famous but an early American Pioneer Lawyer. In the mid 1800s, Mr. Wakeley was appointed to the Nebraska Territorial Supreme Court but it wasn't until 1876 that Wakeley actually moved with his family to Omaha. The majority of his brood was born in Wisconsin but we won't hold that against them.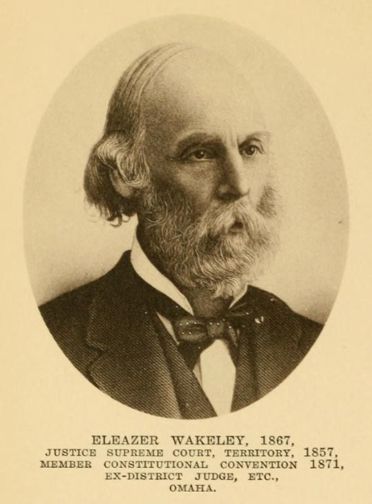 Photo of Eleazer Wakeley borrowed from 1854-1904 Nebraskans, The Bee Publishing Company, Omaha, NE, 1904.
Soon after he hung a shingle and began practicing law locally, Eleazer Wakeley was selected as Nebraska District Court Judge and the first president of the Nebraska State Bar Association. I have often written of his son, (another judge) Arthur Cooper Wakeley, as he penned one of my favorite Omaha book's Omaha: The Gate City and Douglas County Nebraska. I assume the senior Judge Wakeley and wife Sabina Comstock Wakeley soon after moving to our fine town, began acquiring real estate, as any well to do person was upskilled in back in those days. And even now. Or maybe it was one of the many Wakeley children that amassed those barren swaths across town? I traced the Eleazer Wakeley residence to 607 North 19th Street on the northeast corner of 19th and California Streets and from there, the enormous Wakeley estate was accrued.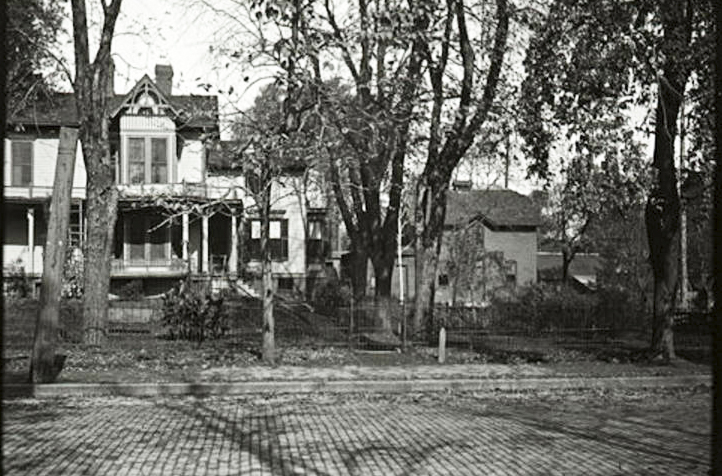 Eleazer Wakeley residence at 19th and California borrowed from the Nebraska Memories site through the Omaha Public Library. Photo by William Wallace in 1912.
National Folk Houses
My second movement involved surveying the small Tasty Pizza cottage. The Assessor's 1910 build date seemed plausible. However it wouldn't be shocking to find the building a wee bit older or younger, seeing as this common gable-front family style, based on a Greek Revival underlying design, had long been copied from the 1830s to the 1930s. Well suited for the long, narrow urban American lot, this particular folk cottage offered residential characteristics, not of a commercial type, I noted. As an aside, I've got to give credit to Virginia Savage McAlester's A Field Guide to American Houses, Lester Walker's American Homes: The Landmark Illustrated Encyclopedia of Domestic Architecture and Radford Architectural Company's 100 Turn-of-the-Century House Plans for both educating and helping me "see" the finer details in these last years.  5423 Leavenworth seemed an integral part of her community, much like the two houses to her east. It seemed the trio could be an architectural cohort. She did not give the impression of having been built as a business originally. I would have a look around.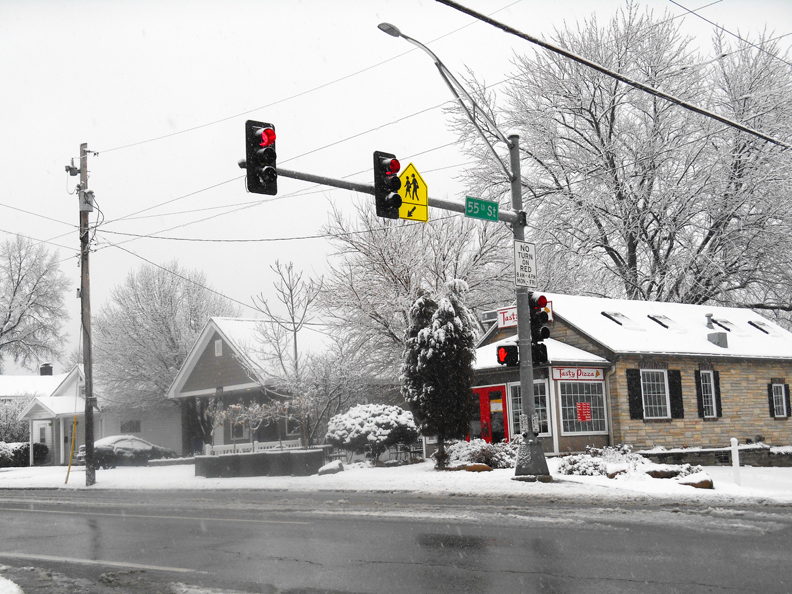 Camera faces a snowy Leavenworth from 55th Street, at a slight southeast angle to show the Trio of 5423, 5419 and 5417 Leavenworth.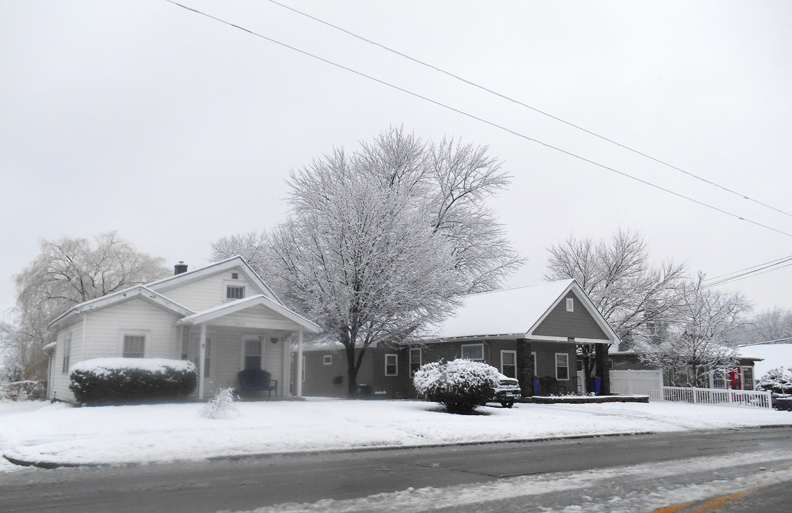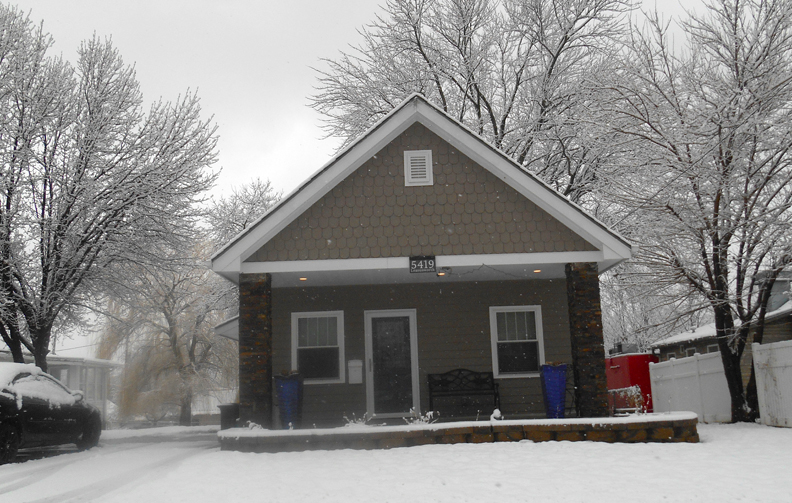 5419 Leavenworth. One door to the east. 5419 is also mysteriously listed under legal name  Lot 4, Block 1 but built in 1920, according to the County Assessor. I believe it might have been a part of the original 5423 Leavenworth lot, later divided into its own property. Not so strangely, I found it advertised for rent in the 1916 OWH, leading me to believe it has been around longer than 1920. Of late 5419 Leavenworth has undergone so many facelifts that she barely looks like a historic cottage anymore.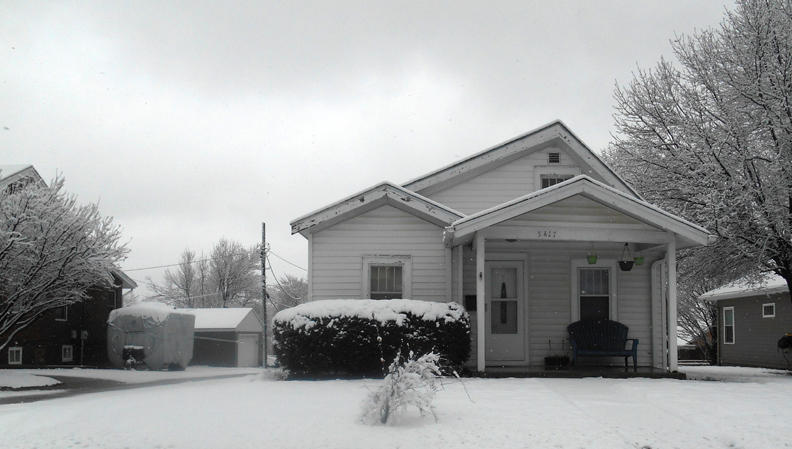 5417 Leavenworth. Two doors to the east. A charming personality. 5417 Leavenworth is also registered under legal Lot 4, Block 1. Again, I would bet these three buildings were of the same property "lot" initially. 5417 is thought to have been built in 1920.
Detectives, I apologize for photos taken at all different times and temperatures. My scrambling of detective notes: It was hard to tell exactly what her original bone structure was, although one can make out that she was some type of one and half story, of a local vernacular style. A cottage's purpose was one of form and function rather than ornamentation and elaborate design. If the two cottages to her east were whispering any kind of clue, perhaps 5423 once also enjoyed a small porch, before being enclosed for more square footage.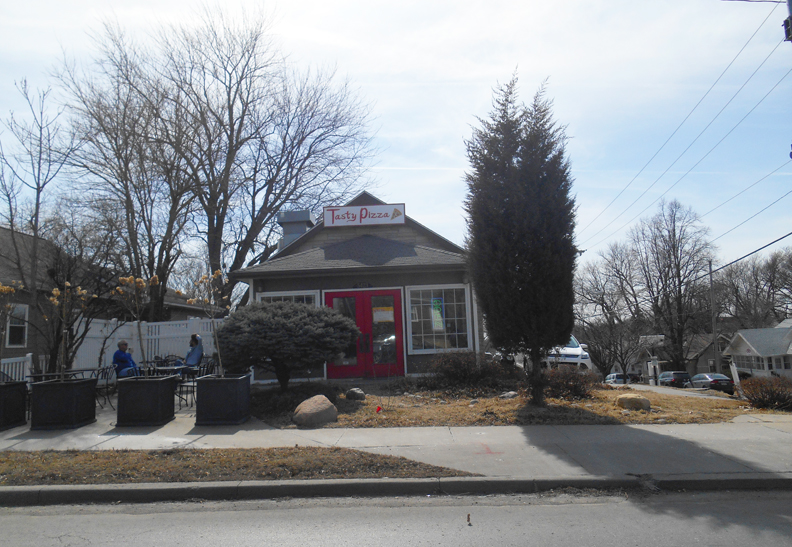 The Cottage, north elevation on Leavenworth Street, camera facing south. The Tasty offers a small seating area outside, between 5423 and 5419. Quaint and cozy just the way regulars like it.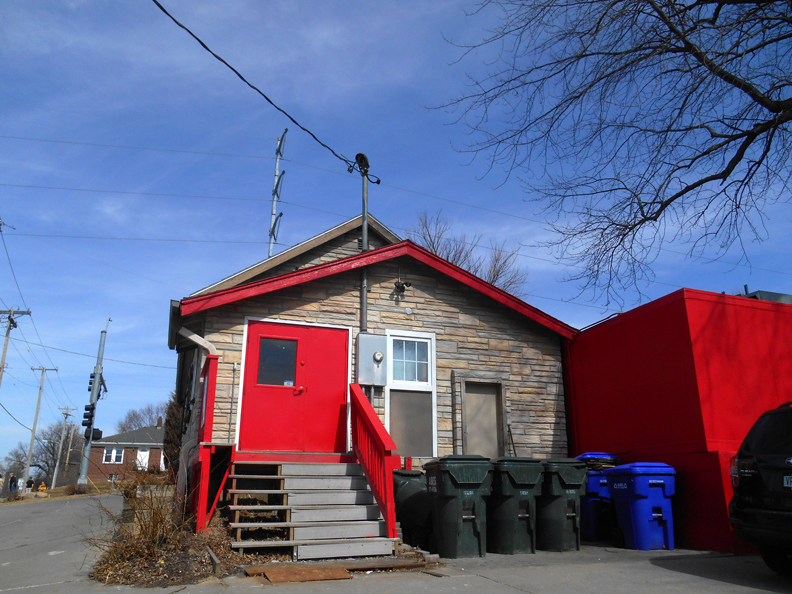 5423 Leavenworth, south elevation, camera facing north.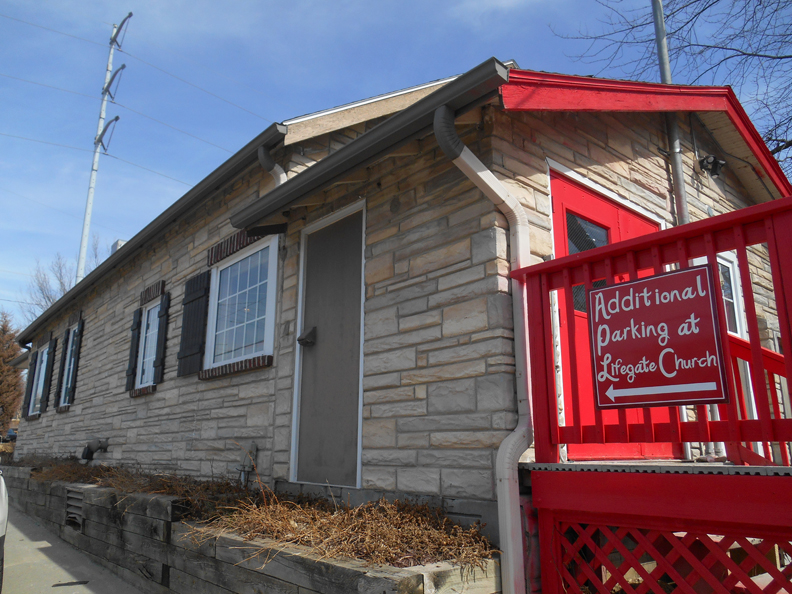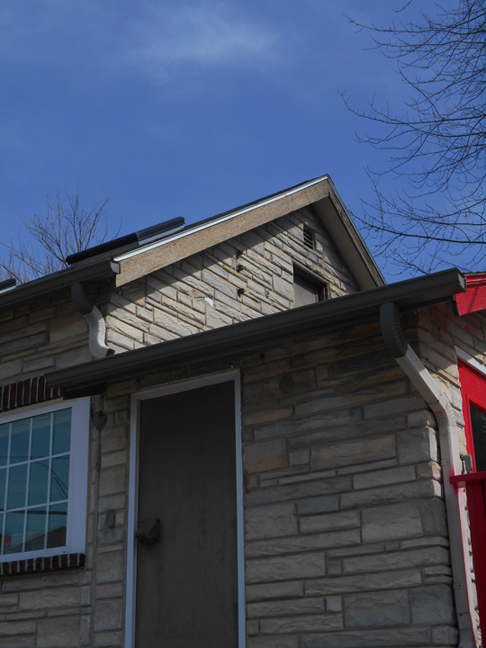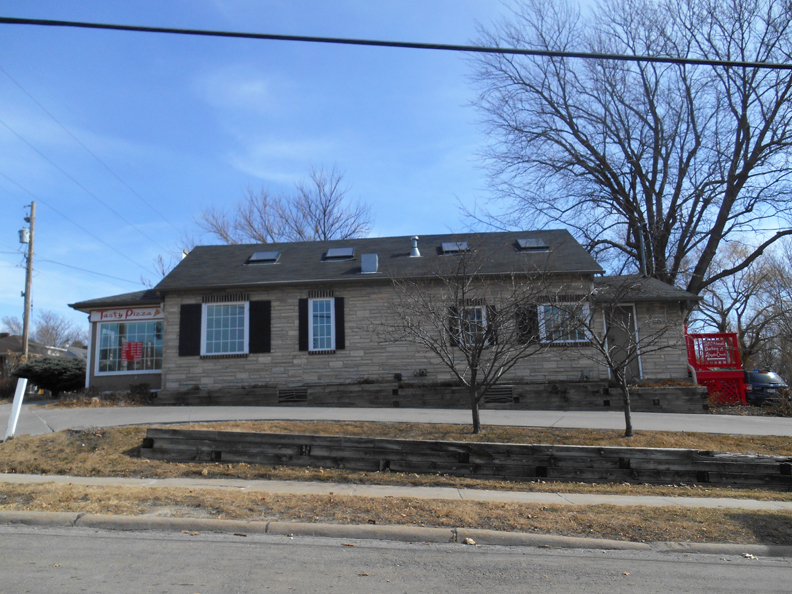 5423 Leavenworth, west elevation on 55th Street, camera facing east.
Rectangle shaped building, one story and a half stories in height, probably a stone foundation, the roof is gabled with the gabled ends facing the street on the north and small back lot at the rear. There appears to be an addition on the north side of the building (entry porch-sunroom) and a rear annex, also with a gable roof. I suspect the house is of a wooden frame construction, clad in quarry-faced stone added later in the mid-nineteenth century when simple wood buildings were thought to look aged. I don't agree—just speaking on behalf of the MCM'rs. Eaves project about a foot on sides. Skylights and various ventilation pipes and towers for the restaurant interrupt the roofline. (Fantastic from the inside!) The alterations that have occurred over time do not detract from the character of the little residence. The surrounding and neighborhood feel is maintained. 5423 Leavenworth is a great example of the local mom and pop within a residence. More on that later. She is very crisp, tidy and well cared for.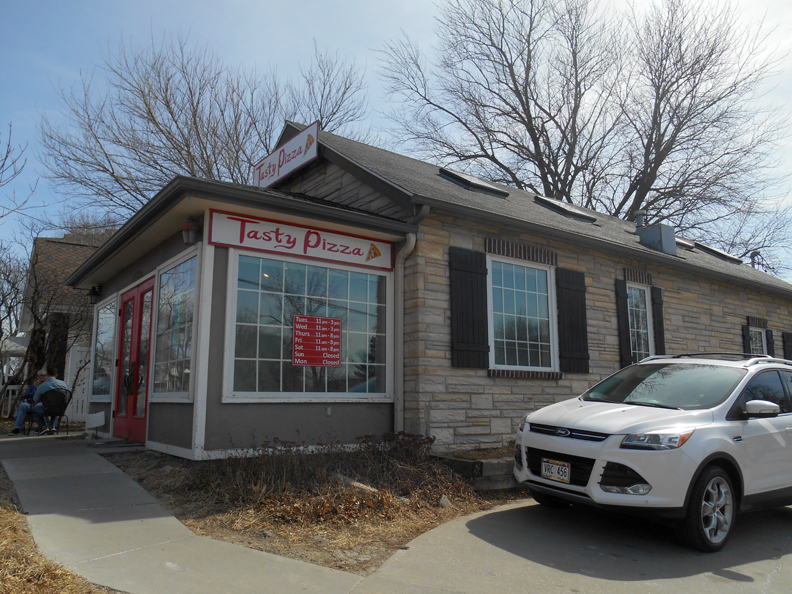 Front enclosed porch? Many could educate me on what the cottage used to look like and I'd love to hear!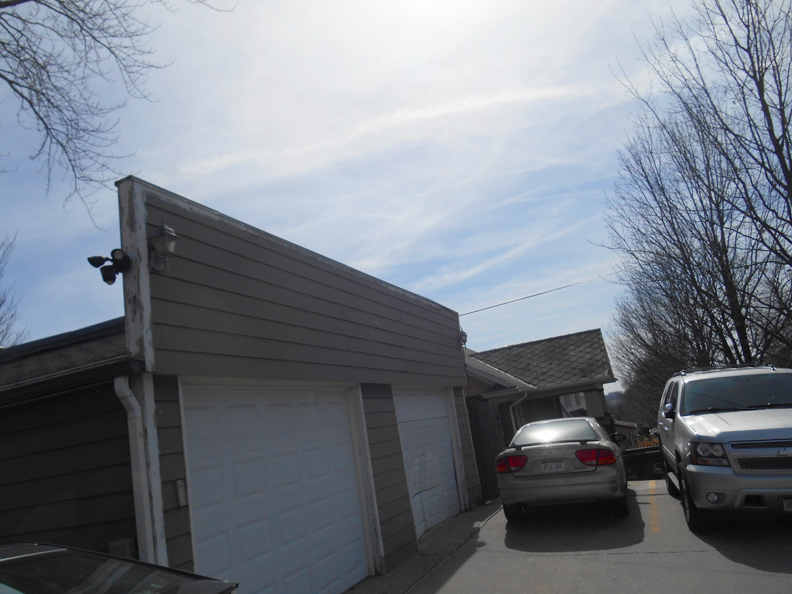 Garage on the southern portion of the lot faces 55th Street.
My Trip to the Register of Deeds
I pored over the newspaper archives. There were many funny ads. August of 1888 in the Daily Bee offered: " I have three lots in Wakeley's addition east front corner which I will trade for a piano. Lots valued at $700 a piece." And from the Omaha World-Herald in 1906: "A 5-room cottage and an acre at 54th and Leavenworth streets rented for $10.00. Fine place for chickens and garden." I was in the ballpark but no pointers were a solid bet.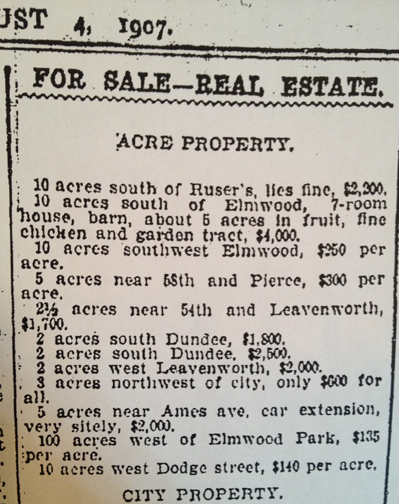 1907 real estate listings borrowed from the OWH archives. Adore the old typography as well as pondering a time when there were so many acreages up for grabs in Dundee.
In May of 2017, I tiptoed into the Register of Deeds office, hoping for a deeper examination into the clues of 5423 Leavenworth. Thankfully I took notes and photos of what I found and squirreled them away into this very dossier. For now I believe all of my favorite public places holding these mystery clues are off limits due to the quarantine. I miss all of my favorite public servants and their wisedom.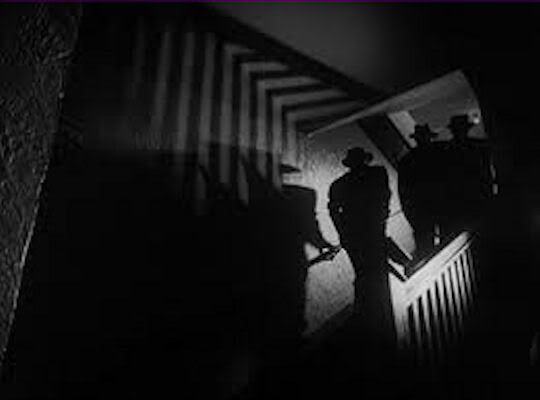 The deed for the cottage revealed Louis G. Kendis & wife sold the 55th and Leavenworth property to Anna Cole on April 3, 1908. Now I am not afraid to share that for the last three years I thought the original owner's name read "Rendis." Sometimes the beautiful penmanship of the deeds' clerks long gone confuses me. Ks and Rs….you understand. Somehow I came across warranty deeds in the Omaha Bee where I found L. G. Kendis and wife had sold four lots in Shriver Place to Leah Kendis back in 1905. I now believe this was his mother Leah Silverman Kendis. This broke the case for me and allowed me to put that clue of Kendis vs Rendis into place. Am I crazy? Don't answer. I am definitely becoming a major nerd. Anyhoo…I found Louis George Kendis was a local auctioneer and conducted said auctions out of 308 No. 16th Street, favoring watches, diamonds, jewelry, and furnishings. I would discover this address was attached to Kendis Optical Company back in 1904. Around this time I unearthed Jacob Kendis and wife, Leah, were selling multiple lots all over town. Eventually J. Kendis & Son went into real estate, formally. Relatives? Yes! Jacob Kendis had operated a great family furniture business, later turned real estate investor. This was Louis' father. The Louis and Mary Braviroff Kendis land in the Wakeley Addition was most likely an investment.

Double proof. Image from the OWH. April 1908 real estate transfer Louis G. Kendis to Anna Cole.
The Mysterious Anna Cole
Anna Cole seemingly owned land all over this Dundee-Elmwood Park area. Early on my slippery slope was that of Ms. Anna Cole's identity. Was she married to George W. Cole or was she the Anna Cole who married Mr. Lefland, the infamous millionaire real estate operator? The latter, younger Anna Cole was accused of being a real gold digger by her step children upon the unfortunate death of the much older Lefland. Twas a colorful storyline but not the correct path to our cottage obsession.
According to the 1910 census, George Cole was a 52-year-old foreman. Anna Cole was then 41. They had three sons: James (18), Raymond (16) and Clifford (13). The George Cole family lived on "West Leavenworth Street." This Cole tip was looking good. The Omaha City Directory of 1917 pointed to the George Coles living at 6003 Leavenworth within "Elmwood Park." Later the US Census of 1930 indicated that Anna Cole, mother, lived with her son Raymond Cole, his wife Mary, son Charles at 428 South 60th Street–pretty much right where Leavenworth turns into 60th Street to the south—a hop and a skip to the west of our Cottage mystery. Anna Beedle Cole appeared to own numerous lots up and down Leavenworth. In April of 1909 Anna Cole and husband sold Lots 16 and 17 of Block 1 to W. F. Mitzlaff in the Wakeley Addition. But still no definitive information on 5423 Leavenworth. Had the building been erected yet?
Neighbor
In 1911 a lot on the northwest corner of 55th and Leavenworth (726 South 55th Street) was purchased by the Central Presbyterian Church, later called United Presbyterian. This locale is catty corner to 5423 Leavenworth. The congregation was observant of the city moving westward and acquired the land for their Sabbath School. "In 1925, the church membership was growing so a church was built at this location. The new building was completed in 1927 at a cost of $75,000." The church's proximity to our cottage would come into direct conflict with a future enterprise planned for 5423 Leavenworth. Lifegate Church congregation is now the newest steward of this building.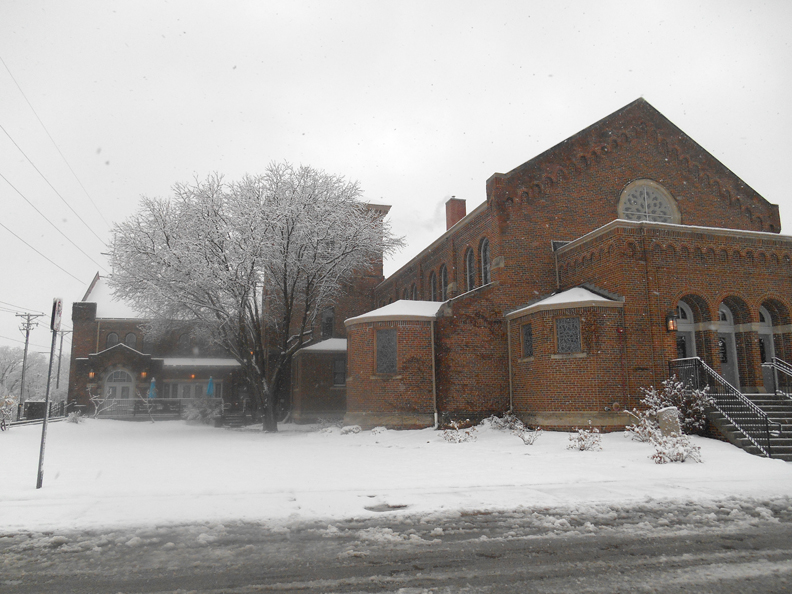 Lifegate Church one snowy morning. Originally this was the Central Presbyterian Church.
Delightfully Taken Off Course
An article from the June 1911 Omaha Daily Bee announced "W. R. McKeen has taken a permit to erect a two-story dwelling at the southeast corner of 55th and Leavenworth. Jonas Printz is the contractor." The house cost was projected at $10,000. This cost seemed very high for a simple cottage, although the physical description seemed to fit our corner.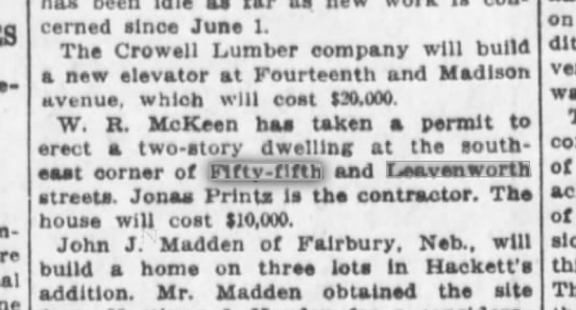 After some research, I discovered a medium-priced home in that time period was about $2,750.  A building permit from the Omaha Daily Bee of 1911 let on the home had swollen to an exorbitant cost:  "W. R. McKeen Fifty-fifth and Leavenworth, frame dwelling, $15,000." The home was later purported to be palatial and quite the show piece of Leavenworth. I knew it wasn't our corner.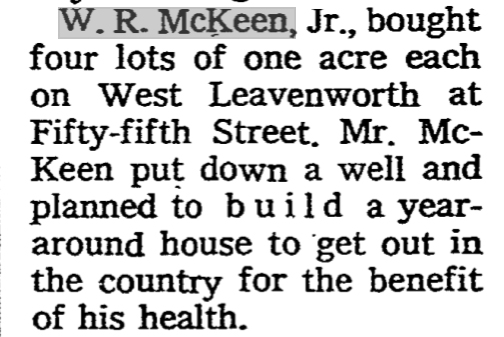 1911 article borrowed from the OWH archive. We love those early suburban mavericks who wanted to get out in the country and breathe. Later still I found the Mysterious McKeen had purchased four lots at an acre a piece to create a country home away from Downtown Omaha.
William Riley McKeen would get caught up in an Omaha Scandal salaciously detailed in the papers when little Swedish servant girl, Anna Neilson was called into court in 1912 to attest to the affair of Mrs. C. W. Hull and Mr. McKeen. Mrs. Hull was evidently sending young Anna with tempting, hot waffles up to Mr. McKeen's house. Later the sneaking couple exchanged roses and a book through the servant. My Sainted Auntie! The couple later wedded but not before the new Mrs. McKeen could publicly blast Mr. C. W. Hull of making his own cuckolds, counting ten years previous.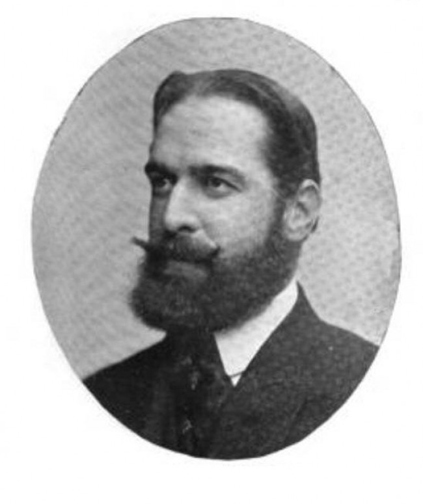 Image of William Riley McKeen, Jr. Hubba Hubba. Who wouldn't want to send waffles 'round his house?
McKeen owned the McKeen Motor Car Company down at 1222 Webster. A side scurrying showed that William Riley McKeen Jr. was not only Omaha Famous but nationally renowned as the inventor of the track motorcar. "While serving as the superintendent of motive power and machinery for the Union Pacific he developed the McKeen railmotor." The Omaha City Directory of 1917 divulged McKeen actually lived at 5343 Leavenworth, considerably east of our Cottage. Unfortunately this address and its glorious home are non-extant.
The Cottage Comes Into View
As one might have guessed, the specifics on the who and the when our cottage was built evaded me. A building such as this could have been owner built or constructed by a builder himself. This dime a dozen functional style is not usually attributed to an architect's name. Probably viewed as a Plain Jane Domestic initially, the fact that 5423 Leavenworth has served so many and stood the test of time with graciousness imbues her with illumination, even if we cannot know specifics of her origin.
The only definitive clues I could untangle:
5423 Leavenworth was originally built as a residence.
Anna Cole owned the house but did not appear to ever live in it.
5423 Leavenworth was not registered in the Omaha City Directory in 1918 or preceding.
Mrs. Cole had listed 5423 Leavenworth for rent in the fall of 1918 as a "six room cottage."

Image from the want ads in the OWH in September 25, 1918. Six room cottage for rent at 5423 Leavenworth
5423 Leavenworth still sat empty in December of 1918. It would appear that this lack of rent income inspired Anna Cole to come up with a new plan. By May of 1919 the little cottage had been overhauled and refit to that of a little store. Detective Cassette also pondered the very real possibility that one of Anna Cole's sons had endeavored and quickly abandoned his own grocery business plan for unknown reasons. For whatever reason,  Mrs. Cole was looking to unload it.

From the OWH archives. May 4, 1919. The commanding, "Look here…new store building and lot…Grocery fixtures. Three living rooms." The Omaha City Directory of 1919 did not list the 5423 Leavenworth cottage as having an owner, renter or an existence at all.
The Grocery Store
The cottage deed at the Douglas County Office disclosed Anna Cole sold her 55th and Leavenworth grocery-residence to Alfred N. Hagan in April 14 of 1920. It is interesting to note two particulars of our country during that time period. The Depression of 1920–21 hit over a year after the end of World War I. After July of 1921, America would experience a time of prosperity. A corner grocery store-residence would be a sure bet for many families in uncertain or prosperous times alike. The Model T car reached popularity with regular citizens as it became more economical. Both the popularity of the car and Omaha's public streetcars, of which Leavenworth Street offered an early thoroughfare line, would forge the way for many urban dwellers to move out of the Downtown radius and into the far reaches—such as the Dundee and Elmwood Park area.
We already know from the 60th and Leavenworth case https://myomahaobsession.com/2017/11/06/5922-leavenworth-look-back/that this area was a developed as a suburban streetcar neighborhood; daily grocery shopping was typically located along trolley stops or walkable from surrounding homes. Short blocks were typical. Located along streetcar lines out from the urban core of Downtown Omaha. Convenience to streetcar line was important. Narrow street width was an intimate, friendly feeling. The Trio of 5423, 5419 and 5417 has uniform front and side lot setback. I believe the factors of the 1920 Depression and transportation of 1920s cinched the success of 5423 Leavenworth from there on out.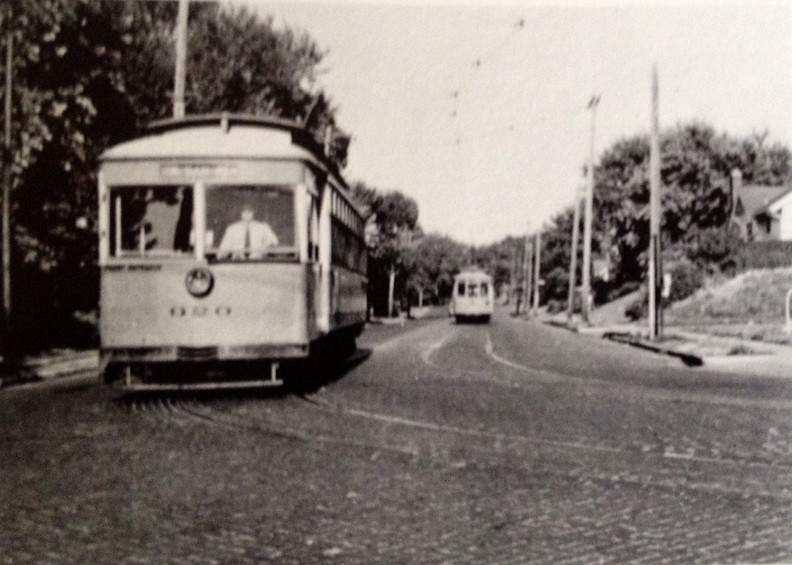 Much later in August of 1947. Photographer facing east.  "Bound for Ak Sar Ben a mile away, this car will turn south from Leavenworth onto 60th, park of the eastern edge of Elmwood Park." Borrowed from O & CB Streetcars of Omaha and Council Bluffs by Richard Orr.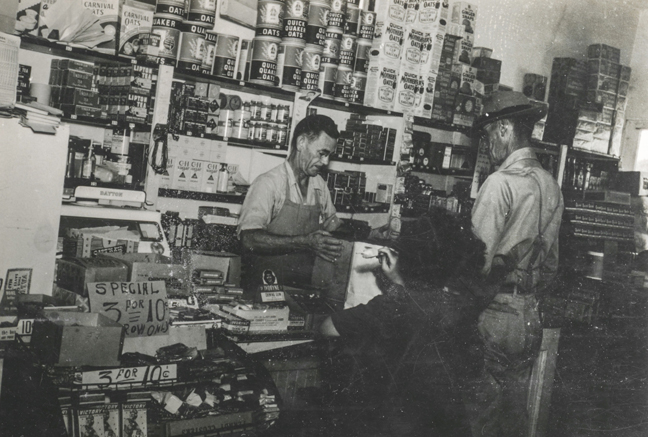 New owner Alfred Hagan was born in Iowa in 1860 and resided at 4735 South 24th Street. He was a dentist and no doubt bought little 5423 Leavenworth as a moneymaking opportunity. While Dr. and Mrs. Clara Hagan owned the building, they first rented to Michael Anselmo. The 1921 City Directory registered the Michael Anselmo Grocer. As would be the future pattern of the little store, by May of 1923, Anselmo was moving on.

OWH archive. May 26, 1923 Icebox, grocery compartments for sale.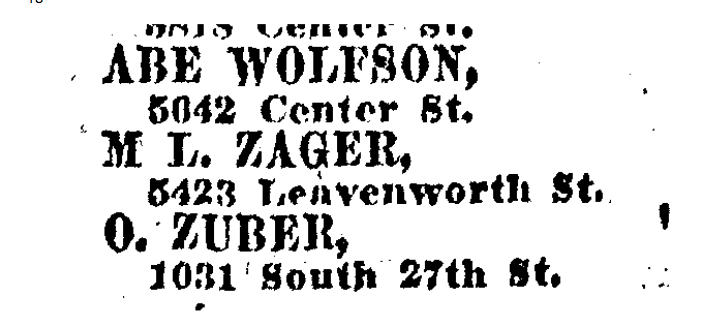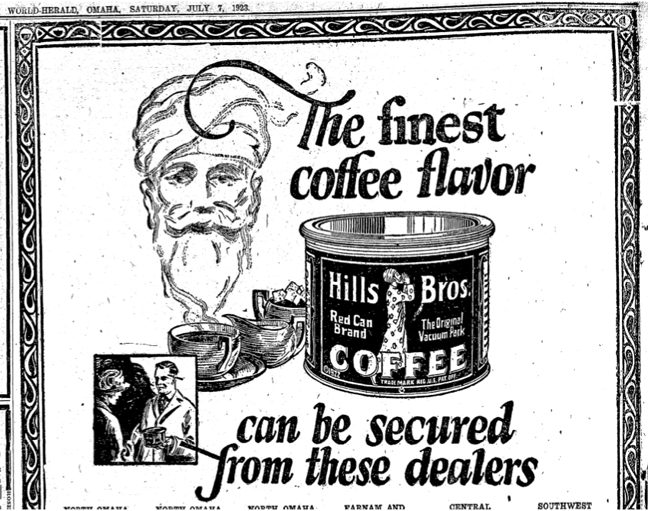 In July of 1923, M. L. Zager grocery had taken over the lease. They were also listed as selling Hill Brothers Coffee in this great advertisement.  The 1925 City Directory had M. L. Zager listed at the address but by 1926 the little store was again vacant. In 1927 there was no listing.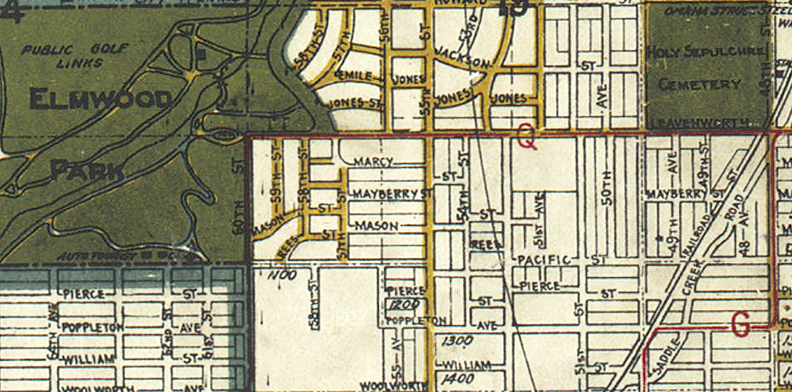 Fantastic map of the 55th and Leavenworth property and surrounding area. I believe the dotted red "Q" line down Leavenworth is the streetcar line name.  "Copyright 1923 by Guy Pease & Chas. J. Norgard, from the latest official records on file in office of city engineer" is printed under the map's title. Publisher: Omaha Public Library. 1923.
Small Home-Grocer Trends
Street front or corner stores became commonplace in 19th century residential neighborhoods. A proprietor would operate their business on the first floor and live in the back or upstairs. We had begun to unravel this curiosity in our Arms and Ammo story https://myomahaobsession.com/2016/03/02/mysteries-of-omaha/back in 2016. While Omaha's Downtown area most likely served as the predominate retail corridors in the city, smaller neighborhood stores could be found dotted about as Omaha moved West. Our Howard Street investigation at https://myomahaobsession.com/2017/01/23/mysteries-of-omaha-2226-howard-street/ offered a similar history. Her historic identity is measured through "the retention and restoration of her character-defining features–location, setting, materials, feeling and association." As the national register criteria phrases it: "Property associated with events that have made a significant contribution to the broad patterns of our history." 5423 Leavenworth is so similar to many American neighborhood business-residences. I have mentioned in previous writings my experiences in 1970s Benson and North Omaha with the corner shop concept—sometimes chips, cans of sodas and candy bars sold right out of living room window. The original Kwik Shop. I cherish these odd memories and awkward experiences when everything wasn't picture perfect and ready for Millenial Instagram.
Often animated and even "messy" by strip mall standards, these historic residential businesses offer a colorful view into Americana when not everything commercial was "branded." I wish we could bring back quirk and individuality. Down with the Neutral Slab Big Box.  The following is a fun pictorial overview.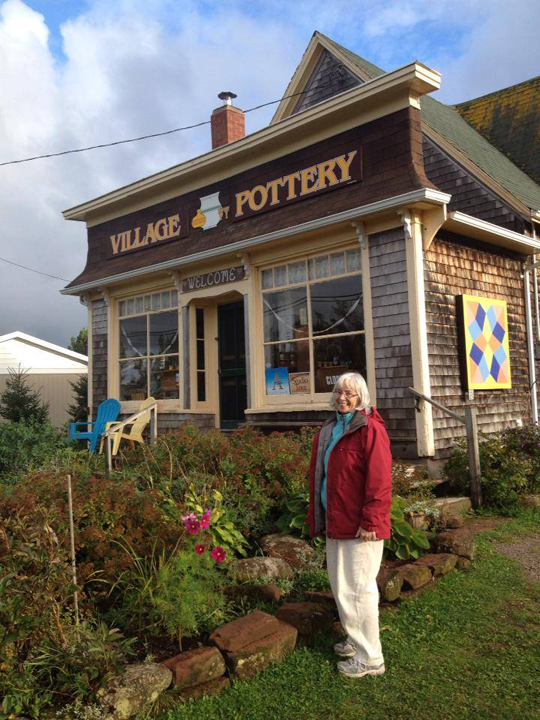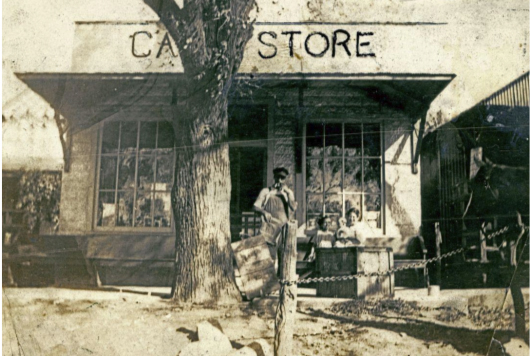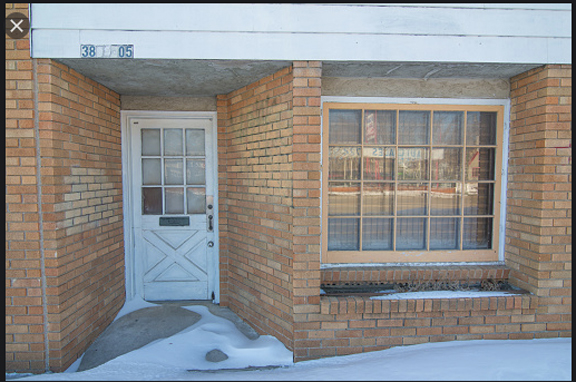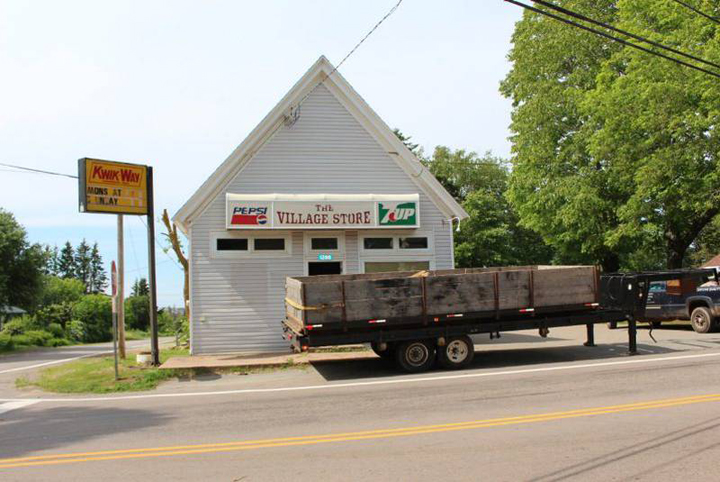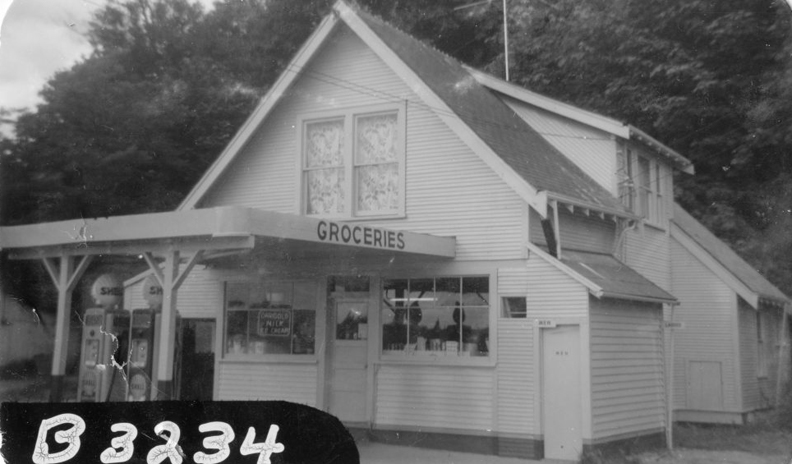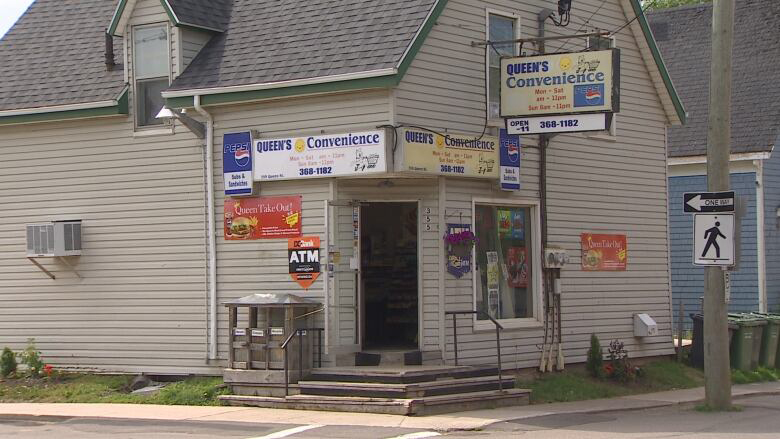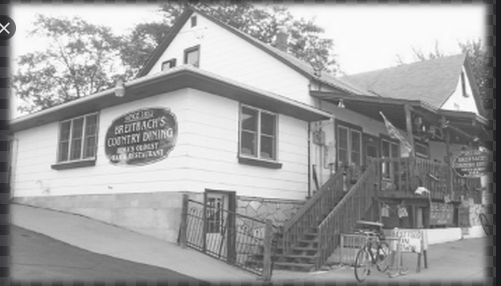 Grocers All Around
The M. L. Zager grocer was in good company and as it turns out, the 5423 Leavenworth Street market was surrounded by lively competition. As astute readers had picked up from Ardie Vickery, each store was most likely known for different things. Shoppers thought nothing of bee-bopping from one store to the next for their well-known favorites. The 5002 Leavenworth building that now houses McMillan's Antiques Store was the West Omaha Grocery Company back in 1920. Run by Paul Greeve, originally from Denmark (sometimes spelled Greve), the market later became Jeppesen & Greve West Omaha Grocery. My girlfriend Julie McGill shared that while growing up in 1970s Dundee, this location was known as Steve's Market: "Mom used to send us to Steve's with a note and we'd buy her cigarettes. I was probably 8 years old. Yes. Steve's Market was a favorite."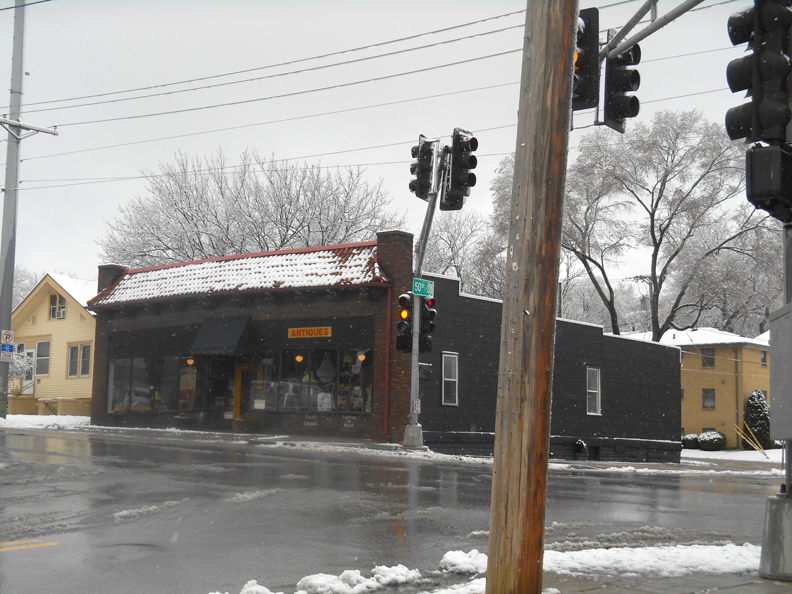 McMillan's Antiques at 5002 Leavenworth. Back in 1920 this building housed a popular local grocery store.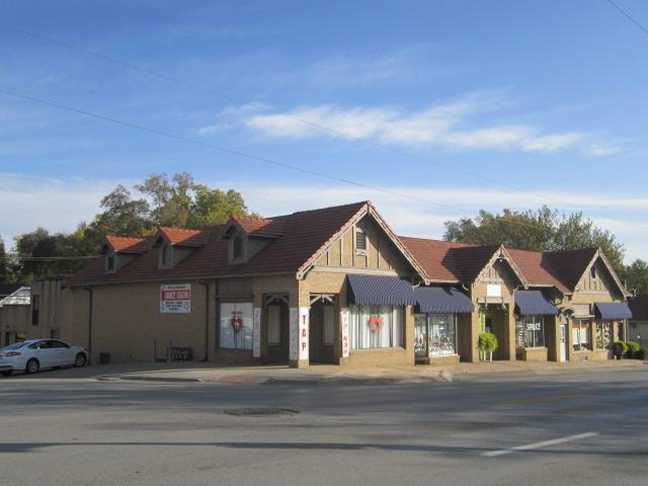 Back in 1927, 5022 Leavenworth opened as part of three Spin & Span Stores—a local chain of grocers. This great building's address is now 5026 Leavenworth Street. It currently houses a dance studio, a couple of home décor shops, a yoga studio and a carpenter's shop.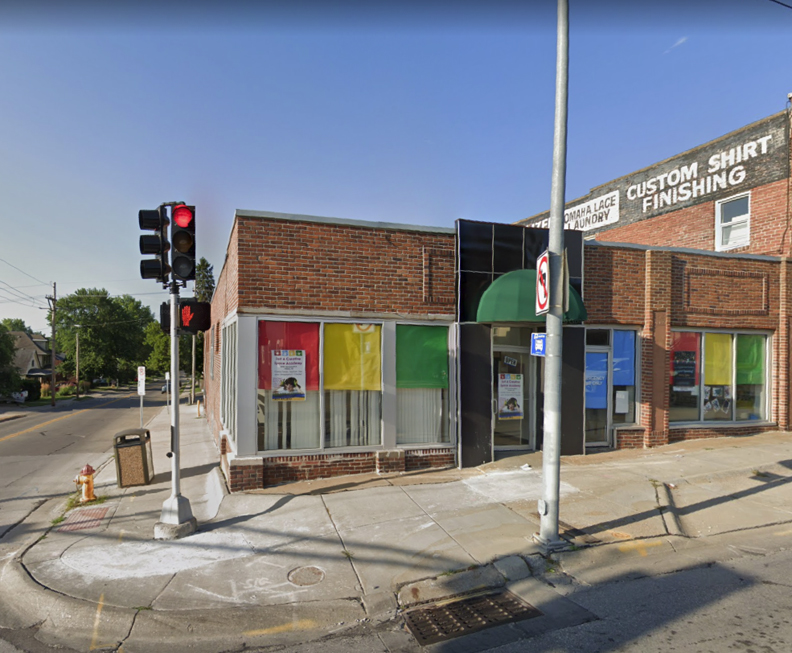 The Samuel Frisch Grocery store at 5001 Leavenworth is now a daycare center. The S. Frisch Grocery had moved up from their former location at 3852 Leavenworth when back in 1920, sugar hijackers broke into his market, making off with seven sacks of sugar, ten thousand cigarettes and 700 cigars!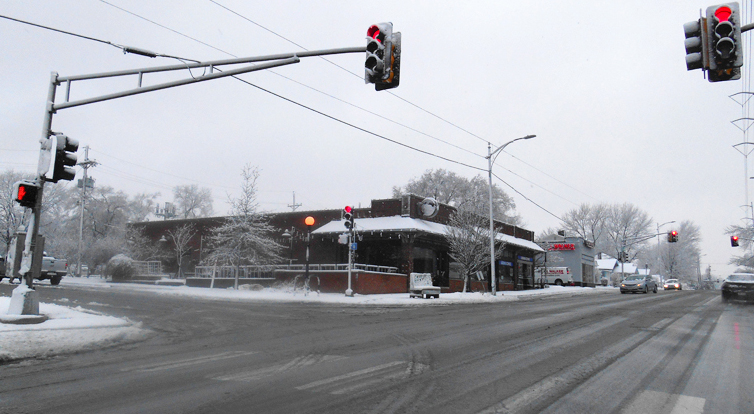 Benjamin Newman would build his grocery store empire at 5205 Leavenworth in 1922. The store was later sold to Albert Wohlner in the 1940s and became the beloved Wohlner's Neighborhood Grocery. Sadly the Wohlner store moved on in 2009 after a controversial relocation. Controversial by neighborhood standards. The Incredible J. Coco restaurant and Legend Comics & Coffee soon fit in nicely and everyone has moved to a place of acceptance. Hopefully.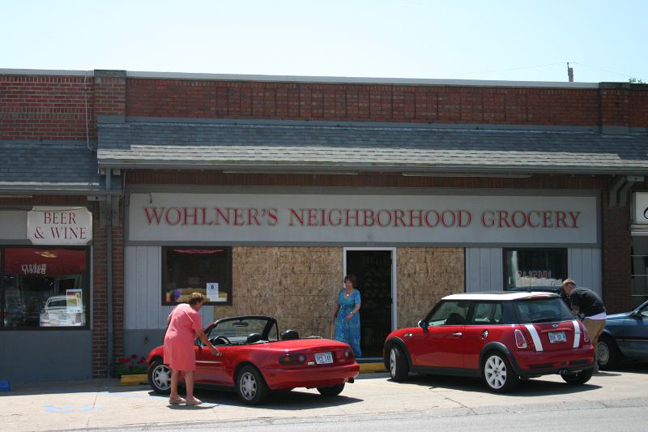 But while we're gabbing, do you remember when the person drove through Wohlner's front doors? What an exciting day. No one was hurt, thankfully.
The J. D. Crew & Son Chapter
After paging through the 1928 City Directory down at the W. Dale Clark Library, I found J. D. Crew & Son had taken up the 5423 Leavenworth store. I noted this family grocery business had moved from "33rd and Arbor" and I hoped they'd be able to give it more of a go, hopefully with their grocery experience. That and they had a very strong handle. I could see the possibilities of a charming logo accompanying a hand painted sign.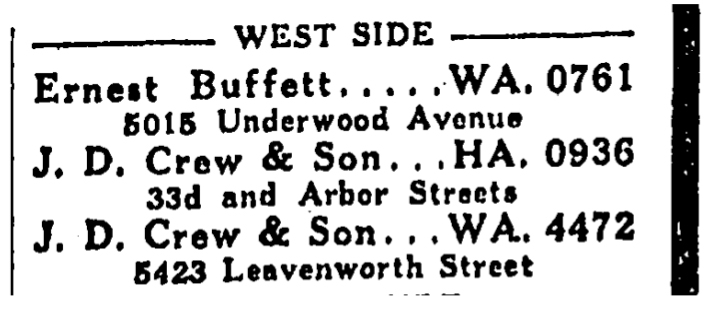 OWH July 1928 ad. J. D. Crew & Son…WA 4472 5423 Leavenworth Street considered the "West Side" of Omaha.
But the 1929 City Directory gave way that the market was likewise called the Mrs. Kate B. Crew grocery. Find a Grave shed more light. Miss Kate Belle Austin was born in 1869 in Marion, Iowa. She was married to James "John" Delbert Crew, also an Iowan in 1891. The couple had children Harold, Llora "Merle," Maude and Austin. Backtracking to a genealogy site, I found Mr. Crew died in 1925, however his grocer name would live on.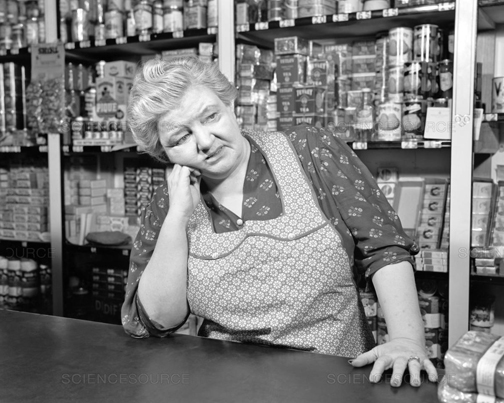 I studied the 1910, 1920, 1930 and 1940 United States Federal Censuses. The Crews lived at 3263 Arbor in a house they owned. This simple, functional structure was built in 1910 and is still standing, offering eight rental units currently. Based on the indication of the 33rd and Arbor hint, I believe the J. D. Crew & Son grocery was operated at street level with the family home above.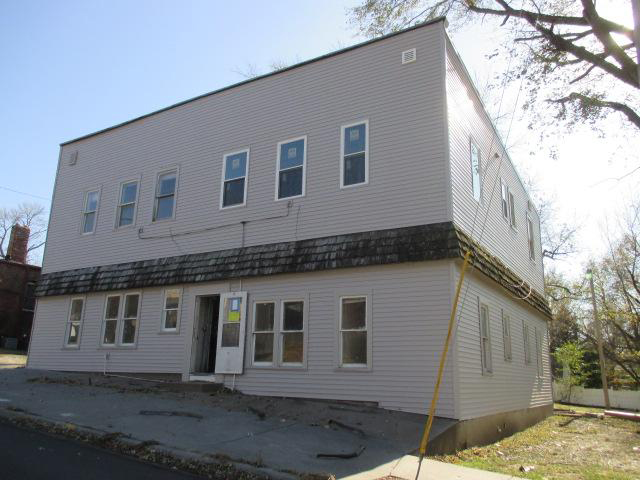 Photo of 3263 Arbor borrowed from the Douglas County Assessor site. Site of the Crew home and I believe, grocery store.
I am not entirely sure if the Crews retained two market locations when they opened the Leavenworth store, but the family continued to live on Arbor until Mrs. Crew's death in 1946. At the time of the 1930 Census, Kate Austin Crew was listed as a widow, head of household. Mrs. Crew rented out rooms in those days too, judging from the names of household members; her daughter and grandchildren also lived with her. At age 60 she was owner-manager of her family market at 5423 Leavenworth Street. I cannot be sure if Kate's children helped her run the store but it certainly gave me ideas, especially when in 1931 I stumbled across mention of Mrs. Kate B. Crew grocery's local notoriety for their fine meat selection. Was one of her sons a butcher? The last J. D. Crew & Son advertisement ran in February of 1936. During the Crews' time running their operation out of 55th and Leavenworth, they saw many more grocers squeeze in along the popular tree-lined Leavenworth thoroughfare.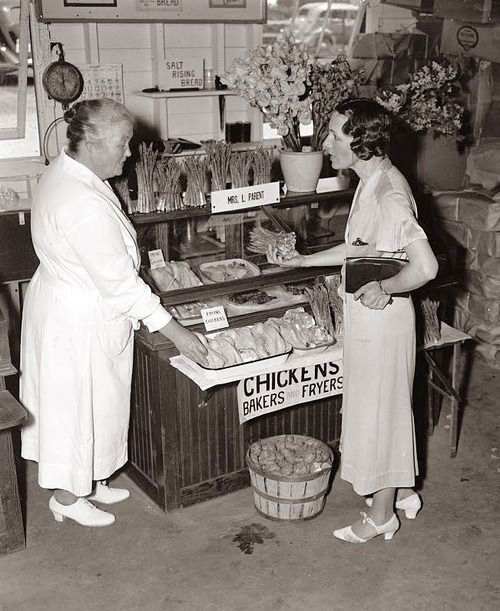 Dr. Hagan Sells?
The ever-changing deed offered up the next guide. Dr. Alfred Hagan and his wife, Clara, passed the baton to a Glenn H. Fritzler and wife on April 10, 1936 or at least shared a portion of the ownership. Of interest, I had noted this very same Glenn H. Fritzler, although written "Glynn" by the census taker, as a live-in at the Hagan household back in 1920 US Census. Lo and behold, I would learn through a genealogy site that Clara Hagan's maiden name was Fritzler and Glenn was her nephew. As it turned out, the Hagans remained on the deed. I've got to think the Fritzlers bought a portion of the property. Was this one of the houses to the east of our cottage?
The World-Herald announced in 1936 OWH: "Glenn Riggle and Hubert Buller will open a grocery and market soon at 5423 Leavenworth Street in the building formerly occupied by J. D. Crews & Son (sp). The New store will be known as the Glenn Riggle Quality Food Store." This venture either never got off the ground or was short lived, for in the spring of 1937 E. L. Giersdorf had his sights set on the little cottage. But this Christian corner was not about to accept his Hooch Hut operation.
The World-Herald pronounced: "Notice is hereby given that E. L. Giersdorf has filed application for a license to sell beer for consumption off the premises at 5423 Leavenworth St., legally described as follows: Lot 1, Block 1 Wakley addition to the city of Omaha…" a hearing would be held at the Council Chamber where the City Council as to receive evidence. (Incorrectly notated Lot number for those looking for flaws.)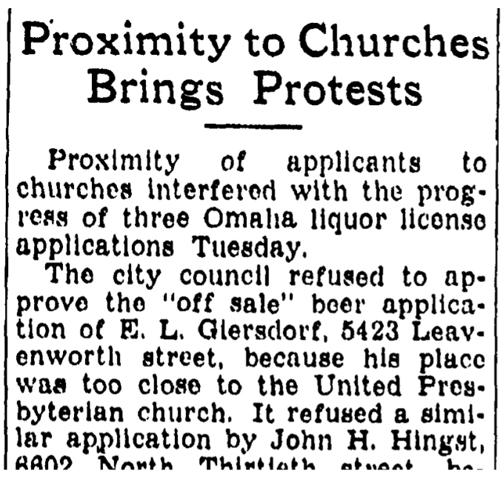 OWH May 6, 1937: Mr. Giersdorf's application to sell package was declined because of proximity to United Presbyterian.
Mrs. Clara Hagan officially sold 5423 Leavenworth to Edward L. Giersdorf on Jan 15, 1938, despite his inability to sell alcohol. Not much could be hammered down about Edward L. Giersdorf. According to his World War II 1942 registration card, Giersdorf was born in York, Nebraska in 1885. He later married wife, Helen and the couple had a son in 1913. The family had lived in Glendale, Arizona previous to their making a go at the Leavenworth Street market. Edward and Helen Giersdorf sold the store to R. B. Elfrink and wife on April 20, 1939. By record of his registration card, Mr. Giersdorf would work for Roy Hoffman at 26th and Harney by 1942; the Giersdorf family would later move to Louisville, Kentucky.

Photo of the 1940 Omaha phone book. The first confirmation of 5423 Leavenworth being called Cottage Grocery. According to Mrs. Vickery, it had been The Cottage since the twenties or thirties but I hadn't been able to substantiate that until this phone book.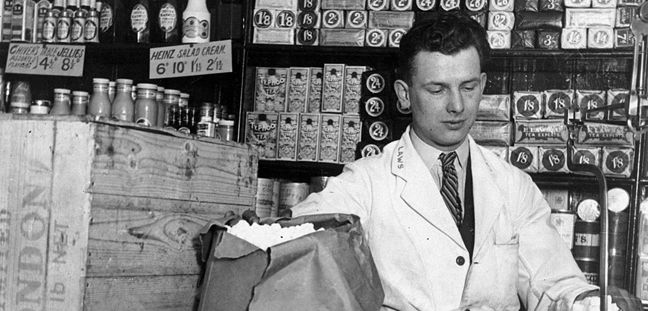 Roscoe Burdette and Sarah "Cecilia" Elfrink lived at 5712 Marcy Street with their servant Nellie Parson. Their two grown daughters had moved from the home by the time Mr. Elfrink, at age 53, embarked on the grocery retail business. He had retired as a telegrapher at a newspaper office. For whatever reason, Elfrink only lasted about a year or two in his corner market enterprise until he began renting the little house to Joseph and Ethel Kuklin in 1941.
1944
When Mrs. Clara Hagan passed away in 1944, her estate was split up amongst family members and properties sold. In April of '44, it appears the 5419 and 5417 houses to the east, were officially divided from the original deed of 5423 Leavenworth. Nephew Glenn H. Fritzler and wife sold one home to Ruth M. Shanahan on June 2, 1944 and the other house to Paul and Florence Kelly. These two cottages would later open their homes for business also. But more on that later. Additionally in June of 1944 the Elfrinks sold 5423 Leavenworth to the Kuklins–the family who had been renting the grocery since 1941.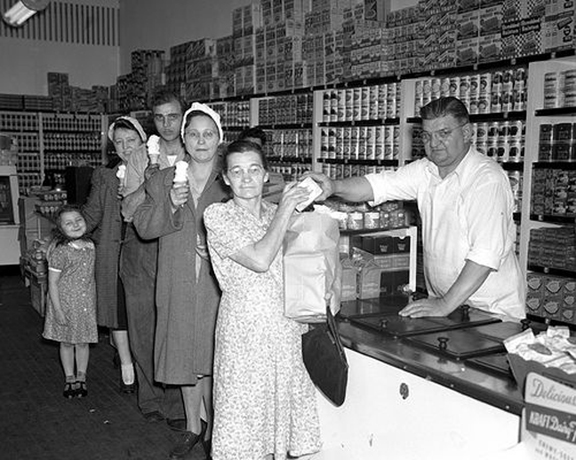 The Kuklins Take the Keys
In 1941 the Joseph and Ethel Kuklin family moved into the grocery store. According the 1940 U. S. Census, Joseph, (known as Edgar) was then 44 years old and Ethel was 39. Joseph had listed his birth date as March 18, 1896 and birthplace as Dvinsk, Russia—now called Daugavpils, Latvia. Dvinsk was one of the leading Jewish cities of the Russian Empire and a center of high Jewish culture and debate. Ethel Beitel Kuklin was born in 1900 in England. The Omaha Area Marriages site divulged the Kuklin couple had married in April of 1921. From his 1942 war registration card, I gleaned Mr. Kuklin was employed at the Postal Telegraph Company at 14th and Farnam Street in addition to his ownership of the grocery. The 1940 Census registered sons Floyd Kuklin (14 yrs), Arlen Kuklin (9 yrs) and Howard Kuklin (4 yrs).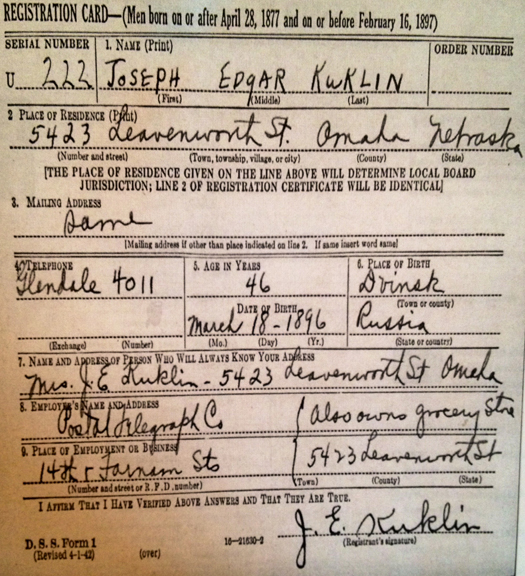 Mr. Kuklin's war registration card from 1942.

The World-Herald of May 12, 1942 offered a cute news article about rationing for World War II. "War production board order has restricted the shipping space allotted to cocoa beans, the raw material for such delectables as chocolate bars, candy, cocoa and hot fudge sundaes to 20 percent of normal. The space is needed for more vital materials." The article asked local teens if restricted chocolate would bother them for the war effort. They were so well spoken for teens! "Floyd Kuklin, 16, 5423 Leavenworth Street: 'Would restricted chocolate bother me, you ask? My folks sell ice cream and already sales are restricted. Does rationed ice cream bother me, you ask!" Darling Floyd A. Kuklin. Again the deed had tipped us off that the Kuklins would buy the cottage outright in 1944.  By January of 1945 the Floyd who was unsure of giving up icecream had enrolled at the Electrical Naval Training School in Purdue University in Lafayette, Indiana. At the close of 1945 he had completed Naval training and little brother Howard was only ten years old. The 1945 City Directory listed five Kuklin family members living under the roof of that tiny grocery store. It is hard to imagine.
In 2017 I would receive lovely correspondence from Julie Kuklin Salib, Arlen Kuklin's daughter, which piqued my interest and led to this very article. What a treasure.
"Hi, I am researching my family and understand that my grandparents opened a market on Leavenworth possibly in the 40's. I'm not sure! Their family home was on a corner and the front was converted to become the market. My father seems to remember a church across the street."

OWH archival image. I am not sure why the Kuklins left the business but in March 31, 1946, the building was up for sale again. "Grocery and meat market for sale, including frame building, modern living quarters in rear."
The deed showed Joseph E. Kuklin and wife sold to John E. Oberreuter and wife in May 13, 1946. I am not sure exactly when, but the Kuklins would move to Los Angeles after their grocery adventure. But my digging continued. Arlen would graduate from Central High School. He later served in Company "I" of the First Cavalry Division of the US Army from July 1950-January 1952 and was sent to Korea. His Army registration had his address listed as Los Angeles California. Was it true that he returned to the University of Nebraska at Lincoln in the Class of 1956? This I found in the Cornhusker Yearbook of the same year. Joseph Kuklin passed away in 1961 and wife Ethel in 1989 in LA.
New Businesses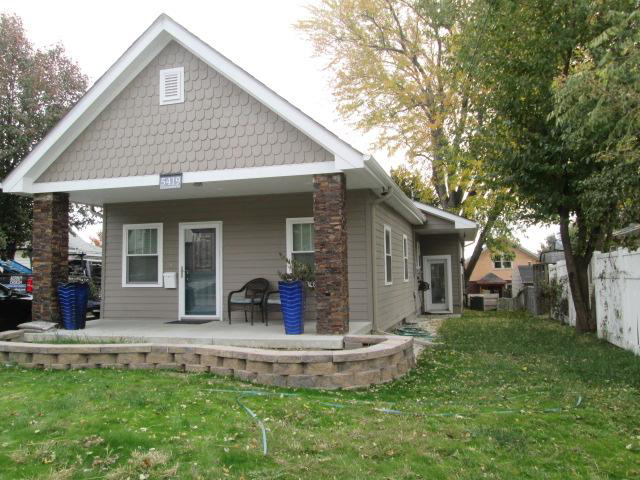 5419 Leavenworth had serious ties to our 5423 Leavenworth. 5419 was a local beauty shop-residence in the 1920s, known for its "shingling, bobbing and permanent waves like Marcels." Oh my word! What is shingling, prey tell? Look into the Aileen Pringle Shingle. In the 1930s and 40s it was Kelly Beauty Shop offering the Riller Kooler Wave and Master permanents. Oddly in 1933 Dr. Hagan had it listed for rent by owner as a modern cottage. In the 1940s was listed in the directory as the Mrs. Florence Kelly Beauty Shop. By 1949 the Byron Reed Company wrote: "Ideal Location for Tailors, Furriers, Plumbers, etc. 5419 Leavenworth. 27 foot living room with space for dinette, 2 big bedrooms, large closets, and big kitchen. Omaha is beginning to decentralize. The wise person with a home occupation buys west." In 1951 it became the Mrs. Alice Halstead Beauty Shop. Mrs. Ruth Shanahan who also owned 5417 was running the Mrs. Ruth Shanahan Beauty Shop out of 5419 by the early 1950s. In 1965 Mrs. Shanahan had refashioned it as the Cottage Beauty Shop, playing off of the cottage concept. It was still going strong by the 1970s. Beautician Mrs. Kelly lived there till her death in 1978.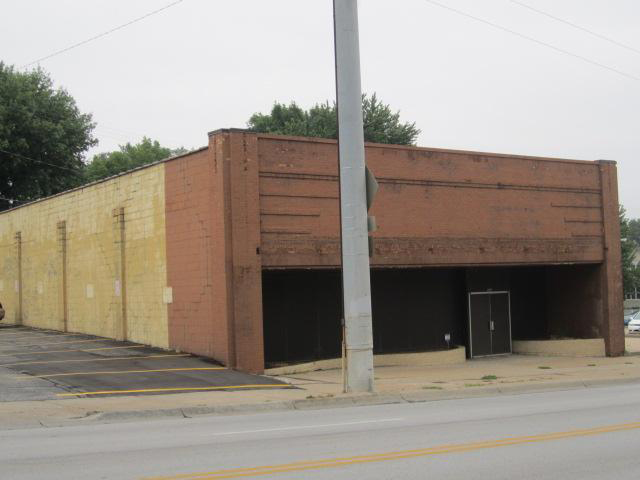 The mystery brown building at 5166 Leavenworth was built in the early 1940s to be a Safeway Grocery Store. The Safeway would become a King's Food Host restaurant in 1967. I always wondered what it was!
The Cottage Food Shop
The Cottage Grocery or Cottage Food Shop, as it was best known, at least by those who are still alive, moved into a period of high performance snacking, selling pop corn popped in a machine and peddling candy, icecream and sodas. Post World War II was a new era and everyone apparently had a snack tooth that needed satisfaction. The Oberreuters might have run the store from 47-51 but I believe soon after purchase began renting to Howard P. "Hoppy" and Eleanor Dennis. The Dennises for sure bought the operation by 1951.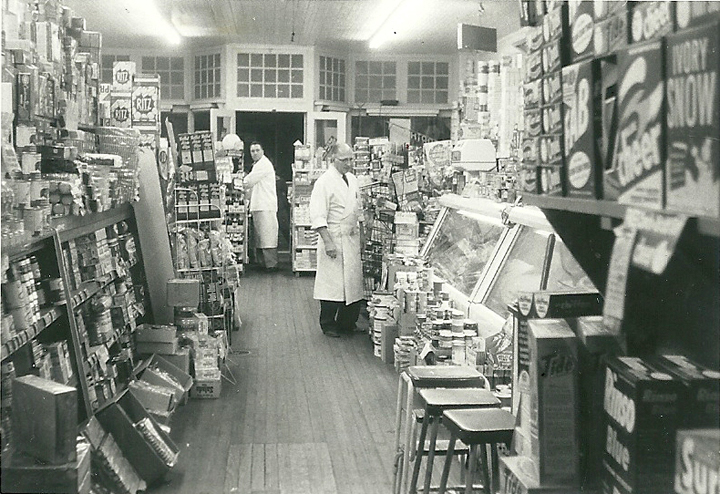 According to a genealogy site—Howard P. Dennis was born in 1901 in Nebraska to Helen Barnes and Cassius Dennis. Howard was married to Eleanor H. Raven in Council Iowa in February of 1922. They had one child, Beverlee Dennis Morley. It would seem that The Cottage was known to all of the neighbors and Hoppy soon became the eyes and ears of the community.

March 14, 1957 Cottage Grocery.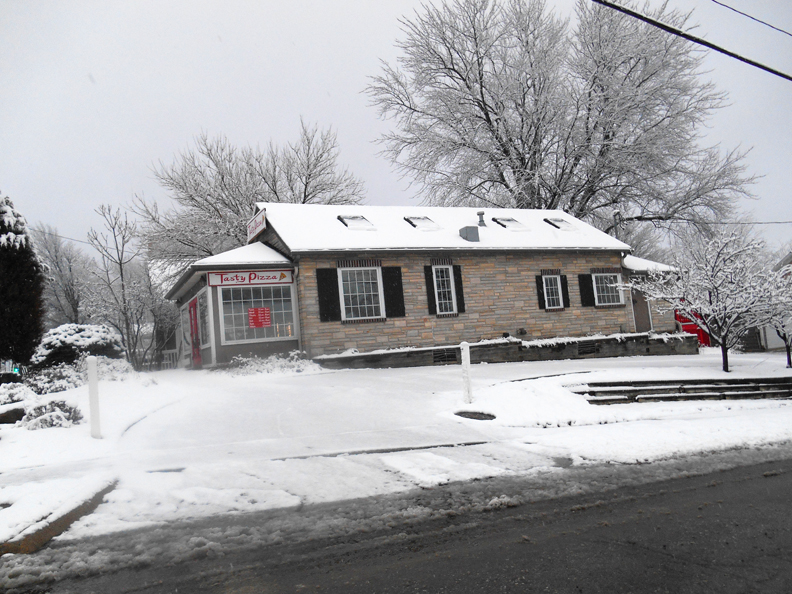 The Big News in August of 1958. Under building permits, I discovered Howard Dennis's Mid-century modernization of The Cottage. 5423 Leavenworth would replace their wood frame with a façade of "Perma Stone" to the tune of $500.
Unfortunately in 1958 a young man robbed the Dennis Cottage Food Shop of cash in a new fangled "stickup" that sadly seemed to be gaining popularity all over town in this time period. William George Eutzy, age 18, was finally caught after three armed robberies of local grocers. He was sentenced to nine years in the reformatory. By 1966 a young man carrying the long white box who "looked like a salesman" entered the Dennis Cottage Food Shop. The box held a sawed-off shotgun to hold up the owners, Mr. and Mrs. Howard Dennis. He took about 85 dollars. I was sad to find that months later, Howard "Hoppy" Dennis had passed away at age 66. I didn't know why he died at such a young age. But his obit mentioned the Heart Association. 5423 Leavenworth was listed under the Dennis Cottage Food Shop until 1968 City Directory.
From a comment to my Mayberry mansion story https://myomahaobsession.com/2016/03/21/mysteries-of-omaha-5120-mayberry-street/, I was able to track down Alison Vickery Rider, who as a child grew up at 56th and Marcy, often frequenting The Cottage. Her family went to the Cottage for basics and "small oddball gift items. I bought my mom a tiny gold lame' coin purse for her birthday one year." She shed a bright light on the area. " A bigger store, Steve's Grocery, was on the corner of 50th and Leavenworth which now houses McMillan's Antiques. The Omar Man and Gray Dairy made home deliveries of baked goods and milk, and the lady next door to my grandparents baked Swedish rye bread every Saturday and sold it door to door." She also shared "Lee Drug (where Legend Coffee is now) and Crestwood were bigger adventures requiring pre-approval. But they had racks of comics that you could sit on the floor and flip through until a clerk came along and shooed you out."
I also tried to touch base with Scott Nielsen, who had commented back in 2016 about the Cottage. I never heard back from him and hope he does not mind me sharing this again.  He wrote: "I too remember The Cottage Store on the southeast corner of 55th And Leavenworth. However as a kid going to Washington, you were not allowed to cross without a 'School Patrol' guard, and they only patrolled the crosswalks across Leavenworth on the West side, and across 55th on the North side. As a result you got reported if you attempted to cross without a guard. So to get to The Cottage either before or after school, you had to walk down from 55th and Leavenworth to 55th and Mayberry to cross the street. Sometime in the mid to late 60s it closed and became a Vacuum sales and repair store." He also tipped me off to Steve's Grocery, along with the others who knew the neighborhood well. "Mrs. Bruckner was the lady behind the counter at Steve's Grocery for over 30 years, and I think eventually bought it before it closed, but I will check with her granddaughter. She and her family lived at the corner of 50th Ave and Jackson. I remember searching through all of the neighborhood alleys in search of pop bottles to cash in at Steve's to buy 'pixie straws' or Apple Beer (yes it was soda pop) if we had a good day."
House of Maurice
Scott and others were right about the impending vacuum store but even before that venture, the Grand Opening of the House of Maurice Antiques Shop was announced in late March of 1968. You gotta love that name. House of Maurice had been located within an adorable Dundee home at 304 South 51st Avenue—obviously well acquainted with the area and the concept of operating a retail store from within a house.  I found an advertisement from November of 1967: "Seeking the unusual for gifts or collections—French furniture, English Sterling, Cantonese vase, Flint glass, Victorian love seat, Westminster chime clock, hunting case watches, exotic eastern treasures, cased dueling pistols, gold and silver inlaid, fine antiques and imports. The 1969 Omaha City Directory tipped me off to the House of Maurice owners Mrs. Phyllis L. and Mr. Maurice W. Costello. I cannot be sure of what happened but like so many attempts at 5423 Leavenworth, in May of 1970 the Costellos announced a close out sale. "Everything goes at House of Maurice." Potentially they were getting out of the antiques business altogether because by 1972, the couple had also auctioned off their warehouse at 1722 South 13th street.
Addendum September 27, 2021. Great info shared by the Costello's daughter, Denise Westfall Grinstead Fisher: "The House of Maurice was owned by my parents, Phyllis and Maurice Costello. It was my mom's first antiques shop. It was a quaint little building. They kept the windows covered before they opened; with only the name on the front. My mom recalls when they were contacted by the church across the street. The pastor was worried after reading the name that they were opening a pub. I loved that little building. My folks went on to open several other antique and furniture shops in Omaha. But this little gem of a building was the beginning." Thank you, Denise!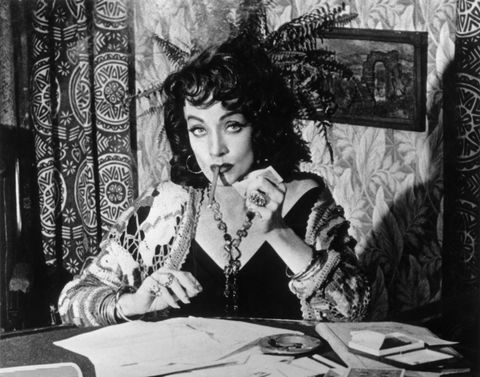 I place this here because it feels very House of Maurice.
Series of Businesses
In 1971 the elusive George E. Shoemaker filed for a marriage license from the Cottage address, even though it looks like it had been vacant. Perhaps he was a renter who was living there. The State Farm Insurance Office took up the lease shortly after through 1976 when the address was again registered as "vacant." It sat empty through most of 1977 until Sam J. Firmature of the Firmature family fame moved his Sonny's Music Corner of instrument dealers into the house. Now that I would have liked to have seen. Does anyone remember it?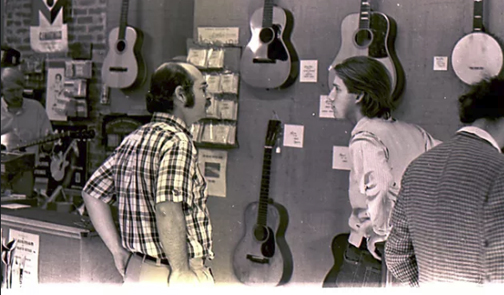 Terry's Service—the Vacuum Store
I discovered the Terry shop's incarnation sometime in the 1979 City Directory. Charles Terry, Jr. the proprietor was born in about 1936. Terry' One Stop Repair Service offered vacuum sales and repair in addition to sewing machine repair. This was back in a time when the family vacuum cleaner was a big purchase—worth repairing and repairing again and again. They lasted forever…even if you burned one up vacuuming an old rag rug and doll hair. The vacuum repairman rarely exists now. Similar to my vanishing cobbler rants, we are leery participants of a planned obsolescence culture. But you already know that. Later the "Plain Label Service" was added offering television sales and repair. (Remember the days when one could have a television repaired?) Of greater mystery, the 80s and 90s City Directory listed nine people as having resided in the cottage where the businesses were. Daniel Terry, perhaps a son, was also found at the address. Maybe Plain Label Service was his offshoot? The Terrys ran their fix it shop until the late 1990s. It is hard for me to believe that I cannot even see this repair shop in my mind. So I asked some pals to fill in the details.
Miss Cassette has spoken with a customer who maintains an unforgiven grudge of the little cottage repair shop: "This was about 1994. My last experience was taking in a VCR for an estimate. They took it in the back and fixed it and went to charge me. I told him I did not ask him to fix it; the man said he could break it again if I wanted. I told him he could keep it and never went back."
Dylan Gaughan: "I remember it being a vacuum repair shop at some point. We all attended Washington school, so we passed it every day on our walk. I remember going in there once, but I was so young all I can really remember is a Hoover vacuum sign."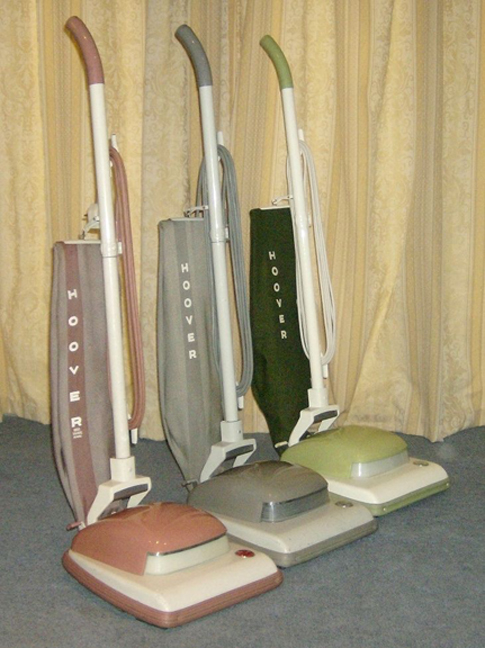 Michelle McCormack: "It was a vacuum store when I was a kid. And I thought that was so crazy that it was a store inside of a house! I remember going in a few times and the heavy Hoovers would all be in a row. I have always loved that house on the corner!"
Heather Swain: "My dog would run away to Wohlners because their butcher would always give her a bone. Then she would wander up by that house so I'd always walk up and check it out. Loved all those windows. That house was just a cool house."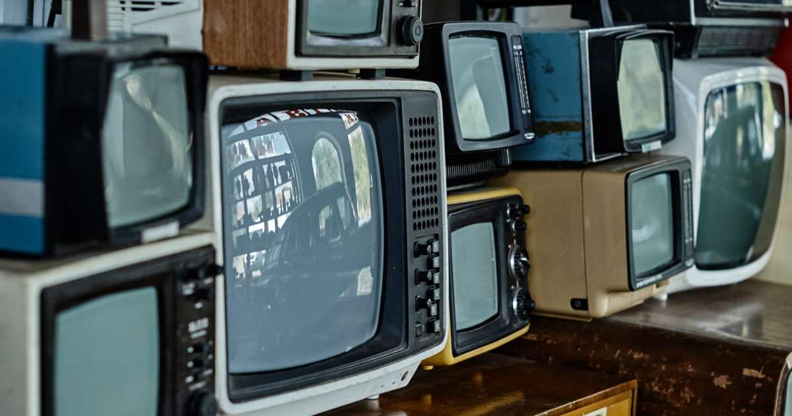 The Restaurants
I will admit, I am bushed and I bet you detectives are too but we can't give up just yet. We are so darn close. But I will also admit I've come to a bit of a hole in the timeline of the case. In 1999 Wayne Kubik sold the little cottage to Anne Delay. In 2000 the house supposedly sat empty—this I gathered from the 2000 City Directory. However conflicting evidence showed that 2000 brought a big overhaul to the house with much renovation. It would make sense in order to turn this retail-residence space into a functional restaurant. C'est La Vie Restaurant and Caterers had hung their shingle for business by at least 2001, if not before. I think this might have been Gerald and Mary Ries' project. By 2002 the restaurant changed hands again when Gene and Julie Cammarota bought it.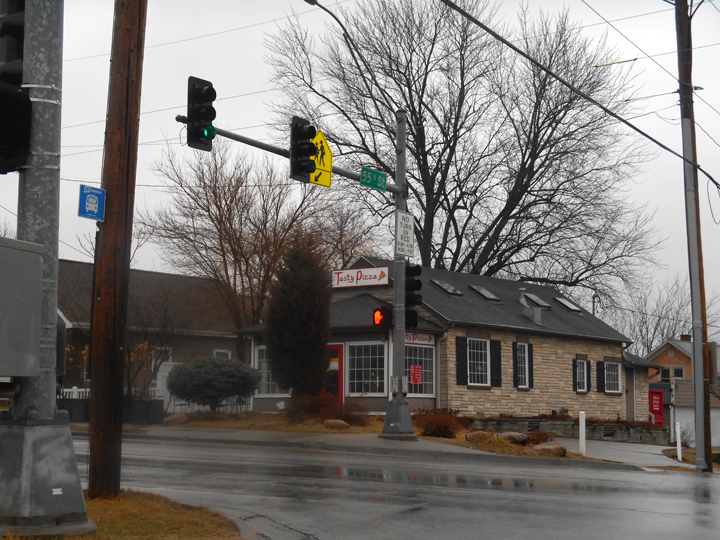 Come On Into My Kitchen
Gene and Julie Cammarota had run the Brass Grille restaurant for nine years in the Old Market and was a favorite haunt of Mr. Cassette and me. We loved to sit above Gene and the kitchen staff, look out over the brass rail and watch them cook. Wonderful memories. Apparently Gene was a transplant from Queens, New York and had hosted a cooking show. We didn't know much else other than he cooked the food we liked and he had a Genuine Cool Character vibe. We followed the couple to Come On Into My Kitchen, although early on it was hard to find them open. The cozy little restaurant seemed only open for secret, private parties at night and cooking classes. All of these offerings presented from Gene's center stage of a kitchen, surrounded by a counter with stools. After a few wild nights on the town, we would roll in with a group for brunch. Upon first visit, Gene called out, "Oh look. It's the fabulous freaks." We felt honored by the jovial greeting.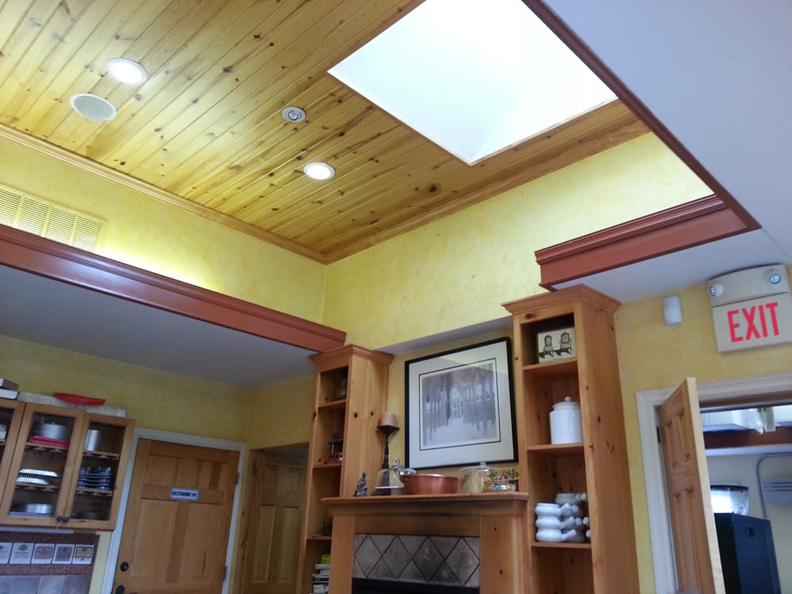 Interior photo borrowed from Tutti on Yelp.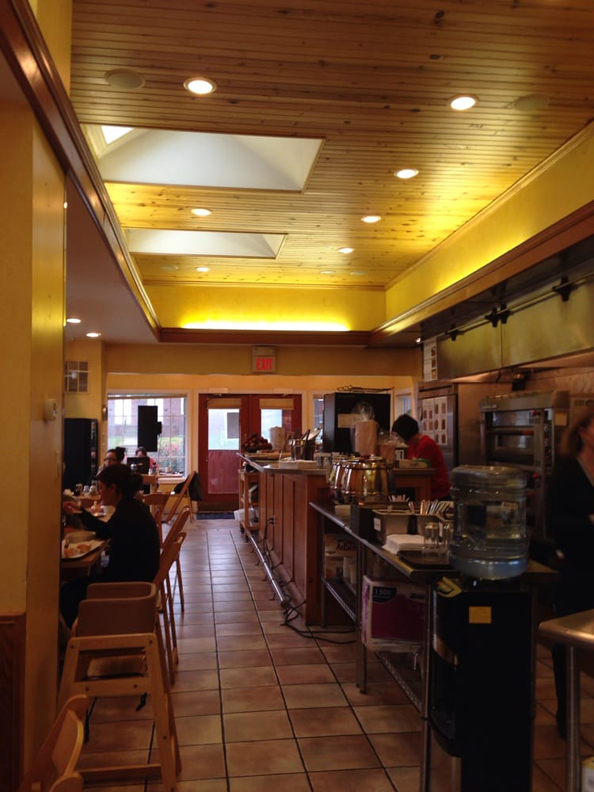 Interior photo borrowed from Sarah G. on Yelp.
Did the couple paint the walls yellow and create the vaulted ceiling with skylights? It all felt so natural and warm, like many restaurants I had enjoyed in rural Ireland. Or was it the knotty pine that I was addicted to? There was even a fireplace in the back. I wish I could go back and ask him all of these questions and linger. But by 2011 the Cammarotas had put the little house back up for sale; it had sold by 2012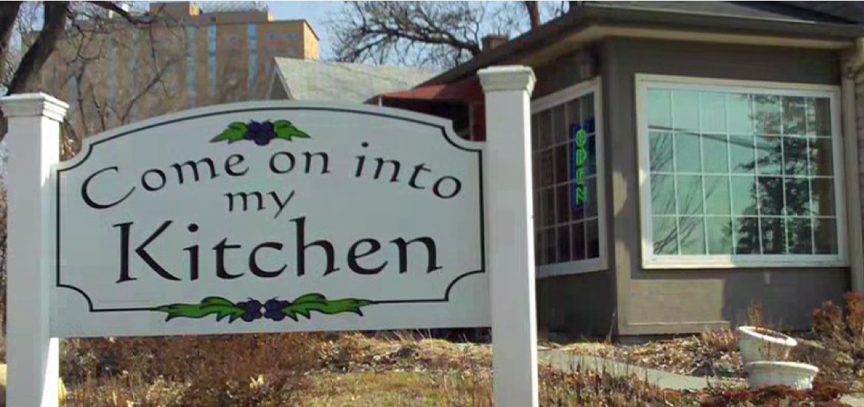 Gus Rodino: "As a young Gus, I rode my bike up and down Leavenworth to go to Wohlners, Lee Drug, Kings and Gerda's (Downs Pastries). This was from 1972 thru 1980. I do not recall ever going into any incarnation of that house at 55th and Leavenworth.   I am thinking that it was not operating as a business of any kind in the 70s. No restaurant there to my memory. Gene Cammarota and his quaint little eatery was the first business I recall there."
Lindsey Strachota: "Come On Into My Kitchen. I never went inside, but my friends and I thought it was super weird it was in a house. Made me feel like I needed to be invited. I never felt comfortable walking in. Also, I carried a jar of pennies around as a wallet, so that place was out of my league!!"
Tasty Pastry-Tasty Pizza
There is a great little eating place in the 55th and Leavenworth cottage now. We named it The Tasty but her proper name is Tasty Pizza. It seems like it was 2013 or so that Tasty Pastry moved into the house. I remember seeing its varying handmade signs but had never been inside. Mary Joseph began introducing soups and personal size pizzas for lunch and it really took off. The pastry shop transitioned over time into Tasty Pizza. Visit tastypizzaomaha.com for more information.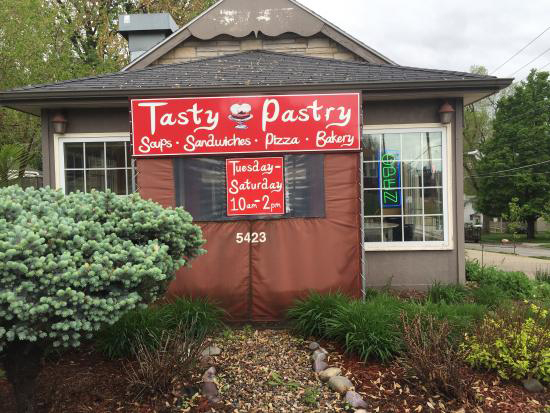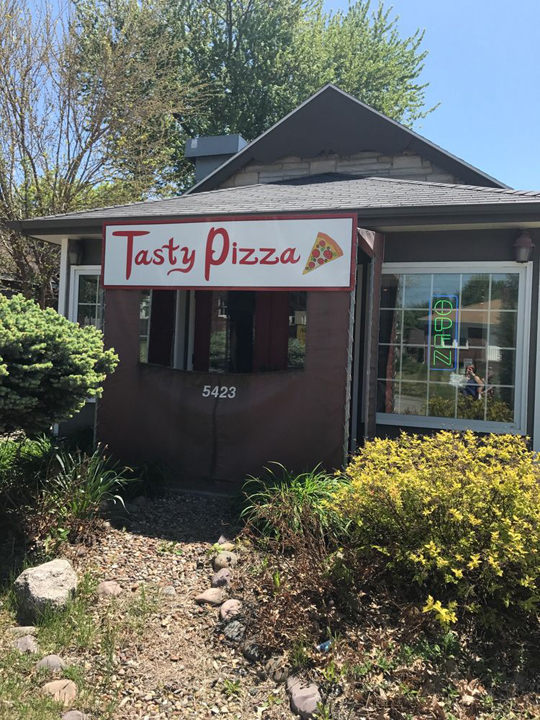 Photo borrowed from Sarah G. on Yelp.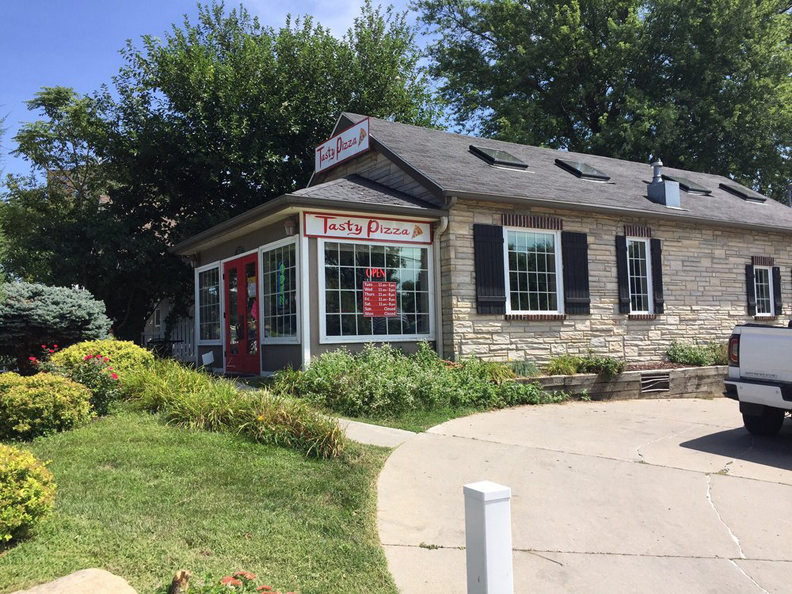 Photo borrowed from Scott H. on Yelp.
It is obvious that many of the locals have a fondness for this charming spot, the folks who run it and the other regulars. A Saturday afternoon will find patrons soaking up the sun while having a slice outside in the garden area Joseph created. It seems people come for the feel, for the food and for the good company. The pleasures of this community are inherent and it has been wonderful to watch it come alive in a new mixing of generations. And I will say it. I sense there is sentimentality assembled on this corner—an appreciation for the collective good opinion of the environment and this sweet, small cottage. I believe a warm, good place can stir up that energy in us.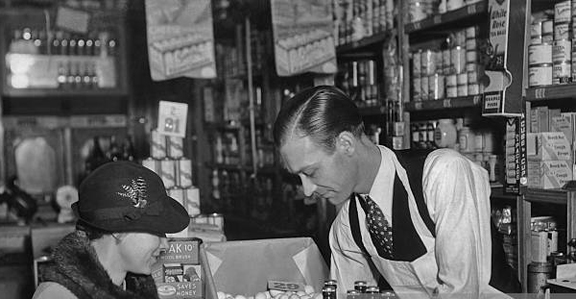 Thank you so much to Arlen Kuklin, Julie Kuklin Salib, Ardith Vickery and Alison Vickery Rider for sharing your photos and stories with me. Thank you to all of the children who contributed their memories to this investigation. I am filled up.
I welcome your feedback and comments on the 55th and Leavenworth cottage, Dundee and Elmwood Neighborhoods, Wakeley Addition, Midtown, Midtown Grocers. Let us hear your childhood memories also! Please feel free to share your additional clues to the story in the "Comments," as we know more together. Everyone would love to read what you have to say and it makes the sharing of Omaha history more fun.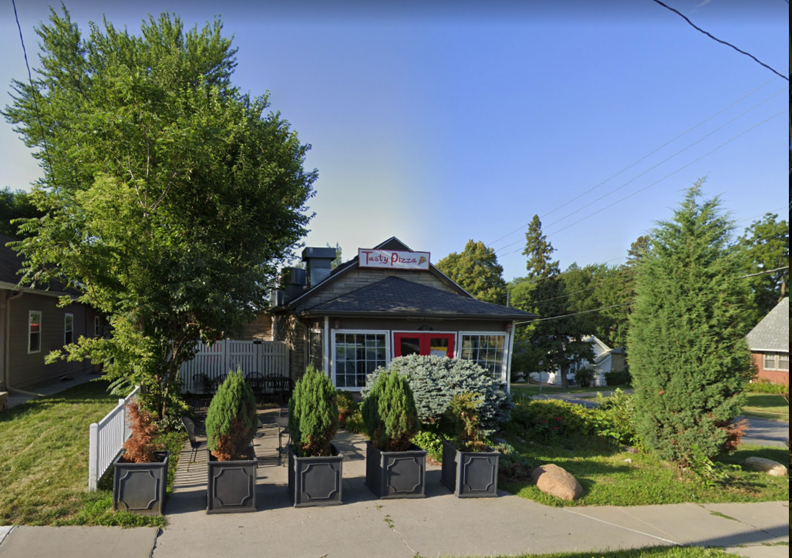 You can keep up with my latest investigations by joining my email group. Click on "Contact" then look for "Sign me up for the Newsletter!" Enter your email address. You will get sent email updates every time I have written a new article. Also feel free to join My Omaha Obsession on Facebook. Thank you, Omaha friends. Miss Cassette
© Miss Cassette and myomahaobsession, 2020. Unauthorized use and/or duplication of this material without express and written permission from this site's author and/or owner is strictly prohibited. Excerpts and links may be used, provided that full and clear credit is given to Miss Cassette and myomahaobsession with appropriate and specific direction to the original content.